Publication Number: FHWA-HRT-10-015
Date: July 2010

Transportation Asset Management: Beyond the Short Term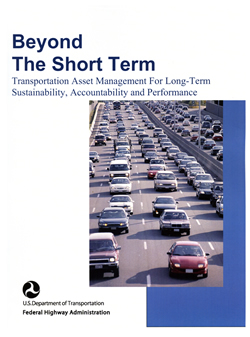 For today's transportation agencies, it's not just about the short-term construction and rehabilitation of roads and bridges but about results and accountability, as agencies use transportation asset management to implement a data-driven framework for the long-term management of their highway networks. A new Federal Highway Administration (FHWA) report, Beyond the Short Term: Transportation Asset Management for Long-Term Sustainability, Accountability and Performance (Pub. No. FHWA-IF-10-009), looks at how agencies are using asset management to demonstrate the sustainability of current infrastructure practices, improve decisionmaking, and achieve enhanced performance.
As defined by the American Association of State Highway and Transportation Officials, asset management is "a strategic and systematic process of operating, maintaining, upgrading, and expanding physical assets effectively throughout their lifecycle. It focuses on business and engineering practices for resource allocation and utilization, with the objective of better decisionmaking based upon quality information and well defined objectives." Whether the assets involved are pavements, bridges, roadside features, or facilities, the defining principles of asset management include being policy-driven and performance-based, using analysis of different options and the tradeoffs involved to make decisions on how to allocate funds, making decisions based on quality information, and using performance monitoring to evaluate the efficiency and effectiveness of the strategies and options selected.
Just as the private sector has realized success by adopting quality systems such as Baldrige, Six Sigma, and Total Quality Management, transportation agencies have used asset management to make decisions about scarce resources, articulate rational investment policies, measure the effects of past decisions, and provide alternative scenarios to improve future performance. Agencies have also used asset management to document that their investment of resources is made within a logical, comprehensive, and systematic framework.
FHWA's Beyond the Short Term report provides an overview of asset management; looks at key transportation agency roles in implementing asset management; highlights how asset management can be used to improve quality; and examines structures, strategies, and information needs. Also featured are case studies of successful asset management programs both in the United States and around the world.
The North Carolina Department of Transportation (NCDOT), for example, has made changes to its processes, management strategies, and organizational structure as it has collaboratively implemented asset management as the framework for managing its highway system. The agency maintains 127,149 road km (79,009 road mi) and 17,756 structures, making it the second largest State-maintained highway system in the country. NCDOT's Office of Asset Management coordinates condition assessments for roads and bridges and the management systems that support these assets at the State, regional, and subregional levels. These assessments help the agency to obtain an accurate picture of the current condition of assets and the resources required to change and improve the overall condition of the highway system.
NCDOT has developed the North Carolina Multimodal Investment Network as a template to help the agency prioritize investment strategies based on the use of and function being served by the various transportation system components. This investment portfolio of projects is explicitly linked to the agency's goals and is based on long-term as well as short-term objectives. NCDOT has also worked to integrate the data collected and used across the agency to better ensure consistent and accurate reporting by management systems and to reduce duplication of effort.
Meanwhile, since 2000, the Utah Department of Transportation (UDOT) has worked to develop a comprehensive and systematic asset management process, beginning with preparations for the 2002 Winter Olympics in Salt Lake City. As UDOT completed a $1.5 billion design-build reconstruction and expansion of I-15 through Salt Lake City, the agency's leadership determined that UDOT should make the same comprehensive effort to maintain the new roadway as the agency put into building it. Today, UDOT's asset management program extends throughout the agency, providing staff with directions, performance goals, condition data, and cost information to use as they plan, conduct, measure, and evaluate their work. The asset management program allows decisionmakers to conduct complex analysis of various funding scenarios and links closely with UDOT's Safety Management System, so that accident histories and crash trends are considered whenever a maintenance activity or construction project is planned. The asset management program also complments UDOT's performance management program, which was developed at the same time.
Lessons learned by UDOT over the past decade include support by the agency's top leadership has been crucial, particularly in the early years when the agency was working to achieve organizational acceptance of the asset management program. Consistent, ongoing training of staff is vital as well to achieving widespread understanding and acceptance of asset management. UDOT also notes that the use of both computerized asset management data systems and asset management business processes are required to be successful. While data systems provide good information, sound management practices lead to good decisions.
To learn more about how transportation agencies are using asset management daily to make good decisions, maximize their resources, and ensure the long-term performance of their transportation networks, download the Beyond the Short Term report online at www.fhwa.dot.gov/asset/10009/index.cfm. To obtain a printed copy, contact the FHWA Research, Development, and Technology Product Distribution Center, 814-239-1160 (email: Report.Center@dot.gov). For more information on asset management, visit www.fhwa.dot.gov/infrastructure/asstmgmt, or contact Steve Gaj at FHWA, 202-366-1336 (email: stephen.gaj@fhwa.dot.gov).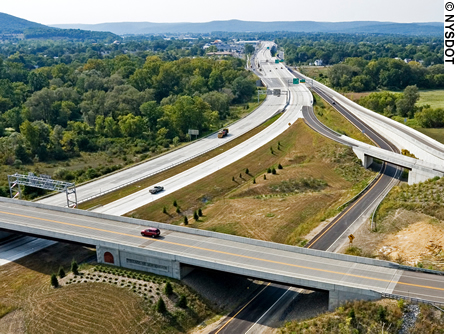 Agencies are using asset management to implement a data-driven
framework for the long-term management of their highway networks.