Publication Number: FHWA-HRT-10-015
Date: July 2010

Webinar to Explore Key Performance Indicators for Transportation Projects
Explore the issues associated with the use of Key Performance Indicators (KPI) in setting transportation project goals and contract requirements by participating in a new Webinar sponsored by the Federal Highway Administration's (FHWA) National Highway Institute (NHI).
Key Performance Indicators in Transportation Projects will feature representatives from the Washington State Department of Transportation and Virginia Department of Transportation discussing their use of KPIs in public-private partnerships and design-build projects.
Participants are invited to join the free Web conference on Thursday, August 5, 2010, from 1 to 3 p.m. (eastern daylight time). To register, visit www.nhi.fhwa.dot.gov/resources/webconference/eventcalendar.aspx. For more information, contact Jerry Yakowenko at FHWA, 202-366-1562 (email: gerald.yakowenko@fhwa.dot.gov).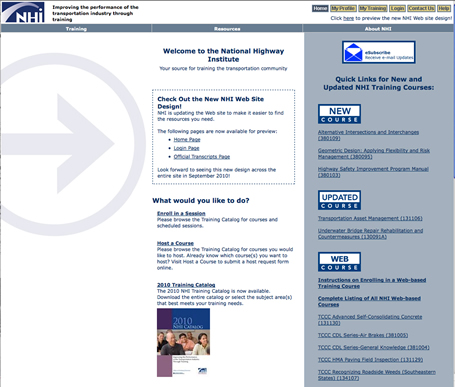 Visit www.nhi.fhwa.dot.gov to learn more about Webinars
and other training opportunities for the transportation community.