Publication Number: FHWA-HRT-10-015
Date: July 2010

Precast Concrete Pavement Systems: Acceleration Through Innovation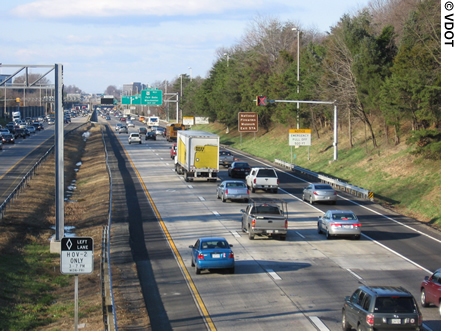 A view of I-66 in Fairfax County, VA, after completion
of the precast concrete pavement system project.
Offering improved quality, accelerated project schedules, and reduced traffic delays, precast concrete pavement systems (PCPS) are being used by an increasing number of States for the repair and rehabilitation of both portland cement concrete (PCC) pavements and asphalt pavements. A 2-day showcase sponsored by the Federal Highway Administration's (FHWA) Highways for LIFE (HfL) program in September 2009 spotlighted the Virginia Department of Transportation's (VDOT) use of PCPS for a $5 million project on I-66 in Fairfax County.
Eighty-five showcase attendees representing 16 States, as well as Federal and city agencies, universities, contractors, and others, learned about how VDOT is using PCPS to obtain better and longer lasting value for its transportation dollars. "This was a very exciting project," said David Shiells, District Materials Engineer for VDOT. Participants also received a firsthand look at the I-66 project's nighttime construction operations.
VDOT's I-66 project received $1 million in HfL funding. Additional PCPS projects that have received HfL funding include ones on I-15 in San Bernardino County and Riverside County, California, and U.S. 92 in Deland, Florida. The HfL program is designed to encourage State and local transportation agencies to build projects using proven innovations that have been infrequently or never used by the agency. These technologies support the HfL performance goals of improving safety, reducing congestion, and improving quality and customer satisfaction.
As FHWA Deputy Administrator Greg Nadeau noted at the showcase, "DOTs across the country are looking at innovation." The innovative ready-to-implement PCPS technology involves removing the existing distressed pavement, preparing the subbase, and then placing the new precast concrete panels. The panels are then undersealed and either posttensioned or grouted, allowing the roadway to be ready for traffic in as little as 5 hours. This PCPS approach helps to accelerate the construction sequencing of the project, reduce the size of the work zone, and greatly reduce travel impacts to motorists.
The PCPS project on I-66 at Route 50 replaced two small sections of an existing jointed reinforced concrete pavement built in the early 1960s. The pavement had experienced many joint problems and mid-slab spalling over the last 10 to 20 years. During the replacement, VDOT used a combination of doweled precast concrete panels; precast, prestressed concrete panels; and cast-in-place concrete. The benefits of using the prestressed panels include reducing or eliminating slab cracking, reducing the number of joints, and enabling the use of thinner pavement sections.
Maintenance of traffic was an important consideration for the VDOT project, as I-66 experiences an average daily traffic volume of 184,000 vehicles. All of the construction work was done at night, with the contractor allowed to close two lanes of traffic at 9 p.m. and a third lane at 10 p.m. All lanes had to be reopened by 5 a.m. The contract for the project began May 28, 2009, with the first onsite installation of the concrete panels taking place on August 3, 2009. All work was completed by November 19, 2009. While costs were higher for the PCPS, VDOT expects the overall quality and longevity of the pavement to be better than traditional cast-in-place concrete repairs and the long-term user impacts to be much less. The PCPS are expected to last 40 to 50 years, resulting in reduced life cycle costs.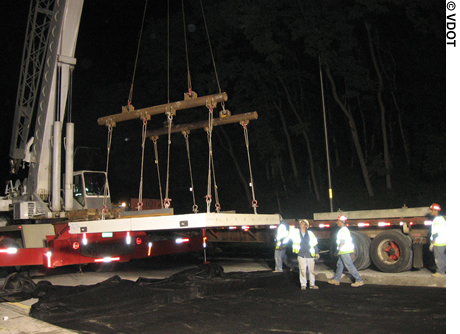 Precast, prestressed concrete panels are installed on I-66 in Fairfax County, VA.
"Precast concrete pavement is a very viable alternative to cast-in-place," said Shiells. "From our customers' perspective, it was a very successful project."
A June 2010 HfL showcase in Ontario, California, also spotlighted the use of PCPS on I-15. More than 90 attendees from State transportation departments, industry, and FHWA visited the construction site and precast plant, where they saw the fabrication of the concrete panels. For more information, visit www.pdshowcase.org/home/completed.
Additional information on PCPS is available from the American Association of State Highway and Transportation Officials' Technology Implementation Group (TIG). The TIG's Lead States Team on PCPS has posted several agency specifications for fabrication and installation of PCPS. The team has also identified various PCPS options and compiled information on their attributes and applications. Also available are research reports and case studies. For more information, visit www.aashtotig.org.
To learn more about HfL, visit www.fhwa.dot.gov/hfl, or contact Mary Huie at FHWA, 202-366-3039 (email: mary.huie@fhwa.dot.gov). For more information on FHWA's concrete pavement technology resources, visit www.fhwa.dot.gov/pavement/concrete/index.cfm.