Publication Number: FHWA-HRT-10-014
Date: June 2010

Meeting the Challenges of Today's Transportation Needs by Making Every Day Count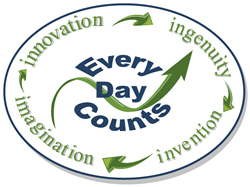 For the Nation's highway community, meeting the challenges of today's transportation needs while working more efficiently, sustainably, and cost effectively means going beyond innovation and ingenuity. It means making every day count. Rapid deployment of proven technology and solutions to speed up project delivery are at the heart of the Federal Highway Administration's (FHWA) new Every Day Counts (EDC) initiative.
"EDC is designed to identify and deploy innovation aimed at shortening project delivery, enhancing the safety of our roadways, and improving environmental sustainability," said FHWA Administrator Victor M. Mendez.
EDC will initially focus on getting promising new technologies into the marketplace faster and speeding the delivery of major highway projects. Administrator Mendez has asked FHWA Deputy Administrator Greg Nadeau to lead this initiative. Priority technologies featured are:
Warm Mix Asphalt -Warm mix asphalt (WMA) technologies allow the producers of hot-mix asphalt pavement to lower the temperatures at which the material is mixed and placed on the road, which can result in significant cost savings and reduced greenhouse gas emissions. WMA projects have been constructed in more than 40 States to date.
Prefabricated Bridge Elements and Systems -The use of prefabricated bridge elements and systems (PBES), ranging from superstructures or substructures to totally prefabricated bridges, offers both faster and safer bridge construction and better quality. PBES can also reduce costs and the environmental impact of projects.
Adaptive Signal Control Technology -Adaptive signal control systems, such as Adaptive Control Software Lite (ACS-Lite), coordinate the control of traffic signals across a network by adjusting the lengths of green lights based on prevailing traffic conditions. These adjustments can improve travel time reliability, reduce congestion, and provide a smoother flow of traffic.
Safety Edge -The Safety Edge technology provides a simple but extremely effective solution to reduce pavement edge-related crashes and help save lives. By shaping the edge of a pavement to 30 to 35 degrees, the Safety Edge helps eliminate the problem of vertical drop-off, enabling vehicles to return to the paved road smoothly and easily.
Geosynthetic Reinforced Soil (GRS) -Instead of conventional bridge supported technology, GRS technology uses alternating layers of compacted fill and sheets of geotextile reinforcement to provide support for the bridge. The technology can reduce construction time and costs and also offers flexible design and the ease of using common equipment and readily available materials.
Along with new technologies, FHWA aims to make innovative contracting standard business practice by supporting the deployment of accelerated project delivery methods. The Construction Manager/General Contractor (CM/GC) is a project delivery method where the owner contracts with a construction manager to provide constructability, scheduling, and pricing information during the design process. CM/GC allows State departments of transportation to remain active in the design process while assigning risks to the parties most able to mitigate them. CM/GC occupies the middle ground between design-bid-build and design-build. The CM/GC method has the potential to lower project costs, accelerate project completion, and reduce change orders.
In the alternative Design-Build project delivery method, the design and construction phases of a project are combined into one contract. This can result in significant time and cost savings and also provides the contractor with increased flexibility to be innovative.
The EDC initiative will also provide innovative approaches to improving the delivery process for projects that require an Environmental Impact Statement (EIS) or other environmental document. The proposed initiatives will help State and local agencies speed project delivery by using the following time-saving practices:
Planning and Environmental Linkages - This initiative will provide a tool to increase incorporation of planning documents and decisions into the environmental review process, minimizing duplication of effort, promoting environmental stewardship, and reducing delays in project implementation.
Legal Sufficiency Enhancements - By consulting with FHWA environmental attorneys early in project planning and development, decision-makers can avoid problems later, saving time and money.
Expanding Use of Programmatic Agreements - This initiative will identify and assist in the expansion of new and existing programmatic agreements to avoid, minimize, and mitigate project impacts.
Use of In-Lieu Fee and Mitigation Banking - Expanded use of in-lieu fees and mitigation banking will create a more streamlined process to expedite project delivery.
Clarifying the Scope of Preliminary Design - The initiative will identify the amount of design work allowable under current law prior to completion of documents required under the National Environmental Policy Act. FHWA will also develop guidance to provide consistency in applying this definition of preliminary design.
Flexibilities in Right of Way (ROW) - FHWA will highlight opportunities to achieve project time savings by using ROW flexibilities already provided for in statutes and FHWA regulations.
Flexibility in Utility Accommodation and Relocation - Existing flexibilities for accommodating and relocating utilities will be spotlighted, as well as techniques for fostering effective utility coordination during project development.
Enhanced Technical Assistance on Delayed EISs - This initiative will provide additional FHWA technical assistance to identify major challenges on a few ongoing EIS projects and to implement solutions to resolve project delays where feasible.
For more information about EDC, contact Victoria Peters, Special Assistant to the Deputy Administrator, at victoria.peters@dot.gov. Focus will continue to provide updates on EDC initiatives in future issues.