Publication Number: FHWA-HRT-10-014
Date: June 2010

Conference to Present Practices, Challenges, and Directions for Sustainable Concrete Pavements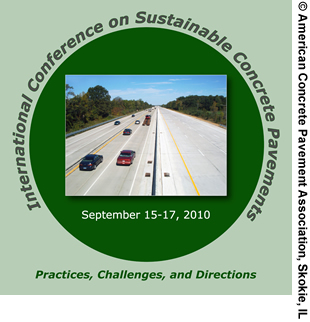 Is your concrete pavement sustainable? As transportation agencies pay increased attention to the importance of balancing the economical considerations and engineering strategies of infrastructure development with the need for environmental stewardship, the upcoming International Conference on Sustainable Concrete Pavements: Practices, Challenges, and Directions will offer the latest information on sustainability practices for concrete pavements. The confererence will present innovative processes for achieving sustainable concrete pavements throughout the pavement's life cycle, including design and engineering, material selection, construction, and service life.
Scheduled for September 15-17, 2010, in Sacramento, California, the conference is being organized by the Federal Highway Administration (FHWA) and National Concrete Pavement Technology Center as part of the technology transfer activities of FHWA's Advanced Concrete Pavement Technology Products Program. Conference cosponsors include the American Association of State Highway and Transportation Officials, American Concrete Pavement Association, California Department of Transportation, National Ready Mixed Concrete Association, Transportation Research Board, and others.
"The conference will provide an international forum to discuss the sustainable attributes of concrete pavements by presenting existing technologies, emerging research, approaches to measuring energy and environmental impact, user considerations, and international practices and experiences," says conference co-chair Shiraz Tayabji of Fugro Consultants, Inc.
For more information on the conference or to view the final technical program, visit www.fhwa.dot.gov/pavement/concrete/2010acptpconf.cfm. Information is also available by contacting Shiraz Tayabji at Fugro Consultants, Inc., 410-997-9020 (email: stayabji@aol.com), or Sam Tyson at FHWA, 202-366-1326 (email: sam.tyson@fhwa.dot.gov).