Publication Number: FHWA-HRT-10-011
Date: March 2010

FHWA Offers Work Zone Safety Training Opportunities
As State and local highway agencies and municipalities across the country observe National Work Zone Awareness Week from April 19-23, 2010, work zone safety training opportunities available from the Federal Highway Administration's (FHWA) National Highway Institute (NHI) include a certificate of accomplishment in work zone safety. The suite of four courses included in the certificate feature best practices to help State transportation agencies and contractors design, operate, and maintain highway work zones that improve safety for workers and the driving public.
Design and Operation of Work Zone Traffic Control
(Course No. FHWA-NHI-380003-1 day, $250)
The course offers participants information on the safest and most efficient work zone traffic controls, including the application of effective design and installation concepts and the use of signs and markings for detours, construction zones, and maintenance sites. The legal, administrative, and operational aspects of work zones will also be discussed. Classroom presentations include lectures and case histories. This training is also available as a 3-day course (Course No. FHWA-NHI-380003A).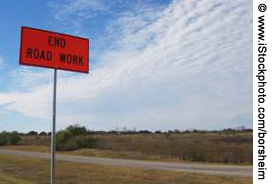 Training opportunities available from
FHWA include a certificate of
accomplishment in work zone safety.
Work Zone Traffic Control for Maintenance Operations (Short-Term)
(Course No. FHWA-NHI-380060-1 day, $250)
This course provides guidance and training for field personnel working on the planning, selection, application, and operation of short-term work zones. Also addressed are typical short-term maintenance activities occurring on two-lane rural highways and multilane urban streets and highways. Applicable standards for work zone protection contained in the Manual on Uniform Traffic Control Devices will be covered, while classroom presentations will offer practical exercises on planning, setting up, operating, and removing work zone safety devices.
Construction Zone Safety Inspection
(Course No. FHWA-NHI-380063-1 day, $250)
The course covers the management of traffic control plans and the inspection of construction zone safety devices. Instruction will be provided in traffic control plan review, inspection of traffic control procedures and safety devices, and the resolution of discrepancies in the traffic control plan. In addition, deficiencies in safety hardware maintenance, traffic control plan operation, maintenance of work zone signs and markings, and resolution of discrepancies in contract requirements will all be covered. This course is also available in a 1.5-day format (Course No. FHWA-NHI-380063A).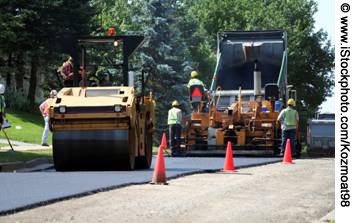 To learn more about work zone safety training
courses, visit www.nhi.fhwa.dot.gov/training.
Advanced Work Zone Management and Design
(Course No. FHWA-NHI-380072-3 days, $450)
Participants will learn about all aspects of work zone traffic practices, including work zone planning, design, project management, and contract issues. The course is designed to provide maximum flexibility by including core, recommended, and optional lessons. Each participant receives a copy of the Advanced Work Zone Management and Design reference manual and a workbook that contains all lesson materials.
These work zone safety training courses are available for scheduling through the NHI online course catalog (www.nhi.fhwa.dot.gov/training). To obtain a certificate, all of the courses in the suite must be completed within 4 years of taking the first course. Participants must also pass the exam for each course. For more information, contact NHI at nhitraining@dot.gov.