Publication Number: FHWA-HRT-10-013
Date: May 2010

Accelerated Bridge Construction Success Stories Add Up to $30 Million in Savings
Get the inside story on $30 million in construction cost savings with the Federal Highway Administration's (FHWA) new Prefabricated Bridge Elements and Systems Cost Study: Accelerated Bridge Construction Success Stories. The publication looks at nine bridge projects across the country where prefabrication was used to accelerate onsite construction time and reduce the impact to motorists.
"Each project is an example of how various combinations of prefabrication and effective contracting strategies were used to achieve the accelerated onsite construction timeline. In all cases the onsite construction time was significantly reduced, and five of the projects were completed with no impact to rush hour traffic," says Reggie Holt of FHWA. These strategies added up to $30 million in combined cost savings for the nine projects, with savings defined as the difference between the engineer's estimate and the awarded bid.
An overview is provided for each project, outlining a brief description of the project and information on the benefits realized by using accelerated bridge construction (ABC). Also featured are descriptions of the construction process and contract requirements, including incentives and disincentives. Construction costs are then discussed, including the engineer's estimate, number of bidders, low bid and second lowest bid, savings realized in both time and money, and incentives that were paid. Contact information is also provided for each project.
Among the project highlights is the New Jersey Department of Transportation's (NJDOT) replacement of three bridge decks on the Route 1 Freeway through Trenton. The replacement was NJDOT's first "Hyperbuild" project. The Hyperbuild initiative is designed to shave years off road construction projects and save millions of dollars in design, construction, and road user costs. To qualify for Hyperbuild, a project should have a well-defined scope and, if possible, have limited right-of-way acquisition, utility relocation, and environmental impacts.
All three of the Route 1 bridge decks were replaced through weekend closures in 2005, with no impact to rush hour traffic. Using conventional methods, the project would have taken 22 months. The first bridge was closed at 7 p.m. on a Friday in August 2005, and traffic rerouted onto an 8-km (5-mi) detour. After the bridge was demolished in place, the existing abutments were repaired and new bearing seats constructed. The prefabricated concrete superstructure was then erected and the longitudinal joints between superstructure segments sealed. The bridge was reopened in 56 hours. Replacement of the two other bridges followed a similar timeline in September and October 2005. Each new bridge has been design-ed for a 75- to 100-year service life. The design and construction savings, including savings in user costs, were estimated to be more than $2 million.
Additional Hyperbuild projects completed in recent years include the rehabilitation and reconstruction of the I-280 Stickel Bridge between Newark, East Newark, and Harrison, and the reconstruction of I-78 from Route 24 to the Garden State Parkway in Union Township.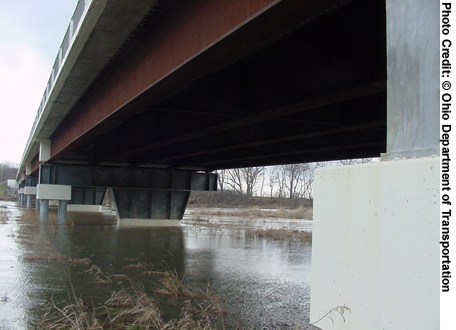 The Ohio Department of Transportation replaced the U.S. Route 22
Bridge in Pickaway County in 48 days, saving $2.3 million.
In one of the Ohio Department of Transportation's (ODOT) first accelerated construction projects under its Fast Track Bridge Program initiative, the agency replaced the U.S. Route 22 Bridge over the Scioto River in Pickaway County, 48 km (30 mi) south of Columbus. The bridge provided a vital transportation link for the local school district, trucks transporting grain from harvest fields to mills across the bridge, and emergency response services. However, the 45-year-old concrete slab and steel girder bridge had deteriorated girders and needed to be widened to accommodate local farm equipment. In 2003, the new wider bridge was completed in 48 days using a design-build contract, 12 days ahead of schedule, despite the challenge of heavy rains and flooding. This compared to an expected 18 months using conventional construction methods.
The new bridge features high performance steel girders and a high performance concrete deck. Accelerated construction techniques included using steel girders that were erected as simply supported and later made continuous for live load conditions by pouring integral concrete diaphragms over the intermediate supports. Other innovations that saved time were the use of prefabricated galvanized steel pier caps and galvanized permanent metal deck forms instead of traditional wooden deck forms that would have to be removed. Contract terms containing incentives and disincentives of up to $50,000 a day were also used to encourage faster construction. Ultimately, the project realized savings of $2.3 million. "This fast-track project was extremely successful," says Robert Taylor, District Bridge Engineer for ODOT. "The bridge has performed very well and is in like new condition."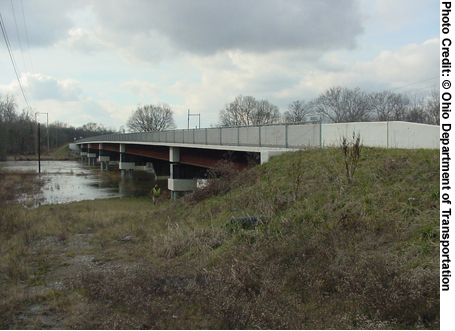 The new U.S. Route 22 Bridge features high performance
steel girders and a high performance concrete deck.
Prefabricated Bridge Elements and Systems Cost Study: Accelerated Bridge Construction Success Stories is available online at www.fhwa.dot.gov/bridge/prefab/successstories/091104/index.cfm. For more information, contact Reggie Holt at FHWA, 202-366-4596 (email: reggie.holt@fhwa.dot.gov); or Claude Napier at the FHWA Resource Center, 804-775-3327 (email: claude.napier@fhwa.dot.gov). To learn more about ABC, visit www.fhwa.dot.gov/bridge/prefab/index.cfm or www.fhwa.dot.gov/bridge/accelerated/index.cfm.