Publication Number: FHWA-HRT-10-013
Date: May 2010

TIG Announces 2010 Focus Technologies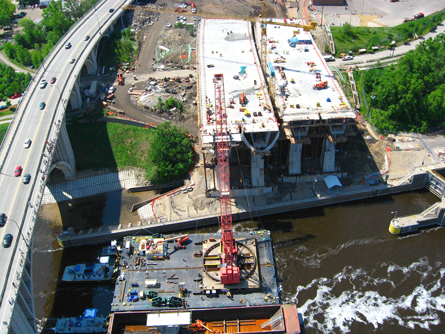 The Utility Relocation Electronic Document Management Systemstreamlines the
process of coordinating utility relocations. Among the projectsthat have fast tracked
utility relocations in recent years is the MinnesotaDepartment of Transportation's replacement of the
I-35W Bridge over the Mississippi River.
The American Association of State Highway and Transportation Officials' (AASHTO) Technology Implementation Group (TIG) has selected the Utility Relocation Electronic Document Management System (UREDMS), Grade Crossing Electronic Document Management System (GCEDMS), and Environmental Planning Geographic Information System (GIS) tools as its focus technologies for 2010. TIG's goal is to promote high payoff, innovative technologies that State and local transportation agencies and industry can use to improve the Nation's highway system.
UREDMS streamlines the process of coordinating utility relocations, expediting project completion and saving both time and money. It offers comprehensive information, including mapping and photography files, improved tracking capability, and enhanced asset management. The system also reduces physical storage space requirements, assisting agencies as they move toward paperless systems, and facilitates the reporting needed for management and project applications. The use of UREDMS benefits not only transportation agencies but also their utility company partners, as it offers ready access to templates and forms and expedited document submission. The system also provides a secure environment in which information can be shared among transportation agencies and utility companies.
TIG has formed a Lead State team to promote the technology. The team includes representatives from the Federal Highway Administration and the Georgia, Louisiana, Michigan, Minnesota, New Hampshire, Pennsylvania, and Texas departments of transportation.
Implementation of the GCEDMS, meanwhile, will provide a more consistent and accurate national inventory of all highway-rail crossings. Accurate crossing inventory and data are essential to the Federal Rail Administration's (FRA) Web Accident Prevention System reports. These reports list at-grade crossings with their ranked value of predicted collisions per year, which is used in determining and prioritizing crossing locations for safety improvements. The new GCEDMS will link crossing locations to a geographic information system and will also include photographs of the crossings. As with the UREDMS, it will reduce physical storage space requirements and facilitate the reporting needed for effective project planning and management.
TIG's Lead State team for GCEDMS includes representatives from the North Carolina, Pennsylvania, and Virginia departments of transportation; FRA; and the Illinois Commerce Commission.
Environmental Planning GIS tools use mapping technology to help agencies analyze environmental assets along with transportation assets and develop plans that accommodate both transportation improvements and environmental mitigation and stewardship. This data-driven decision support tool can accelerate project planning and delivery while protecting the environment, improving project quality and cost effectiveness. Use of the tools can also build multiagency partnerships, offer more transparent decisionmaking, and eliminate redundancy of effort. Ultimately, the technology helps agencies strengthen communities by using sustainable practices and improving quality of life.
Serving on the Lead State team for Environmental Planning GIS tools are the Maryland and Texas departments of transportation.
Focus will continue to provide updates as the Lead State teams develop initiatives to promote and implement the technologies nationwide. For more information on TIG, visit www.aashtotig.org, or contact Keith Platte at AASHTO, 202-624-7830 (email: kplatte@aashto.org).