Publication Number: FHWA-HRT-10-013
Date: May 2010

All About Tunnels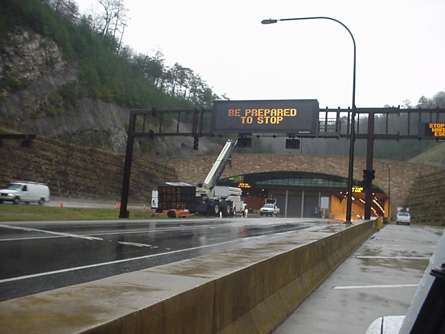 The Cumberland Gap Tunnel carries U.S. Route 25E under the
Cumberland Gap between TN and KY.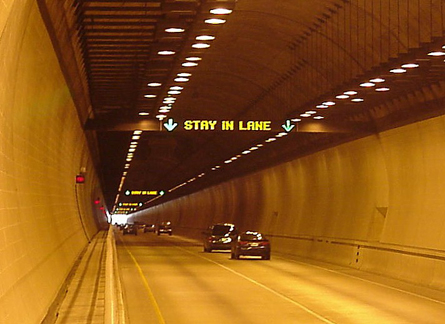 The Cumberland Gap Tunnel carries U.S. Route 25E under the
Cumberland Gap between TN and KY.
It's all about tunnels. The new Federal Highway Administration (FHWA) Technical Manual for Design and Construction of Road Tunnels-Civil Elements (Pub. No. FHWA-NHI-09-010) provides guidelines and recommendations for the planning, design, construction, and structural rehabilitation and repair of the civil elements of road tunnels. Developed by FHWA's National Highway Institute (NHI), the manual is the first national, comprehensive publication devoted to the design and construction of road tunnels. "The publication is intended to be a single-source technical manual for State agencies and other tunnel owners," says Jesús Rohena, Senior Tunnel Engineer in FHWA's Office of Bridge Technology.
Various types of tunnels are covered in the manual, including cut-and-cover, mined and bored, immersed, and jacked box construction. The latest editions of the American Association of State Highway and Transportation Officials' (AASHTO) Load and Resistance Factor Design Bridge Design Specifications and Load and Resistance Factor Design Bridge Construction Specifications are used to the greatest extent applicable in the design examples.
In March 2010, the American Council of Engineering Companies of New York awarded the manual its Engineering Excellence Silver Award. "The success of the development of the manual was the result of an experienced tunnel team, the seamless cooperation of several FHWA offices, and the active engagement of FHWA's State partners," says project director Firas I. Sheikh Ibrahim of FHWA's Office of Infrastructure Research and Development.
The manual begins by providing an overview of the planning process for a road tunnel project, including conducting a tunnel route study to look at such issues as subsurface, geological, and geo-hydraulic conditions; constructability; long-term environmental impact; operation and maintenance; security; and economical benefits and life-cycle costs. The process also includes studying the tunnel type and tunneling method, evaluating the financial viability of building and operating a tunnel, and conducting risk analysis and management. Selection of the type of tunnel must take into account many factors, including the depth of the tunnel, number of traffic lanes, type of ground traversed, and available construction methodologies.
Also covered in the planning section are such topics as geotechnical investigations, environmental and community issues, and sustainability. Tunnels typically have longer life expectancies than surface roads and provide opportunities for land development for residential, commercial, or recreational facilities. For example, the "Park on the Lid" in Mercer Island, Washington, was developed over the I-90 tunnel. The park's recreation areas include softball fields, tennis courts, playgrounds, and a picnic shelter.
The manual next looks at the geometric configuration of tunnels, including design standards, horizontal and vertical alignments, travel clearance, and cross section elements, as well as geotechnical investigations. These investigations include topographic, hydrographical, and utility surveys, and geologic mapping and subsurface testing.
Subsequent chapters address the various types of tunnel construction. The selection of a tunnel type depends on such factors as the geometrical configurations, ground conditions, type of crossing, and environmental requirements of the site. Cut-and-cover tunnels, for example, are built by excavating a trench, constructing the concrete structure in the trench, and covering it with soil. The tunnel may be constructed in place or by using precast sections. Bored or mined tunnels, in contrast, are built without excavating the ground surface. Rock tunnels are excavated through the rock by drilling and blasting, using mechanized excavators when the rock is softer, or by using rock tunnel boring machines.
Other types of tunnel construction include immersed tunnels, which are made from very large precast concrete or concrete-filled steel elements that are fabricated off site, floated to the tunnel location, placed in a prepared trench below water, and then covered up with backfill. Another option is jacked box tunnels, which are prefabricated box structures that are jacked horizontally through the soil. This type of tunnel is often used when the tunnel is shallow but the site's surface cannot be disturbed, such as beneath an airport runway or railroad embankments.
Also highlighted are seismic considerations. While tunnels in general have performed better during earthquakes than above ground structures, adequate design and construction of seismic resistant tunnel structures is still vital. Included in the manual are seismic performance and screening guidelines for all types of tunnels, as well as additional screening guidelines for bored, cut-and-cover, and immersed tunnels. Seismic evaluation procedures for both ground shaking effects and ground failure effects are also available.
In addition to the extensive material on tunnel construction, users of the manual can find guidance on tunnel rehabilitation. This guidance includes inspection procedures and rehabilitation strategies for typical structural defects in tunnels, ranging from groundwater intrusion and structural repair of concrete to segmental linings repair and steel repairs.
As a follow-up to this manual, FHWA plans to work with road tunnel owners to develop a manual on the maintenance, operation, and inspection of road tunnels. The new guide will expand on two publications that are currently available from FHWA, Highway and Rail Transit Tunnel Inspection Manual and Highway and Rail Transit Tunnel Maintenance and Rehabilitation Manual. FHWA also plans to collaborate with AASHTO to develop manuals for the design and construction of other key tunnel elements, such as ventilation; lighting; fire safety; and mechanical, electrical, and control systems.
To download the Technical Manual for Design and Construction of Road Tunnels-Civil Elements, visit www.fhwa.dot.gov/bridge/tunnel/pubs/nhi09010/index.cfm. Printed copies can be purchased from the NHI Store at www.nhi.fhwa.dot.gov/training/nhistore.aspx. To download other FHWA tunnel publications, visit www.fhwa.dot.gov/bridge/tunnel/library.cfm.For more information on the manual, contact Jesús Rohena at FHWA, 202-366-4593 (email: jesus.rohena@fhwa.dot.gov).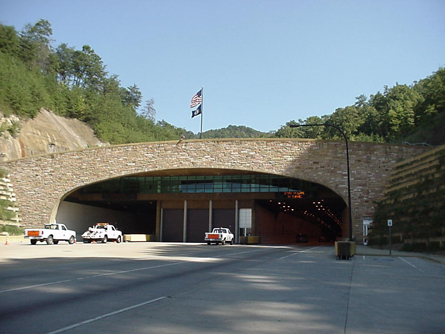 FHWA's new technical manual provides an overview of the planning
process for a road tunnel project.