Publication Number: FHWA-HRT-10-013
Date: May 2010

The Online Source for Local Agencies
With the debut of the Federal Highway Administration's (FHWA) new Local Public Agency Web site (www.fhwa.dot.gov/federalaid/lpa/index.cfm), local transportation agencies, public works agencies, and others can find resources tailored directly to them. These resources include reference guides, training opportunities, and information on useful State and FHWA contacts.
"The site is designed to better assist local public agencies and State transportation agency officials in the administration and oversight of Federal-aid funded projects. This evolving site will continue to be updated with new information and resources to meet the needs of local agencies," says Bob Wright of FHWA's Office of Program Administration.
References include links to FHWA's Guide to Federal-Aid Programs and Projects, Environmental Toolkit, and Real Estate Acquisition Guide for Local Public Agencies. Also featured is the FHWA Contract Administration Core Curriculum Participant's Manual and Reference Guide. Visitors can find links to statutory and regulatory requirements in the U.S. Code and the Code of Federal Regulations as well.
Training information highlighted includes resources offered by FHWA's Local and Tribal Technical Assistance Programs, National Highway Institute, and the Transportation Curriculum Coordination Council (TCCC), including the TCCC's Core Curriculum for highway worker training. The curriculum can be tailored to fit the specific needs of each agency.
Visitors to the site can also find contact information for State transportation agencies and FHWA's division office and Resource Center staff members.
To learn more about the many resources for local agencies, visit www.fhwa.dot.gov/federalaid/lpa/index.cfm. For additional information about the Web site or to make suggestions about new resources to add, contact Bob Wright at FHWA, 202-366-4630 (email: robert.wright@fhwa.dot.gov).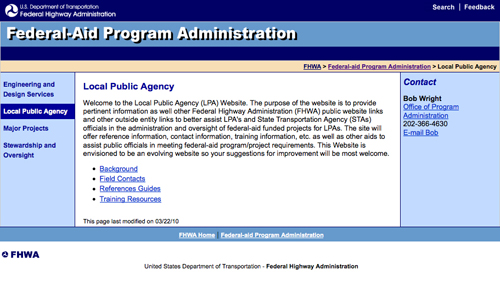 Visit FHWA's local Public Agency Web site at www.fhwa.dot.gov/federalaid/lpa/index.cfm