Publication Number: FHWA-HRT-11-008
Date: November 2010

Transportation Asset Management: A Focus on Implementation
Make the most of your transportation assets both today and in the future. From the first steps in implementing transportation asset management (TAM) to support of a comprehensive asset management program, the new AASHTO Transportation Asset Management Guide-A Focus on Implementation can assist transportation agency executives and practitioners in preserving their highway assets, realizing the greatest value from their financial resources, and providing the essential services that their customers depend on every day.
"This guide provides practitioners and decisionmakers with a hands-on document to implement a transportation asset management approach for their organization that will support a larger performance management program," said Kirk Steudle, Director of the Michigan Department of Transportation.
Developed through the Transportation Research Board's National Cooperative Highway Research Program, the guide complements the 2002 American Association of State Highway and Transportation Officials' (AASHTO) Transportation Asset Management Guide. The new guide provides more detailed hands-on guidance on implementing TAM concepts, principles, performance targets, and strategies. Also addressed are analysis methods, data collection, and the application of information from management systems, including tools that can be used to evaluate return on investment and improve economic efficiency, resource allocation, and budgeting decisions. Management systems featured include Enterprise Resource Planning (ERP) systems, which use software to integrate core functions and share data across an agency. Agencies will also find strategies for enhancing communication and information sharing among decisionmakers and elected officials.
Transportation asset management provides a coordinated approach to managing infrastructure assets over the course of their entire life cycle.
According to AASHTO's Subcommittee on Asset Management, "Transportation Asset Management is a strategic and systematic process of operating, maintaining, upgrading, and expanding physical assets effectively through their life cycle. It focuses on business and engineering practices for resource allocation and utilization, with the objective of better decisionmaking based upon quality information and well-defined objectives."
TAM provides a coordinated approach to man-aging infrastructure assets over the course of their entire life cycle, thus improving performance, increasing safety, and providing greater value to the community. With an asset management approach, optimal decisions on what would be the most effective mix of maintaining, repairing, renewing, or replacing infrastructure components are based on accurate data, economic analysis, and sound engineering. Decisions are also supported by performance measures and performance-based goals.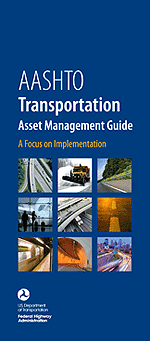 Get a quick introduction to transportation asset management with FHWA's new brochure on the AASHTO Transportation Asset Management Guide-A Focus on Implementation (Pub. No. FHWA-HIF-10-023). The brochure highlights the many resources contained in the guide, including the steps to asset management implementation. To download the brochure, visit www.fhwa.dot.gov/infrastructure/asstmgmt.
"An asset management approach can reduce long-term costs and improve the credibility of the decisionmaking process by being objective and technically based," said Steve Gaj of FHWA's Office of Asset Management.
As the guide describes, asset management begins with asking five core questions:
What is the current state of the agency's physical assets?
What are the required levels of service and performance delivery?
Which assets are critical to sustained performance?
What are the best investment strategies for operations, maintenance, replacements, and improvement?
What is the best long-term funding strategy?
The overall goal of a TAM program is to minimize the life-cycle costs for managing and maintaining transportation assets, including roads, bridges, tunnels, rails, and roadside features.
The guide takes readers through a sequence of management steps that are key to TAM implementation, from setting the direction and creating alignment within the organization to developing the asset management plan and strengthening the necessary processes, systems, and data. Included are both national and international case studies. The Colorado Department of Transportation (CDOT), for example, has been emphasizing asset management since the early 1990s, with a system that comprises 1,868 centerline km (1,161 centerline mi) of roadway, more than 3,700 bridges, and 20 tunnels. The agency has one of the Nation's most mature pavement management systems and was an early user of the Pontis® bridge management system. More recently, CDOT has implemented an ERP system to support its asset management program. The ERP uses software to integrate data from different management systems to help maximize the value of the agency's investment choices.
To download the AASHTO Transportation Asset Management Guide-A Focus on Implementation, visit assetmanagement.transportation.org (click on Topic Area "AASHTO"). For more information on TAM, contact Steve Gaj in FHWA's Office of Asset Management, 202-366-1336 (email: mailto:stephen.gaj@fhwa.dot.gov), or visit www.fhwa.dot.gov/infrastructure/asstmgmt.