Publication Number: FHWA-HRT-11-008
Date: November 2010

Adding Value with FHWA's VE Workshop
Learn how to get the most out of your transportation projects with the Federal Highway Administration's (FHWA) newly updated Value Engineering Workshop (Course No. FHWA-NHI-134005). Presented by FHWA's National Highway Institute (NHI), the 3-day workshop teaches participants how to serve as a member of a value engineering (VE) team and conduct a VE study.
VE is a systematic process of reviewing and analyzing a transportation project during the concept and design phases. A VE study is conducted by a multidisciplinary team of professionals not involved in the project. The team provides recommendations on how to improve the project's safety, design, and functionality, while also reducing the cost. The VE process can also shorten project schedules, encourage innovation, and lower life-cycle costs. According to FHWA's Fiscal Year 2009 Value Engineering Accomplishment Report, State VE studies and proposals resulted in more than $1.7 billion in savings on transportation projects nationwide in 2009.
Upon completion of the workshop, participants will be able to:
Investigate a project and analyze project functions and costs.
Creatively discuss alternative ways to perform the various project functions.
Evaluate the most effective life-cycle alternatives for the project.
Develop alternatives into fully supported recommendations.
Present recommendations to stakeholders and agency management.
Host agencies are asked to provide actual projects to be used for analysis in the course, although NHI can provide projects upon request. Based on the preference of the host agency, the 3-day workshop can be expanded to 4 or 5 days in length. Prior to the start of the workshop, all participants should complete a Web-based training component (Course No. FHWA-NHI-134005A).
The workshop is designed for FHWA and State transportation agency personnel in the areas of management, administration, and engineering. Consultants or other agency representatives who are involved in project design, development, construction, and maintenance can also be included, so as to achieve the multiple perspectives needed for an effective VE team. The 3-day course will cost $500 per participant in 2011, with a minimum of 20 participants and a maximum of 30.
To schedule the workshop in your State, visit www.nhi.fhwa.dot.gov and select "Host a Course." For more information on VE, contact Jeffrey Zaharewicz at FHWA, 202-493-0520 (email: jeffrey.zaharewicz@fhwa.dot.gov), or visit www.fhwa.dot.gov/ve. Information is also available by contacting Jon Obenberger at FHWA, 202-366-2221 (email: jon.obenberger@fhwa.dot.gov).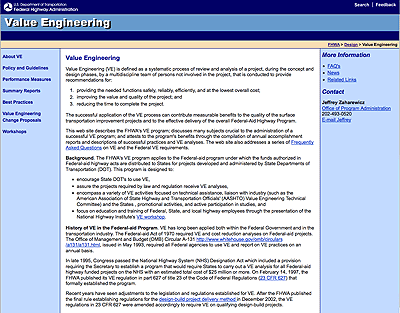 To learn more about value engineering, visit www.fhwa.dot.gov/ve.