Publication Number: FHWA-HRT-11-008
Date: November 2010

Excellence in Highway Design 2010
From dramatic state-of-the-art bridges to scenic rural highways, the Federal Highway Administration's (FHWA) 2010 Excellence in Highway Design Awards recognize the best in highway design around the country. "The winners not only exemplify outstanding design but showcase innovative practices that provide context sensitive highway solutions. These solutions enhance safety, improve mobility, protect the environment, and make effective use of limited resources, while delivering projects in a timely manner," says Brooke Struve, Design Program Manager in FHWA's Office of Program Administration.
The 2010 awards were announced at the American Association of State Highway and Transportation Officials' annual meeting in Biloxi, Mississippi, in October. For more information on the biennial awards program, contact Brooke Struve at FHWA, 202-366-1317 (email: brooke.struve@fhwa.dot.gov), or visit the Design Awards Web site at www.fhwa.dot.gov/eihd. A brochure with details on all of the award winners, including those receiving Honorable Mention, is available on the Web site.
Excellence Award Winners
URBAN HIGHWAYS: Freeways and Expressways
Marquette Interchange Reconstruction, Milwaukee, Wisconsin,
Wisconsin Department of Transportation
Carrying more than 300,000 vehicles daily through downtown Milwaukee, this new five-level interchange provides a critical corridor for the city. At the same time, its striking visual appearance has rapidly made it one of Milwaukee's most iconic structures.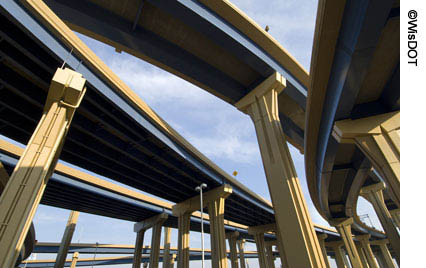 Marquette Interchange Reconstruction, Milwaukee, Wisconsin
Urban Highways: Surface Streets
State Route 376, Hooker Avenue to Westbound Route 44/55,
Poughkeepsie, New York
New York State Department of Transportation (NYSDOT)
By modifying intersections into roundabouts and reducing the number of lanes, this project significantly reduced delays, reduced the speed of motorists, and increased safety in the community. The addition of such features as larger sidewalks and parking areas has also made for a more livable, pedestrian-friendly community.
Rural Highways: Freeways
U.S. Route 395, Blackrock
Four-Lane, Inyo County, California
California Department of Transportation (Caltrans)
Using the latest engineering tools and taking particular care to preserve the unique environmental features of the landscape, Caltrans converted 23 km (14.3 mi) of two-lane highway to a four-lane expressway with a 30-m (100-ft) median. Preserving the native landscaping where possible not only ensured the continued natural scenic beauty of the corridor, but eliminated the need for an irrigation system and reduced the highway's long-term maintenance needs.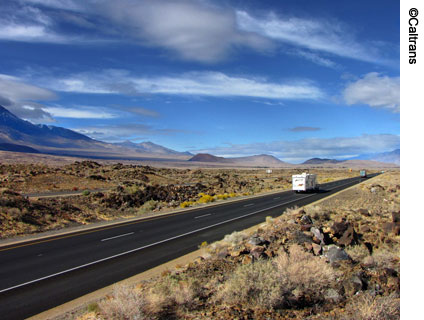 U.S. Route 395, Blackrock Four-Lane, Inyo County, CA
Rural Highways: Highways
State Trunk Highway 1,
Reconstruction Between Ely and
Isabella, Lake County, Minnesota
Minnesota Department of Transportation (Mn/DOT)
The reconstruction project achieved the delicate task of retaining the historically significant alignment of Trunk Highway 1, which travels through Superior National Forest, while straightening curves where necessary to improve safety. The resulting highway meets the many needs of commercial, residential, and recreational travel while aesthetically blending with its surroundings.
Structures (Greater than $10 Million)
New I-35W Bridge,
Minneapolis, Minnesota
Mn/DOT
Built on an aggressive schedule following the 2007 collapse of the I-35W Bridge, this new segmental concrete "smart" bridge combines a striking design with the latest in innovative technology. Close coordination among the design-build project team resulted in the completion of the bridge in 11 months, which was 3 months ahead of the already accelerated schedule. Innovations include 323 sensors embedded in the bridge's concrete, which collect such data as the bridge's response to loads in real time.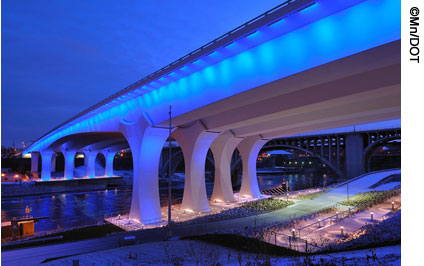 New I-35W Bridge, Minneapolis, MN
Structures (Less than $10 Million)
Interstate 80, Four Bridges in 37 Hours, Mountain Dell to Lambs Canyon,
Salt Lake County, Utah
Utah Department of Transportation
The new superstructures of all four I-80 bridges were constructed offsite and moved into place over a 37-hour span, using self-propelled modular transporters. Innovative positioning of the temporary abutments at the lifting points eliminated additional stresses during the installation, which should significantly increase the life of the bridges.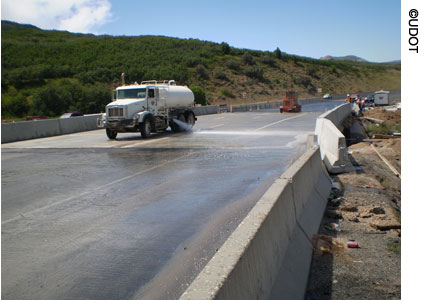 Interstate 80, Salt Lake County, UT
Intermodal Transportation Facilities
State Route 36, Town Hill,
Susanville, California
Caltrans
The project added a bike lane on State Route 36, which provides new commuting and recreational opportunities for the community. Caltrans also enhanced the corridor through safety and intersection design improvements, including building a wide shoulder and moving one intersection to a safer location. Other improvements included installing new guard rails and adding a pavement overlay.
Traveler Services
Interstate 5, Bass Mountain
Wireless Hub, Redding, California
Caltrans
This new wireless hub serves a section of I-5 as it enters the Cascade mountain range, providing drivers with vital communications links and allowing them to obtain timely highway condition information.
Project Management
U.S. Route 9W, James A. Farley Memorial Bridge Replacement,
Stony Point, New York
NYSDOT
NYSDOT successfully accelerated this bridge project, replacing the bridge in one construction season due to the work of an interdisciplinary project team. The team identified risks early in the project planning process, implemented a risk management plan, and regularly coordinated with stakeholders and the public to keep the project on track.
Program and Project Development
Implementation of Cost Estimation/Cost Management, Scoping, Project Management, and Risk Management Practices in Minnesota's Statewide Bridge Improvement Program
Mn/DOT
To better build and maintain public trust, Mn/DOT has developed improved cost estimation and management practices. Implementing these practices and being more responsive to stakeholder needs is now a department-wide priority. The practices are supported by a new technical reference manual that outlines the policies and procedures, along with a training program for employees.