Publication Number: FHWA-HRT-11-007
Date: October 2010

Up Close with Ultra-High Performance Concrete
Learn about new solutions to highway infrastructure challenges with a free Web conference, Ultra-High Performance Concrete: An Introduction to the Material and Potential Applications. Scheduled for November 18, 2010, from 2:30-4 p.m. (eastern standard time), the conference is sponsored by the Federal Highway Administration's (FHWA) National Highway Institute (NHI), in partnership with FHWA's Highways for LIFE program. The conference is part of the monthly Innovations series, which is designed to bring participants from State and local transportation agencies, industry, academia, and others the latest information on today's highway technology advances.
Ultra-high performance concrete (UHPC) is a fiber-reinforced cementitious composite material that exhibits mechanical and durability properties far exceeding those traditionally associated with structural concrete (see July 2010 Focus at www.fhwa.dot.gov/publications/focus/10jul/05.cfm). These superior properties include exceptional durability, high compressive strength, usable tensile strength, and long-term stability. To date, UHPC has been used in five bridge reconstruction projects in three States, with more projects on the way. Applications have included using UHPC as a joining material for modular bridge components, in structurally optimized prestressed girders, and in optimized precast deck panels.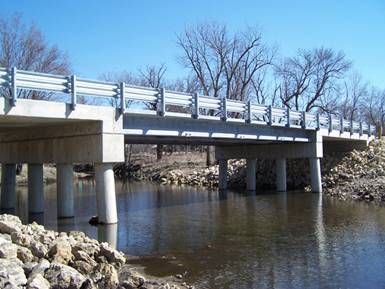 Three UHPC pi-girders were used in the construction of the Jakway Park Bridge in Buchanan County, Iowa.
The Web conference will introduce UHPC and present potential applications. Also featured will be information on how UHPC can be used to facilitate the deployment of prefabricated bridge elements and systems. Successful projects and promising future concepts will be discussed, along with perspectives from State transportation agencies. Participants will also have the opportunity to ask questions.
Information on the Web conference will be available at www.nhi.fhwa.dot.gov/about/innovationseries.aspx. To register, contact Kelli Howard at 202-366-0131 (email: kelli.howard.ctr@dot.gov). Please provide your name, organization name, telephone number, and email address. To learn more about UHPC and other advances in structures research, visit https://www.fhwa.dot.gov/publications/research/infrastructure/structures/07060/index.cfm. Information on UHPC is also available by contacting Ben Graybeal at FHWA, 202-493-3122 (email: benjamin.graybeal@fhwa.dot.gov). For additional information on the Innovations Series, contact Julie Zirlin at FHWA, 202-366-9105 (email: julie.zirlin@fhwa.dot.gov).
Successful projects and promising future concepts will be discussed, along with perspectives from State transportation