Publication Number: FHWA-HRT-10-017
Date: September 2010

FHWA Bridge Conference Spotlights Opportunities and Successes in Accelerated Bridge Construction
From materials and design to construction and monitoring, exploring the many opportunities and benefits presented by accelerated bridge construction (ABC) brought more than 600 attendees to the 2010 Federal Highway Administration (FHWA) Bridge Engineering Conference: Highways for LIFE and Accelerated Bridge Construction. Held in April 2010 in Orlando, Florida, the conference was cosponsored by 20 State departments of transportation.
Fifth in a series of FHWA-sponsored conferences on ABC that began in 2003, the event featured 150 presentations covering all aspects of ABC, including available construction technologies for rapid bridge moves, modular steel bridge technologies, and the use of precast bridge systems. With attendees representing State, Federal, and international highway agencies; industry; consultants; and academia, the event had the largest turnout since the conference series began, reflecting the growing interest and experience in using ABC.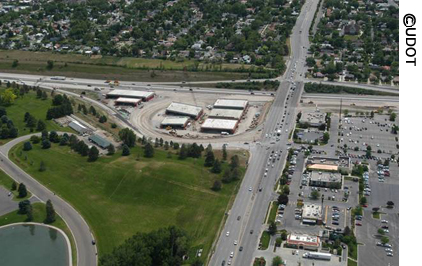 Seven prefabricated bridges are ready for shipping at the Utah Department of Transportation's "bridge farm."
"This was a timely conference," says Reggie Holt of FHWA's Office of Bridge Technology. "Prefabricated bridge construction and accelerated bridge construction have become increasingly popular across the country. States have used accelerated bridge construction to lower construction costs, improve safety and quality, and shorten project completion." FHWA's goal is for all States to adopt ABC as standard practice in bridge design and construction.
"The widespread use of ABC reflects the recognition of the fact that ABC is a better way of building bridges," noted conference cochair Atorod Azizinamini of the University of Nebraska-Lincoln.
The Utah Department of Transportation (UDOT) has embraced a program approach to accelerated construction, allowing the agency to more efficiently accelerate similar project types, such as bridge construction. For UDOT, using ABC technologies and techniques has rapidly become the norm, rather than the exception. UDOT now requires that ABC be considered for all bridge projects as part of the overall plan to reduce user impacts.
As of spring 2010, ABC had been employed on 124 bridges in Utah. Using an ABC strategy to replace the 4500 South bridge over the I-215 East Loop in Salt Lake City in October 2007, for example, cut road closures and detours from 6 months to a single weekend and saved $4 million in road user costs. The superstructure for the new concrete and steel bridge was constructed offsite over a period of 4 months, while the abutments for the new bridge were constructed underneath the existing bridge without impacting traffic. Self-propelled modular transporters were used to both remove the old bridge and lift the new bridge into place.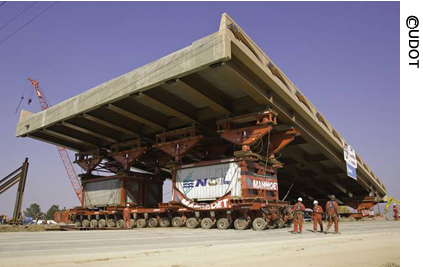 The Utah Department of Transportation used self-propelled modular transporters to replace the 4500 South bridge in Salt Lake City in 2007.
To facilitate the implementation of ABC, UDOT has developed standards for several ABC techniques, including precast substructure elements, precast concrete full depth panels, and superstructure move-in techniques. UDOT has also adopted a bulb-tee girder standard. Numerous documents relating to UDOT's ABC implementation are available on the agency's Web site at http://udot.utah.gov/main/f?p=100:pg:0:::1:T,V:1991.
The New Jersey Department of Transportation (NJDOT), meanwhile, has turned to ABC strategies to help maintain mobility in a densely populated State with very high traffic volumes. One of its earliest ABC projects was the 2004 emergency replacement of the NJ Route 70 bridge over Friendship Creek in the Southhampton Township of Burlington County, after the bridge collapsed because of flooding. A temporary bridge was installed while the new bridge was constructed next to it using prefabricated prestressed concrete box girders. The new bridge was built in just over 3 months, as compared to a minimum of 12 months for conventional construction.
"States have used accelerated bridge construction to lower construction costs, improve safety and quality, and shorten project completion."
A recent NJDOT project replaced Gordon's Corner Road over NJ Route 9 in the Manalapan Township of Monmouth County. This 1930s-designed interchange brings together four local roadways with NJ Route 9, which carries more than 41,000 vehicles per day. The $6.3-million project used a prefabricated superstructure to reduce construction time.
The Missouri Department of Transportation (MoDOT) has also embraced the use of ABC through its $700 million Safe and Sound Bridge Improvement Program (see June 2010 Focus, available online at www.fhwa.dot.gov/publications/focus/10jun/01.cfm). As part of the program, 554 bridges are being replaced using design-build contracting and ABC techniques such as prefabricated components. The key goals of the program are to deliver good bridges at great value, minimize public inconvenience through increased construction speed and a flexible schedule, and complete construction by December 31, 2013. A "progress meter" on MoDOT's Safe and Sound project Web site at www.modot.org/safeandsound monitors how many bridges are under construction and how many have been completed.
For more information on the 2010 FHWA Bridge Engineering Conference, contact Reggie Holt at FHWA, 202-366-4596 (email: reggie.holt@fhwa.dot.gov), or Claude Napier at FHWA, 804-775-3327 (email: claude.napier@fhwa.dot.gov). Based on the popularity of the past conferences, FHWA plans to hold similar conferences in the future. To learn more about ABC, visit www.fhwa.dot.gov/bridge/prefab/index.cfm or www.fhwa.dot.gov/bridge/accelerated/index.cfm. Information is also available at www.fhwa.dot.gov/hfl.