Publication Number: FHWA-HRT-13-013
Date: May 2013
Printable Version (.pdf, 0.4 mb)
Maintenance Leadership Academy: Training Today's Highway Maintenance Managers
Advance your skills as a highway maintenance manager or supervisor with the new Maintenance Leadership Academy available from the Federal Highway Administration's (FHWA) National Highway Institute (NHI).
Designed to be an intensive program for State, district, and county maintenance managers and supervisors, the Academy can assist agencies in shortening the time needed to train new managers, as well as provide career development for more experienced staff. The training highlights both the changes in highway maintenance that have occurred over the past 20 years and the new technologies that will transform future maintenance practices. Participants will study personnel management, materials selection, equipment use, budgeting, and maintenance planning.
Featured topics include:
Use of maintenance administration to achieve highway agency goals.
How pavement and bridge preservation treatments fit into an overall system preservation program and the optimal timing for treatments.
Drainage maintenance and roadside management techniques.
A maintenance manager's roles and responsibilities for developing, implementing, and managing a comprehensive plan to address weather-related events.
Maintenance and use of traffic control devices, including work zone plans, work zone traffic control devices, signs, striping, guardrails, and median barriers.
How environmental protection issues, regulations, and control measures affect highway maintenance activities.
Following an initial session in Texas, the Academy was held in fall 2012 in Tennessee. "It was a very good learning experience," said participant Ritchie Swindell of the Georgia Department of Transportation. "The information on pavement preservation was particularly helpful, as we are concentrating more on system preservation now. I brought the information from the pavement preservation module back and shared it with colleagues."
"The training was outstanding," said Tony Thompson of the South Carolina Department of Transportation. "As my previous experience was in construction, every aspect of it was useful for me. I think everyone appreciated the opportunity to meet participants from various States and talk about the ways we handle different situations. I would absolutely recommend it to others."
The Academy's 8-week schedule combines 12 days of classroom training with 32.5 hours of independent study and two 1-hour Web conferences, minimizing the time participants need to be away from their jobs. Participants should have previously completed "Pavement Preservation Treatment Construction" (Course No. FHWA-NHI-131110), or had equivalent training or experience in this content area.
Agencies can host a session in their State or work with NHI to plan a regional session. The cost is $2,000 per participant, with a minimum class size of 20 and a maximum of 30. The next session is scheduled to begin in Phoenix, Arizona, in September 2013. For more information on the Maintenance Leadership Academy (Course No. FHWA-NHI-134063), visit www.nhi.fhwa.dot.gov and select "Search for a Course." Information is also available by contacting Marty Ross at NHI, 720-963-3212 (email: marty.ross@dot.gov).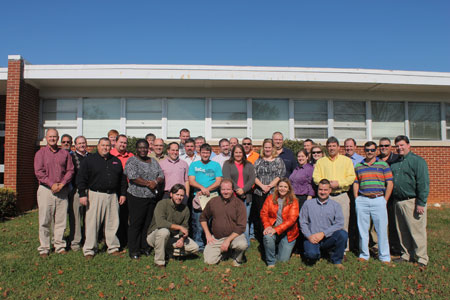 Participants at the fall 2012 session of FHWA's Maintenance Leadership Academy, which was held in TN.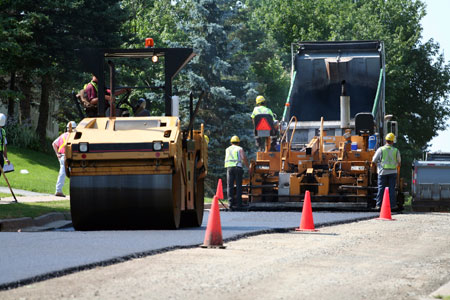 Topics covered at the Maintenance Leadership Academy include materials selection, equipment use, and maintenance planning. (Photo Credit: © www.iStockphoto.com/Mike Clarke)