Publication Number: FHWA-SA-97-029
Date: November/December 1997

New Software Unlocks a World of Data
For nearly 10 years, State and Provincial highway agencies have been collecting data from thousands of long-term pavement performance (LTPP) experiments across the United States and Canada. Now, a new software program-called DataPave-brings that data, as well as a set of tools for searching, viewing, and manipulating the data, to your personal computer.
The DataPave software will make its debut at the 77th Annual Meeting of the Transportation Research Board in Washington, D.C., in January. The software contains most of the information currently available from the LTPP experiments, allowing you to delve into the entire database, rather than a limited subset, as was the case with previous software programs.
DataPave will be most useful for pavement researchers in State highway agencies and academia. The software will also appeal to highway agency managers and others who want to learn more about the LTPP test sections and what they indicate about pavement performance. "We hope the software encourages people to become champions of research projects that use the LTPP data, and maybe even to propose their own ideas for research projects. DataPave will also renew interest in the LTPP program itself," says John Donahue of the Federal Highway Administration (FHWA).
DataPave has been extensively tested to ensure that it will work on all computers using the Microsoft Windows 95 or Windows NT operating systems.
To help users learn how to get the most from DataPave, FHWA plans to hold several workshops this spring and summer. Together with the American Society of Civil Engineers, FHWA also plans to hold a contest for undergraduate and graduate students who conduct research projects using the LTPP data. According to FHWA's Kurt Dunn, the contest will introduce students to the LTPP program and its findings and will generate ideas for future research.
For more information, or to request a copy of DataPave, contact John Donahue at FHWA (phone: 573-636-7104; fax: 573-636-9283; email: john.donahue@fhwa.dot.gov) or Kurt Dunn at FHWA (phone: 816-276-2734; fax: 816-363-3347; email: kurt.dunn@fhwa.dot.gov). Information is also available at FHWA's DataPave Web site (www.hend.com/datapave/).
DataPave Capabilities and System Requirements
The DataPave software provides all the tools you need to examine and work with data from the LTPP experiments. After starting the program, you select the LTPP experiment sites for which you want to view data. Sites can be selected by experiment type, climate, traffic, geographical location, and other characteristics. Alternately, you can select sites by panning and zooming through maps of the United States and Canada.
After selecting the sites, you can view information such as location, construction, traffic loads, climate, and the results of falling weight deflectometer testing. You can also see a cross-section of the pavement, as well as information on layer composition and thickness.
To get a better idea of what the data collected from the test sites mean, you can call up charts showing one of eight major types of pavement distress. These charts-which can show data from up to four test sections simultaneously-allow for side-by-side comparisons of how different test sites have performed over time.
Data files from the massive DataPave database can be searched using sophisticated structured query language (SQL) tools. The data can then be saved in file formats compatible with most database software programs.
To run DataPave, you will need:
IBM-compatible PC with a 486 or faster microprocessor, mouse, and CD-ROM drive.
Windows 95 or Windows NT 3.51 or higher.
At least 80 megabytes (MB) of free hard disk space.
At least 12 MB of RAM (16 MB recommended).
Display resolution of 800 by 600.
Technical support is available to registered users; (phone: 423-481-2967; fax: 423-481-8555; email: ltppinfo@fhwa.dot.gov). There is no charge for the software.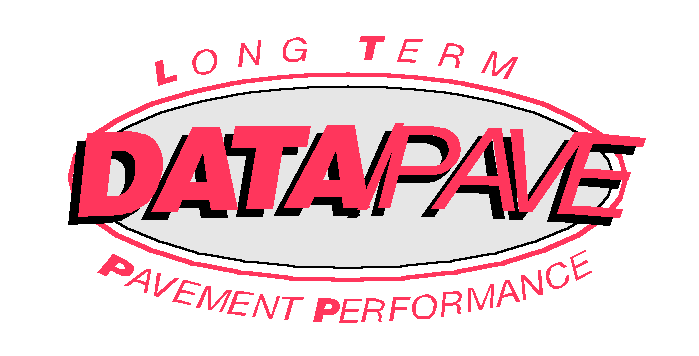 New software unlocks a world of LTPP data.