Publication Number: FHWA-SA-97-028
Date: October 1997

Videotape Reveals Everything You Need To Know About Calibrating an FWD
Imagine going to H&R Block to have your income taxes prepared and not knowing what to bring or what was going to happen when you got there. You would end up either making numerous trips back and forth to fetch receipts and so forth or else filing an incomplete or inaccurate tax return.
This is similar to the situation facing many falling weight deflectometer (FWD) operators as they prepare for their annual visit to a calibration center. Highway agencies use data collected by FWDs to decide which pavements require maintenance or rehabilitation. To ensure that data from these tests are accurate, FWD operators tow their equipment to one of four regional calibration centers for an annual checkup. But since it is only done once a year, even veteran operators can easily forget what they need to do to get ready for the calibration process. And those who have never before handled the assignment don't know what to expect.
A new videotape, Working With Your FWD Calibration Center to Produce Quality Deflection Data, helps FWD operators to better understand-and prepare for-the annual FWD calibration check. The professionally produced videotape takes a detailed look at all the steps involved in taking an FWD to a regional calibration center. It explains what the FWD operators need to do before taking their equipment in, what they need to bring with them to the calibration center, and what happens during the calibration process. By reviewing the videotape ahead of time and heeding its suggestions, FWD operators can ensure that the calibration process will go smoothly.
The 15-minute videotape was produced by the FWD/resilient modulus squad of the long-term pavement performance (LTPP) implementation team, through a cooperative agreement with the Minnesota Department of Transportation (DOT). The videotape was filmed at the North Central Region Calibration Center in Minneapolis, Minnesota, which is operated by Minnesota DOT, and at the Western Region Calibration Center in Reno, Nevada, which is operated by Nevada DOT. FWD vendors provided equipment and technical advice, and Minnesota DOT's Video Services Section added special effects and other features to produce a high-quality videotape.
For more information or to order copies of the videotape, contact Max Grogg at FHWA (phone: 518-431-4224, ext. 223; fax: 518-431-4208; email: max.grogg@fhwa.dot.gov).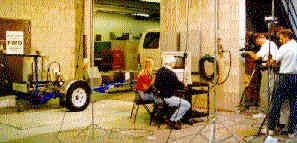 A professional camera crew from Minnesota DOT produced the new videotape on the FWD calibration process.