Publication Number: FHWA-SA-97-028
Date: October 1997

Symposium Features the Latest in Winter Road Maintenance
With winter fast approaching, 1, 300 highway maintenance workers and managers turned their thoughts to snow and ice at the Second Annual Eastern Winter Road Maintenance Symposium and Equipment Expo. Held in Hagerstown, Maryland, in September, the event was cosponsored by the Maryland Department of Transportation (DOT) and the Federal Highway Administration (FHWA), with the participation of Maryland's Transportation Authority, State Highway Administration, and Transportation Technology Transfer Center.
Participants hailed from 23 States, ranging from Florida to Utah to Maine. The attendees represented city, county, State and Federal agencies. More than 70 vendors also exhibited their winter maintenance products at the accompanying equipment expo, which showcased the newest generation of snowplows, snowblowers, zero-velocity spreaders, pothole patchers, and other pieces of equipment.
"The event not only matched but exceeded our expectations," says Richard Shelton of the Maryland State Highway Administration. "We had an excellent cross section of people, from equipment operators to decision makers."
Attendees could choose from sessions on operations and equipment, new technologies and materials, and communications strategies. Among the highlights was a look at an advanced technology maintenance vehicle developed jointly by Iowa, Minnesota, Michigan, and a number of industry partners. This "ideal" winter maintenance truck is outfitted with state-of-the art computerized road sensing capabilities, including a surface air temperature sensor and a pavement friction measuring device.
Other session highlights included an overview of automatic bridge deck deicing technologies, which are being tried in Utah, Minnesota, and Illinois; a report on automated vehicle location systems, which are helpful in scheduling work crews and tracking snow removal operations; and an overview of the spray injection method of pothole patching, which is more efficient and effective than traditional methods.
John Callihan of the Kentucky Department of Highways found the session on automated vehicle location systems to be particularly useful. "I was really impressed to learn of the capabilities that a system like that can give you and where it can take you in the future in terms of snow and ice control," he says. The knowledge he gained on underbody plows at the conference may also have an immediate impact on his department's work, as his agency is now looking into using them.
Stephen Colson of the Maine DOT concentrated on attending the sessions on anti-icing in preparation for his department's planned introduction of anti-icing techniques this winter. Gaining the benefit of other's experiences was helpful, he said, since "we anticipate some growing pains" in making the change.
Plans are already being made for next year's symposium, which will be held in Pennsylvania. To be added to the mailing list for preliminary registration material, contact Ron Doemland at Pennsylvania DOT, 717-787-4299 (fax: 717-783-4438). For more information, contact Deborah Vocke at FHWA, 202-366-4855 (fax: 202-366-7909; email: deborah.vocke@fhwa.dot.gov).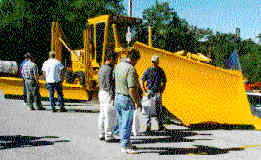 More than 35 pieces of winter maintenance equipment were featured at the Second Annual Eastern Winter Road Maintenance Symposium and Equipment Expo.