Publication Number: FHWA-SA-98-021
Date: April 1998

The Superpave System: Not Just for Roads Anymore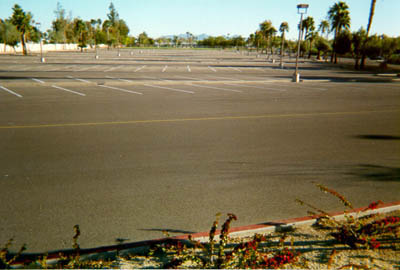 Six months ago, this parking lot at the Grace Community Church in the Phoenix suburb of Tempe was paved with a Superpave mix designed to withstand long static loads and very high temperatures.
State highway agencies and local governments aren't the only ones using the Superpave system to improve the performance of asphalt pavements. Consider, for example, Phoenix, Arizona, where Superpave mixes have been used to build durable parking lots for several businesses and churches-a sure sign that the Superpave system is entering the mainstream.
The first Superpave parking lot in Phoenix was constructed in 1996. The owner of Liberty Buick asked United Metro Materials, which had already designed mixes for several Superpave pavements in the area, to come up with an improved overlay for the dealership's asphalt parking lot, which was rife with low-temperature cracking. The overlay not only had to be resistant to cracking, but it also had to be relatively thin so that it would be even with the lot's existing ramps and curb cuts. In addition, the overlay had to be economical and look good.
To meet those specifications and to produce a pavement that would be very durable under low traffic volumes, long static loads, and extremely hot temperatures, United Metro Materials proposed a Superpave mix with a 9.5-mm (3/8-in) aggregate gradation and very low air voids.
The mix cost only slightly more than a conventional mix. And according to the paving contractor, the mix was easy to work with and produced a smooth surface.
Parking lots in the desert southwest suffer from cracking and localized surface shear distress, commonly called power steering scuffs. These scuffs occur when relatively sandy mixes (that is, mixes that have a high proportion of very fine aggregate), such as are typically used on parking lots, are exposed to extremely high temperatures, explains Don Green of United Metro Materials. Lacking a strong aggregate skeleton, the mixes are vulnerable to tearing under the pressure of sharp, low-speed turns, which account for many of vehicles' movements in parking lots. In contrast, the angular aggregates called for by the Superpave specifications help resist scuffing, Green says.
The first parking lot overlay has held up extremely well, says the Asphalt Institute's Bob Campbell, who has been following the project since it was built. At a recent visit to the site, "I saw very few power steering scuffs and only a few cracks," he says.
Similar mixes have since been used on at least six other parking lots at businesses and churches in the Phoenix area. "It's growing in popularity," Green says. "We've been successful in convincing people that Superpave is a superior product."
The main barrier to wider use of Superpave mixes on parking lots is the surface texture of the finished pavement, which is coarser than that of conventional parking lots. "Aesthetics are important in parking lots," Green says. "We and the contractors we supply encourage people to look at facilities that have been surfaced with the Superpave mix to get a feel for the surface texture. It looks different, and we want them to know that ahead of time."
For more information, contact Don Green at United Metro Materials (phone: 602-220-5633; fax: 602-220-5348; email: dong@metromat.com).