Publication Number: FHWA-SA-98-019
Date: February 1998

Lead States Team for Alkali-Silica Reactivity
Guide Specification Provides Tips on Preventing ASR
Alkali-silica reactivity (ASR), which occurs when silica in aggregates and alkalies in cement react with water to form a gel-like mass, can be a big problem for portland cement concrete bridges and pavements everywhere. Portland cement concrete is a highly durable material, yet ASR can cause concrete structures and pavements to crack and eventually fail. It's been 60 years since ASR was first identified, but recognizing and preventing ASR is still a daunting task for many highway agencies.
What steps should be taken to control ASR in new concrete mixes? Which tests should be used to determine if a concrete mix is vulnerable to the reaction? Answering those questions has been the focus of the Lead States team for ASR since it was created last year. Now, the team is preparing a new guide specification that outlines its recommendations on ways to ensure that concrete mixes will be safe from ASR. The guide specification builds on work begun during the Strategic Highway Research Program (SHRP).
The guide specification is being developed by the members of the Lead States team, who represent State highway agencies, industry, and the Federal Highway Administration (FHWA). Drawing on their extensive experience with ASR, team members have assembled a list of test methods for determining the potential reactivity of aggregates and concrete mixes, as well as materials that can be used to control the development of ASR in concrete mixes. The guidelines, which reflect the team's consensus in these areas, will be sent to the American Association of State Highway and Transportation Officials' (AASHTO) Subcommittee on Construction this summer for consideration as a guide specification. A version of the guide specification will be available on the Lead State's team's soon-to-be-available Web site.
The guide specification is designed to help States set up their own procedures for controlling ASR. "It's a framework," says Roger Surdahl of FHWA, who is preparing the specification for submission to AASHTO. "States can tailor it to what they want. There are a lot of techniques out there for addressing ASR. Our specification truly has been a team effort. It pulls together in AASHTO format most of the techniques people are using to test for and to control ASR."
The guide specification describes two approaches to ASR control. In the first approach, you select aggregates that have performed well in the field or that have passed standard laboratory tests. In the second approach, you design a concrete mix using a material or a combination of materials known to lessen the likelihood of ASR, then verify that the mix successfully controls ASR. With either technique, you then test the mix to ensure that alkali concentrations are below the limits defined in the guide specification.
The guide specification is designed to work equally well in any part of the country. "The level of ASR varies from region to region, but most of the Nation can expect to encounter some ASR," says Surdahl. "The guide specification will help prevent or mitigate the damage ASR can cause."
Members of the Lead States team for ASR are on call to provide State and local agencies with technical assistance in identifying ASR and in developing specifications for concrete mixes that control ASR. Information on contacting the members of the team can be found in the October 1997 Focus.
For more information, contact Margo Thomson of the Pennsylvania Department of Transportation, head of the Lead States team (phone: 717-787-1931; fax: 717-783-5955; email: mct@ezonline.com).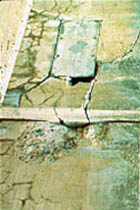 Severe cracking on concrete structures can be caused by the result of a number of causes, including alkali-silica reactivity (ASR). The guide specification from the Lead States team for ASR will help highway agencies prevent ASR-related damage.