Publication Number: FHWA-SA-98-024
Date: July/August 1998

New England Gets a Helping Hand with Superpave
State highway agencies and paving contractors in New England now have a ready source of assistance in designing Superpave mixes: the Transportation Technology Center of Connecticut (TTCC).
Opened last year at the University of Connecticut in Storrs, the center serves Maine, Vermont, New Hampshire, Rhode Island, and Massachusetts, as well as Connecticut. Several years ago, these States formed what is known as the New England Transportation Consortium (NETC) to collaborate on highway research projects.
"More and more paving jobs in New England are using the Superpave system," says center director Jack Stephens, "but it is difficult for contractors to purchase expensive lab equipment for a limited number of Superpave jobs." By assembling all of the Superpave equipment in one place and providing prompt assistance to contractors, the center has eased the transition to the Superpave system.
"It was a benefit to us," says Joe St. Germain of Soneco Northeastern, Inc., who used the lab last year for assistance with four Superpave mixes for a job on Connecticut State Route 2. "They had all the proper equipment and they were very conscientious in their work."
The Connecticut Department of Transportation furnished the center's equipment and provides basic funding. Highway departments and contractors who send mix design jobs to the center pay a fee, while funding for special projects has come from such sources as NETC.
In addition to designing Superpave mixes, TTCC has several ongoing research projects. It is coordinating an NETC round-robin test of Superpave binders and will begin an NETC project to study the durability of open-graded surface mixes in September. It is also studying the moisture sensitivity of a cross-section of Connecticut aggregates and developing a test that will measure the tendency of hot-mix asphalt (HMA) to segregate during handling.
TTCC's laboratory work is supplemented by its educational activities. The center teaches the bituminous concrete portion of the undergraduate materials course at the University of Connecticut and hires students to work in the lab during the school year, giving them valuable hands-on experience with the Superpave system.
The center also sponsors short courses and other training programs for highway agency staff and contractors. For example, TTCC is coordinating with the Northeastern Superpave Regional Center on the development of a new course on Superpave mix design. TTCC is also working with the New England Technologies Training Certificate Program, an independent organization that draws participants from both State highway agencies and industry, to develop a certificate program for binder technicians.
"Industry has been very supportive," says Stephens. The center's advisory board includes three industry representatives and is chaired by the secretary of the Connecticut Bituminous Concrete Producer's Association. The association is also funding half of the HMA segregation study being conducted at the center.
Looking to the future, TTCC plans to broaden its services to include pavement management.
For more information, contact Jack Stephens at TTCC, 860-486-5956 (fax: 860-486-2399; email: mah9709@uconnvm.uconn.edu; Web: www.eng2.uconn.edu/ti/netc/apl).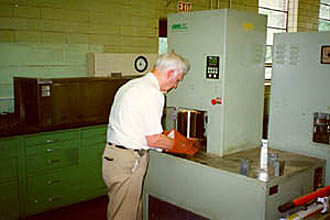 State highway agencies and paving contractors in New England can turn to the Transportation Technology Center of Connecticut for assistance in designing Superpave mixes. Here, center director Jack Stephens uses the Superpave gyratory compactor.