Publication Number: FHWA-SA-98-024
Date: July/August 1998

Winter Maintenance Groups Working Together for Clearer Roads
To keep roads safe for travel during the winter, State and local highway agencies spend more than $1.8 billion a year on snow and ice control. It's thus no surprise that the American Association of State Highway and Transportation Officials (AASHTO), State (FHWA), and others have placed a high priority on identifying and deploying innovative, cost-effective techniques and technologies for winter maintenance. To spur deployment, they have established three programs that work in concert to help highway agencies implement innovative winter maintenance tools:
Ice Warriors
Lead States team for anti-icing/road weather information systems (RWIS)
Snow and Ice Cooperative Pooled Fund Program (SICOP)
Ice Warriors
FHWA's Ice Warriors program provides crew chiefs and others in the front line of highway maintenance with hands-on training and technical support on anti-icing strategies. The team was created in 1995, at the close of FHWA's program to test and evaluate anti-icing techniques.
To further deploy anti-icing techniques beyond the 15 States that had participated in the test and evaluation program, FHWA assembled a team of four experts from the participating States and dubbed them the Ice Warriors. If a State calls on FHWA for assistance in learning about anti-icing techniques, one of the Ice Warriors is assigned as the State's mentor. The mentor's first step is to visit the State highway agency and provide training and other assistance to the maintenance crews. Once the highway agency begins using anti-icing techniques, the mentor is available for additional training or to answer questions.
"The goal of the Ice Warriors program is to make sure States begin conducting anti-icing activities the correct way, with minimal funding and with one-on-one training. The objective is to make sure States have a pleasant first experience with anti-icing techniques," says Brian Chollar of FHWA.
Lead States Team
The Lead States team for anti-icing/RWIS is made up of seven States that are ahead of the pack in implementing anti-icing techniques and RWIS technology, an extremely effective combination for winter maintenance. The team is one of seven Lead States teams created by AASHTO in September 1996, with support from FHWA, to encourage the adoption of high-payoff technologies that were developed or evaluated under SHRP. Funding is provided by FHWA and State highway agencies.
Staff from highway agencies in the Lead States-Colorado, Iowa, Minnesota, New York, Nevada, Pennsylvania, and Washington-provide training and technical support to State highway agency staff, primarily mid-level managers who set maintenance policies. Members of the Lead States team travel to nearby States to conduct training, and they host visitors from other States who want to see their anti-icing/RWIS technologies in operation.
SICOP
With both the Ice Warriors and the Lead States team focusing on implementation, AASHTO's Winter Maintenance Policy Coordinating Committee (WMPCC) decided in 1996 to create a program to identify unmet needs in winter maintenance, as well as ways to meet those needs. The result was SICOP, which is sponsored by AASHTO, the American Public Works Association (APWA), and the National Association of County Engineers (NACE).
"Our role is to act as a facilitator and promoter of research projects and to make sure we don't duplicate research and development work, nor implementation efforts," says Rod Pletan, who is managing SICOP (see sidebar below). By tracking research and results in States, industry, the National Cooperative Highway Research Program, and other organizations and countries, SICOP can determine what is ready for implementation and what areas need more research and development.
The WMPCC has identified 10 priority topics for SICOP:
training in anti-icing strategies
training in RWIS technologies
test procedures for anti-icing materials
best practices for snow and ice control in urban areas
use of global positioning system equipment in winter maintenance
pavement friction measurements
the use of public information and public relations in winter maintenance
educating and training drivers for winter conditions
anti-icing training geared for local governments
use of high-technology equipment in winter maintenance.
"SICOP can identify innovative technologies that will allow us to do a better job," explains Larry Frevert, deputy director of the Kansas City, Missouri, Department of Public Works and the APWA representative on the WMPCC. "For example, we've always felt that wing plows don't have a place in the city, but now we're beginning to use them at night to plow one and a half lanes at a time."
Although the responsibilities of the Ice Warriors, the Lead States team for anti-icing/RWIS, and SICOP overlap, the programs avoid duplication of effort through well-established lines of communication. The fact that two of the Ice Warriors are also members of the Lead States team helps, as does the fact that Patrick Hughes, chairman of the WMPCC, hails from Minnesota DOT, a Lead State in anti-icing techniques and RWIS technology.
These close ties also allow the three groups to share resources. For example, the Lead States team plans to post information on SICOP activities on its Web site. "The Web site will be a virtual library of information on anti-icing and RWIS," says Nelson. "We hope the site will help to integrate the three programs."
For more information on the Ice Warriors, contact Salim Nassif at FHWA (phone: 202-366-1557; fax: 202-366-9981; email: salim.nassif@fhwa.dot.gov).
For information on arranging for an Ice Warrior to serve as a mentor for your State, call your FHWA division office.
For more information on the Lead States team for anti-icing/RWIS, contact Rick Nelson at Nevada DOT (phone: 702-834-8333; fax: 702-834-8390; email: h2201rjn@ndot.state.nv.us).
For more information on SICOP, contact Rod Pletan at Minnesota DOT (phone: 651-297-3593; fax: 651-297-5399; email: rod.pletan@dot.state.mn.us).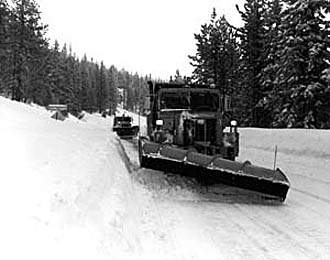 The Sierra Nevadas receive up to 4.5 m (15 ft) of snow in a typical winter. Thanks to the Ice Warriors, the Lead States team, and SICOP, winter maintenance lessons learned in Nevada and elsewhere are being passed on to State and local governments across the country.
IN A NUTSHELL
The Ice Warriors, the Lead States team, and SICOP have a similar goal-to improve winter maintenance operations-but each has a different focus.
The Ice Warriors help maintenance crews in State highway agencies learn to use anti-icing techniques.
The Lead States team helps managers in State highway agencies understand why-and how-anti-icing techniques and RWIS technology should be part of their winter maintenance toolbox.
SICOP focuses on identifying unmet needs and emerging technologies.
PLETAN BECOMES AASHTO'S FIRST LOANED STAFFER
Minnesota DOT's Rod Pletan has become the first State highway agency staffer to serve as loaned staff to AASHTO. Pletan began serving as SICOP manager earlier this year; he's on loan to the program for at least 1 year.
As with the loaned staff members who have served at SHRP and FHWA, Pletan's home agency will continue to pay his salary. Unlike previous loaned staff arrangements, however, Pletan will work from his office at Minnesota DOT. Pletan volunteered for the SICOP position at the request of Pat Hughes, who is assistant commissioner of the operations division at Minnesota DOT and chairman of AASHTO's Winter Maintenance Policy Coordinating Committee, which oversees SICOP.
AASHTO Executive Director Frank Francois predicted that having Pletan as a loaned staff member will greatly benefit SICOP. "We believe this approach will help assure that SICOP will be effective and responsive to the snow and ice management needs of the States and local governments, and I highly commend the leadership of the Minnesota DOT for providing us this opportunity," Francois said.