Publication Number: FHWA-SA-98-020
Date: March 1998

Preventive Maintenance Means Smooth Driving in Georgia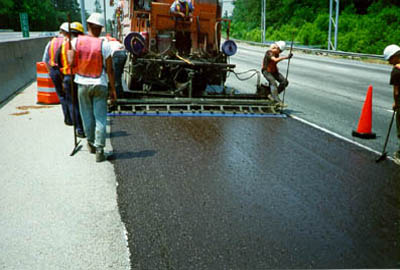 Georgia DOT has recently added microsurfacing techniques to its arsenal of preventive maintenance treatments.
In a 1995 survey of motorists nationwide, pavement conditions topped the list of priority areas for improvement in the Nation's highway system. That was no surprise to the Georgia Department of Transportation (DOT), one of the members of the Lead States team for pavement preservation and a strong proponent of pavement preservation through a systematic approach to preventive maintenance. For more than 20 years, Georgia DOT has strived to satisfy its customers by making smoother pavements a goal of its pavement preservation strategy.
The State's pavement preservation strategy centers on preventive maintenance treatments that help keep pavements in good condition. Preventing pavements from deteriorating not only benefits Georgia DOT by delaying the need for pavement rehabilitation and repairs, but it also benefits motorists by significantly improving the ride quality of Georgia's roads.
Between 1972 and 1997, the smoothness of asphalt pavements in Georgia improved by more than 300 percent, according to smoothness measurements routinely taken just before and right after asphalt pavements are resurfaced. This means that asphalt pavements that are about to be resurfaced today are more than four times smoother on average than similar pavements scheduled for resurfacing more than 2 decades ago.
The figures for concrete pavements are nearly as impressive. Between 1979 and 1996, the smoothness of concrete pavements on Interstate highways in the State improved by more than 200 percent. This improvement is measured by surveying the same stretches of Interstate highway every year.
Georgia's pavements have reached a high enough level of ride quality that smoothness data collected for the State's pavement management system are no longer a key factor in scheduling preventive maintenance treatments. Pavement management systems are used to keep track of the condition of the pavements in a State and to target maintenance and repairs. "Our pavement management system doesn't really consider smoothness because most of our roads already meet our standards," says Wouter Gulden of Georgia DOT.
Georgia DOT treats about 10 percent of its pavements each year using a variety of preventive maintenance treatments, including thin asphalt overlays.
Gulden stresses, however, that it's the concept, not the details of Georgia's-or any State's-pavement preservation program that is important to other States considering establishing a preventive maintenance program. "What works for me may not work for you. Every State has to develop its own strategy. The level of maintenance may vary and the techniques may vary."
What is also important is dedicated support for pavement preservation. "Long-term support and financial commitment are the keys to success," said Wayne Shackleford, commissioner of Georgia DOT. "We spend approximately $70 to $80 million a year on preventive maintenance. Our citizens are reaping the financial benefits of this commitment."
For more information, contact Wouter Gulden, Georgia DOT (phone: 404-363-7512; fax: 404-362-4925; email: gulden_w@dot.state.ga.us), or Jose Garcia, FHWA (phone: 202-366-2226; fax: 202-366-9981; email: jose.garcia@fhwa.dot.gov).
HELP IS AVAILABLE ON PAVEMENT PRESERVATION
Need a hand getting a pavement preservation strategy up and running? Want to talk to someone who has "been there, done that"? The Lead States team for pavement preservation can help. Contact the following:
Thomas Bohuslav, Texas DOT (phone: 512-416-2550; fax: 512-416-2539; email: tbohusl@mailgw.dot.state.tx.us)
Larry Galehouse, Michigan DOT (phone: 517-322-3315; fax: 517-322-2699; email: galehousel@state.mi.us)
Wouter Gulden, Georgia DOT (phone: 404-363-7512; fax: 404-362-4925; email: gulden_w@dot.state.ga.us)
Tom Hynes, Michigan DOT (phone: 517-322-5711; fax: 517-322-5664; email: hynest@mdot.state.mi.us)
Tom Lorfeld, Wisconsin DOT (phone: 608-267-3149; fax: 608-267-7856)
Roger Olson, Minnesota DOT (phone: 612-779-5517; fax: 612-779-5616; email: roger.olson@mnroad.dot.state.mn.us)
Steve Shober, Wisconsin DOT (phone: 608-246-5399; fax: 608-246-4669)
Wayne Swinford, Georgia DOT (phone: 404-656-5314; fax: 404-657-7286)