Publication Number: FHWA-SA-98-020
Date: March 1998

Rutting at WesTrack: Final Report Due This Month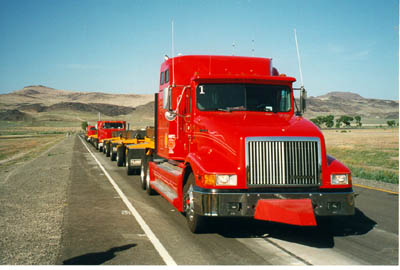 A forthcoming report explains why test sections at WesTrack developed rutting after carrying automated trucks for just a few days.
The team of independent experts investigating the premature rutting at WesTrack has finished its final report, and the report is scheduled to be available next month. The investigative team was assembled last fall after several test sections at the Federal Highway Administration's (FHWA) hot-mix asphalt test track in Nevada developed rutting after carrying traffic for just a few days.
In its preliminary report (see Focus, October 1997), the team outlined the most likely causes of the rutting and made several recommendations for preventing rutting in similarly designed asphalt mixes. To validate its conclusions and recommendations, the team asked FHWA to perform an extensive series of laboratory tests on materials from WesTrack. Those tests were completed in January, and the results were reviewed by the investigative team in February. The team's final report will reflect the findings of those tests. The test data will be available on request from FHWA.
The final report will be available from FHWA. It will also be published on the Internet.
The team has also developed a Superpave mix design guide to help inexperienced mix designers with the procedure. The guide will be part of the final report.
For more information, contact John D'Angelo at FHWA (phone: 202-366-0121; fax: 202-366-7909; email: john.d'angelo@fhwa.dot.gov) or Chris Williams at FHWA (phone: 703-285-1018; fax: 703-285-2767; email: ronald.c.williams@fhwa.dot.gov).