Publication Number: FHWA-SA-98-027
Date: November 1998

SHRP Technology Exchange Conference Highlights Winning Mix of Products and Partnerships
From the spray-injection pothole patcher to the Superpave asphalt mix design system, the more than 500 participants at the recent Mid-Atlantic States SHRP Technology Exchange Conference got first-hand exposure to the products of the Strategic Highway Research Program (SHRP).
Held October 13-14 in Hagerstown, Maryland, the conference was sponsored by the Federal Highway Administration (FHWA) and the Maryland Department of Transportation (DOT). The conference was designed to give State and local highway agency managers and technical staff an opportunity to learn from others' experiences in using and evaluating SHRP products for highway operations, concrete and structures, and asphalt. While most of the participants hailed from Delaware, the District of Columbia, Maryland, Pennsylvania, Virginia, and West Virginia, others came from as far away as Canada, Estonia, Saudi Arabia, and South Korea.
Speakers at the conference's opening session reflected on the lessons learned from SHRP and the need to apply these to future highway research programs. Tony Kane, executive director of FHWA, emphasized that SHRP's winning mix involved "products, people, and partnerships." These partnerships at the national, regional, and State levels continue to drive implementation efforts.
Among the most important partnerships, noted Gary Hoffman, chief engineer of the Pennsylvania DOT, have been the American Association of State Highway and Transportation Official's Lead States teams. "We took States with the passion to implement products and gave them the resources and authority to lead," said Hoffman. That leadership was well represented at the conference, with each of the Lead States teams sending members to make presentations and participate in discussions.
Participants could choose from focused sessions in each of the SHRP technology areas. The highway operations sessions included discussions of pavement management, maintenance materials, preventive maintenance treatments, road weather information systems (RWIS), and anti-icing. The asphalt sessions featured agencies' and contractors' perspectives on implementation of the Superpave asphalt mix design system, as well as an update on the Superpave performance models. Meanwhile, attendees at the concrete and structures sessions heard State, Federal, and industry representatives discuss progress made in building high-performance concrete pavements and structures. Concrete durability and the assessment, repair, and rehabilitation of concrete structures were also featured topics.
The sessions highlighted success stories, such as Delaware DOT's use of the Superpave system for all asphalt paving projects since January 1998, as well as lessons that States and local governments have learned. For example, West Virginia DOT designed its first Superpave pavement in 1997 using an 8-year prediction of use. It now realizes it is better to use a 20-year prediction for Superpave pavements. The first pavement is holding up well, however, with no rutting so far.
Attendees could also check out exhibits by more than 40 vendors, including displays of RWIS technologies and work zone safety products. Outside, they could tour the ground-penetrating radar vehicle, a powerful yet easy-to-use tool for surveying bridge decks and pavements, and witness a demonstration of the spray-injection pothole patcher.
SHRP's great success, said conference participant Don Steinke of FHWA, is that "it took the research products and put them into everyday highway engineering practice." As the conference demonstrated, this implementation is an ongoing process. For every State or county that has already embraced the new technologies, others are just starting to ascend the learning curve. The challenge for FHWA and States now is to realize that untapped potential.
For more information, contact John Scally at Maryland DOT, 410-582-5535; fax: 410-582-9862; email: jscally@sha.state.md.us) or Hassan Raza at FHWA's Maryland division, 410-962-4342, ext. 132; fax: 410-962-4054; email: hassan.raza@fhwa.dot.gov).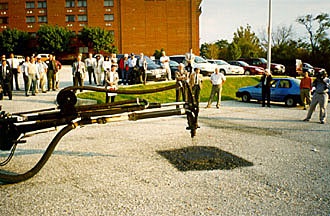 Attendees at the Mid-Atlantic States SHRP Technology Exchange Conference got a first-hand introduction to the spray injection pothole patcher, shown here.