Publication Number: FHWA-SA-98-026
Date: October 1998

FHWA and NAPA Study Tender Zone in Superpave Mixes
Tenderness might be a desirable quality in a steak, but it's not nearly as desirable in an asphalt mix. To address the problem of tenderness at certain temperature ranges in hot-mix asphalt designed using the Superpave system, the Federal Highway Administration (FHWA) and the National Asphalt Pavement Association (NAPA) held a workshop in Maryland in June for State highway agency and industry personnel. The workshop was designed to formulate a work plan to better understand the cause of tenderness in these mixtures.
When a tender mix is being compacted during the paving operation, it is prone to shoving-that is, the rollers push the mix in a wave in front of the roller. It can therefore be difficult to achieve proper compaction. Several of the workshop participants reported that they had encountered tenderness in Superpave mixes. To date, however, "most of those who have experienced the problem," says participant Ray Brown of the National Center for Asphalt Technology (NCAT), "have come up with ways to work around it."
One method of addressing the problem is to compact the mix at higher temperatures, before it cools to the temperature range (93 ºC to 118 ºC [200 ºF to 245 ºF]) where it tends to become tender. Another option is to use a rubber-tire roller rather than a steel-wheel roller when compacting in the tender temperature zone, as the mix is less likely to be shoved with a rubber-tire roller. Still another option is to wait for the mix to cool to below 93 ºC (200 ºF) before completing compaction; this option is not as appealing, however, since it is harder to achieve density with cooler mixes and they have a higher incidence of aggregates breaking during compaction. (More information about these options can be found in the joint NAPA/FHWA publication, Superpave Construction Guidelines*.)
To learn more about how States and contractors are dealing with tenderness in Superpave mixes, NAPA and FHWA will conduct an extensive telephone survey and several site visits this fall; those surveyed will be asked whether they have experienced the problem and, if so, how they worked around it.
FHWA and NAPA are also sponsoring a study to determine what causes tenderness in Superpave mixes. Although there are ways to work around the problem so that it does not affect the pavement's performance, ultimately, "we want to be able to design the mix so that it's not tender," says Brown, who is heading up the study.
For more information on the upcoming survey and laboratory study, contact Ray Brown at NCAT, 334-844-6228 (fax: 334-844-6248).
* To order, contact NAPA at 301-731-4748 (toll free: 888-468-6499; fax: 301-731-4621; Web: www.hotmix.org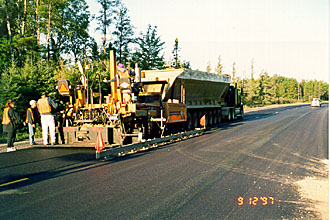 States and contractors that have encountered tenderness in Superpave mixes while paving have come up with ways to work around the problem, including compacting the mix at higher temperatures.