Publication Number: FHWA-SA-98-025
Date: September 1998

Bridge Deck Repairs: Time Is of the Essence
After years of service, it's not unusual for portland cement concrete (PCC) bridge decks to become permeable, allowing water and chloride ions from salt to penetrate. This can eventually cause corrosion in the deck's reinforcing steel. Aging decks also frequently suffer from poor skid resistance, poor ride quality, inadequate drainage, and deteriorated sections.
In many cases, highway agencies attempt to correct these problems by placing another layer of PCC on top of the original deck. Such overlays can add 30 years or more to the service life of a bridge, but the construction and curing time takes weeks, and sometimes even months. During that time, the bridge deck must be closed to traffic, which often is a major inconvenience to travelers and leads to increased congestion on other routes. And installing and maintaining concrete barriers and other traffic control and work zone safety measures is costly.
The rapid bridge deck repair techniques evaluated under the Strategic Highway Research Program (SHRP) offer another option-one that the Virginia Department of Transportation (DOT) tried in May. Virginia DOT, which is a member of the AASHTO Lead States team for concrete assessment and repair, decided to use a very early strength (VES) latex-modified PCC overlay, which provides the same benefits as a conventional overlay, but uses a concrete mix that is designed to cure very quickly. The bridge deck can thus be opened to traffic only 8 hours after construction starts on the VES overlay-a fraction of the time needed for a conventional overlay. The DOT used this technique on the bridge bearing Braddock Road over Interstate 495 in Northern Virginia. The bridge carries an average of 64,000 vehicles per day. The bridge had poor ride quality and had become permeable to water and chloride ions. Closing the bridge would create massive traffic problems on Braddock Road and other key routes in the area.
Although the materials for VES overlays are more expensive, the cost is more than offset by the savings on traffic control and work zone safety measures. According to Virginia DOT, when these costs are factored in, a fast-curing VES overlay costs approximately $115 per square meter ($96 per square yard) for labor and materials, compared with the $156 per square meter ($130 per square yard) it costs to place a conventional PCC overlay.
The Braddock Road project went very smoothly and was completed in the expected 8 hours. Today, more than 2 months later, the VES concrete overlay is performing extremely well, says Michael Sprinkel of the Virginia Transportation Research Council (VTRC) and leader of the Lead States team. "The permeability is lower than for conventional latex-modified concrete overlays. It's the lowest permeability I've seen for a latex-modified PCC overlay."
That experience, together with the highway agency's previous use of a VES overlay on a bridge near West Point, led Virginia DOT to decide to place a VES concrete overlay on the bridge carrying Interstate 395 over the George Washington Memorial Parkway this fall. Time is of the essence on this project, as the bridge is a major commuter route into Washington, D.C.
Sprinkel says the key to placing VES overlays is to work fast. "You can use conventional equipment, but because the concrete cures so quickly, it is susceptible to cracking, so you have to rush. Get the material down and covered up quickly with wet burlap or polyethylene."
For more information, contact Michael Sprinkel, VTRC (phone: 804-293-1941; fax: 804-293-1990; email: sprinkelmm@vdot.state.va.us), or Donald Jackson, FHWA (phone: 202-366-6770; fax: 202-366-7909; email: donald.jackson@fhwa.dot.gov).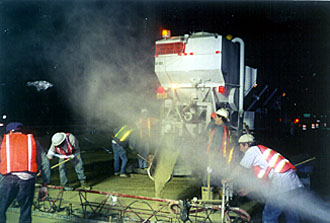 By using a very early strength portland cement concrete overlay, Virginia DOT was able to return this bridge carrying Braddock Road over Interstate 495 to service in just 8 hours.
PLACE AN OVERLAY IN 8 HOURS? HOW?
Rapid bridge deck overlays can be placed in as little as 8 hours, thus minimizing disruption to traffic. Below are typical schedules for overlay placement projects.
Very early strength concrete overlays and polymer overlays:
Close bridge at 9 p.m.
Mill and shotblast the bridge deck by 11 p.m.
Place the overlay by 2 a.m.
Open lane to traffic by 5 a.m.
High early strength concrete overlays:
Close bridge at 9 p.m. Friday
Mill and shotblast the bridge deck by 6 a.m. Saturday
Place the overlay by 11 a.m. Saturday
Open lane to traffic by 5 a.m. Sunday or Monday, depending on temperature and job requirements.
These schedules assume that the bridge deck does not require patching or filling of large cracks.