Publication Number: FHWA-SA-98-025
Date: September 1998

Survey Finds Contractors Generally Satisfied with the Superpave System
As reported previously in Focus, the Superpave system is becoming the mix design system of choice among State highway agencies. But what do paving contractors think about the new mix design system?
To answer that question, Dale Decker, vice president of research and technology for the National Asphalt Pavement Association (NAPA), recently conducted an informal survey of NAPA's members. The 20 contractors surveyed built a total of 68 Superpave projects using 2.75 million tons of Superpave mix on urban and rural roads in 1997, more than half of which carried high traffic volumes.
Overall, the survey respondents reported generally positive results with the Superpave system. They emphasized that Superpave pavements do require that contractors pay close attention to detail and follow good mix production procedures and pavement construction practices. Here's a summary of some of the key findings of the survey.
BINDERS
Implementation of the Superpave binder specification has gone smoothly, with the respondents reporting no trouble procuring performance-graded (Superpave system) binders from their usual suppliers.
Sixty percent of the binders used in Superpave mixes were unmodified, a somewhat lower percentage than in conventional asphalt mixes.
Most respondents expect the use of modified binders to decrease as States and industry become more comfortable with the performance of Superpave mixes.
The highway agency, not the contractor, usually selects the binder grade for a project.
Seventy percent of the respondents commented that they saw no differences between Superpave binders and conventional binders.
AGGREGATES
Ninety-five percent of the respondents were able to obtain aggregates that met the Superpave guidelines from their usual suppliers. However, the aggregates did differ somewhat from those used in conventional mixes.
Superpave aggregate blends tend to use more washed materials, more manufactured sand, and a greater range of sizes of aggregate than conventional aggregate blends.
Superpave mixes are coarser than conventional mixes, with aggregates blended to fall below the restricted zone.
Sixty percent of those surveyed had no problem designing around the restricted zone. Those that had problems generally attributed them to difficulty in achieving the required voids in the mineral aggregate (VMA). Respondents said it was easier to achieve required VMA on the fine side of the restricted zone.
Only 20 percent of those surveyed used reclaimed asphalt pavement in Superpave mixes, but NAPA's Dale Decker predicts that percentage will increase sharply this year.
MIX DESIGN
Almost three-fourths of the Superpave mixes were designed by the contractor. Most (85 percent) of those mixes met all of the Superpave requirements, even though only 70 percent of the projects were required to meet all Superpave specifications. Survey respondents said most of the mixes were surface courses and used 12.5-mm or 19-mm aggregate gradations.
Half of the contractors had trouble achieving the desired volumetric properties, generally as a result of low or inconsistent VMA, insufficient cubical material, or insufficient manufactured sand.
To avoid the restricted zone and get the minimum VMA, respondents recommend that mix designers blend the aggregate to go above the maximum density line to the 4.75-mm or 2.36-mm sieve, then cross the maximum density line and go below the restricted zone.
ASPHALT PLANT OPERATIONS
The switch to Superpave mixes had little effect on asphalt plant operations, survey respondents said. In general, producing Superpave mixes is "business as usual," so long as you pay attention to details such as gradation control and binder storage.
Most Superpave mixes were produced in drum plants.
The majority of respondents said mix production volume and mix time were no different than for conventional mixes, although mix temperatures were sometimes higher.
More than half of the respondents had to install additional aggregate bins.
Decker cautions that contractors should be prepared to explain to commercial customers that "Superpave mixes may look different than what they're used to getting."
PAVING
Eighty-five percent of the respondents had no problems with paving operations, and 90 percent said the paving speed was unchanged. Eighty-five percent did note, however, that handwork was more difficult with Superpave mixes. All respondents emphasized the importance of following good paving practices.
COMPACTION
Although 85 percent of the respondents were able to consistently achieve the desired density for Superpave pavements, half said it was harder to achieve.
Sixty percent had to add more rollers, and the rollers had to be kept close behind the paver.
Two-thirds noted some tenderness in Superpave mixes.
Forty percent said the mixes cool faster than conventional mixes.
The key, survey respondents said, is to follow good practices. "Compaction can be more difficult, but when you get the right equipment and the right pattern, it's achievable," says Ken Murphy, president of Asphalt Technologies, Inc., a subsidiary of Anderson Columbia Co. "More effort is involved, but the effort is worth it."
QUALITY CONTROL
Respondents said Superpave mixes had the same range of variation in the percentage of asphalt cement and mix volumetrics as conventional mixes. Seventy percent said Superpave pavements generally had the same surface texture as conventional pavements, and none of the respondents saw an increase in bleeding, fat spots, or checking.
The Superpave system does, however, make quality control more important, says Jack Weigel of Payne and Dolan, Inc., in Wisconsin. "Superpave mixes are more sensitive to subtle changes," he says. "We've found that sometimes we need to run daily tests of the combined specific gravity of aggregates."
THE BOTTOM LINE
So what do paving contractors think of the Superpave system? "Adoption of the Superpave system is going fairly well, but some technical issues remain to be sorted out," says Decker. But in spite of occasional difficulties, contractors are impressed with the Superpave system.
"I think the Superpave system does a better job of evaluating aggregate combinations, and the Superpave gyratory compactor is a better match to what happens on the road than the Marshall hammer," says Weigel.
Murphy concurs, adding, "I think it's the answer to rutting problems."
For more information on the Superpave survey, contact Dale Decker at NAPA (phone: 301-731-4748; fax: 301-731-4621; ).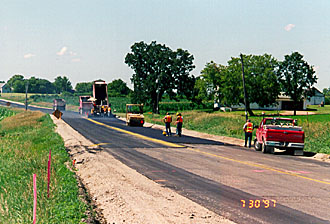 Contractor Payne & Dolan used a mix designed with the Superpave system to pave a rural road in Wisconsin.
Answers to many Superpave paving and compaction problems can be found in Superpave Construction Guidelines, published jointly by NAPA and the Federal Highway Administration (see March 1998 Focus). To order, contact NAPA at 301-731-4748 (toll free: 888-468-6499; fax: 301-731-4621; Web: www.hotmix.org).