Publication Number: FHWA-RD-99-104
Date: April/May 1999

Virginia HPC Bridge Construction: A Learning Experience
Ten years ago, high-performance concrete (HPC) bridges were nothing more than a concept. Five years ago, they became an experiment. Today, they are on their way to becoming an accepted, cost-effective technology. That's what Virginia Department of Transportation (DOT), a pioneer in the use of HPC for bridges, is finding.
A member of the HPC Lead States team, Virginia has participated in the Federal Highway Administration's HPC bridge showcase program, which was designed to give States an opportunity to see how they can benefit from using the new technology. As part of the program, Virginia built seven HPC bridges. In 1998, the DOT had 20 HPC bridges under construction or in the design stage.
Celik Ozyildirim of the Virginia Transportation Research Council says that as contractors and the State DOT become more experienced with HPC, "the reduced number of beams and smaller cross-sections possible with HPC will lead to significant cost savings and longer service life."
According to Vince Campbell of Bayshore Concrete Products Corporation, who fabricated the concrete components for an HPC bridge over the Appomattox River on State Route 10, the project was "a valuable learning experience." As contractors gain experience in building HPC bridges, Campbell says the construction process will become even more efficient. He notes that although HPC projects sometimes cost a bit more up front, the significantly longer life span will offset those costs.
"HPC will clearly save money in the long run when we start taking full advantage of its potential," he says. "HPC is causing us to rethink what has been done in the past and to start looking 5 to 10 years into the future. As we get more practice, we'll get superstructure costs down, and with longer spans, we'll get the foundation costs down as well."
For example, the 24-m (80-ft) two-lane HPC bridge that carries Route 40 over the Falling River has five beams compared with the seven beams that would have been needed if it had been designed with conventional concrete. The project cost approximately 4 percent less than a conventional bridge.
Similar savings were realized on an HPC bridge built in 1997 on Virginia Avenue over the Clinch River in Richlands. With conventional construction techniques, the two-span bridge would have required seven girders on each span. By eliminating four girders from the two spans, the HPC design saved money.
For more information on HPC use in Virginia, contact Celik Ozyildirim at 804-293-1977 (fax: 804-293-1990). For more information on the Route 10 bridge construction, contact Vince Campbell at Bayshore, 757-331-2300 (fax: 757-331-2501).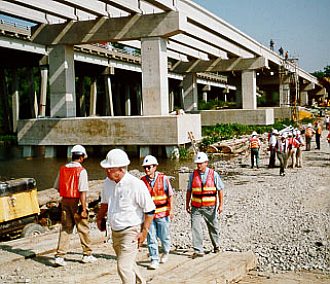 The use of high-performance concrete for bridges received a boost in Virginia from a 1997 showcase in Richmond.
HPC is concrete that has been designed to be more durable, stronger, and cost-effective than conventional concrete. This allows bridges to have longer spans and smaller or fewer structural components. The mixes are composed of essentially the same materials as conventional concrete, but the proportions are designed to provide the strength and durability needed for the structural and environmental requirements of the project. The improved durability means that HPC bridges will require less maintenance and fewer repairs and last much longer than other bridges. It is estimated that HPC bridges could have a useful service life of 75 years or more.