Publication Number: FHWA-RD-99-104
Date: April/May 1999

Meeting the Customers' Needs for Safer, Smoother Roads
For highway agencies across the country, maintaining and rehabilitating aging roads no longer has to mean a completely disrupted traffic flow or endless delays for drivers. Using everything from nontraditional work schedules to innovative contracting procedures, State and local agencies are better serving their customers and keeping traffic moving by getting maintenance and rehabilitation work done more safely, quickly, and efficiently.
As they change their approach to conducting roadway work, the first question that agencies ask themselves is "What do customers want?" In a nationwide survey sponsored by the National Quality Initiative, highway users identified pavement condition as the top priority for improving roads. In addition to smoother roads, they also want fewer traffic delays and disruptions caused by work zones. Such disruptions are not only inconvenient, but they carry a steep price. On many urban highway reconstruction projects, delays cost road users more than $50,000 a day in lost time and late deliveries.
To look at how maintenance and rehabilitation projects can be accomplished more quickly and efficiently, and to better address the problems of traffic disruption and work zone safety, the Federal Highway Administration (FHWA) conducted a national quality improvement review last year. The review team met with 26 State highway agencies, as well as local transportation departments and industry and user groups. Areas reviewed included work-zone traffic control plans, materials selection, contracting procedures, and the level of public participation in traffic management policies and decisions.
The review team found a number of successful strategies that States, cities, and counties are using to better serve their customers (see sidebar).
State and local highway agencies are also placing more emphasis on preventive maintenance strategies that can extend a pavement's service life and lengthen the time between necessary major rehabilitation work. With timely preventive maintenance, the useful life of highway pavements can be extended by 5 to 10 years at one-sixth the cost of conventional pavement rehabilitation or reconstruction.
More information on the best practices identified by the review team can be found on FHWA's Web site ( www.fhwa.dot.gov/quality/BestPrac.htm) and in the team's report, Meeting the Customer's Needs for Mobility and Safety During Construction and Maintenance Operations (Publication No. FHWA-PR-98-01-A). To obtain a copy of the report, contact the Research and Technology Report Center at 301-577-0906 (fax: 301-577-1421).
The lessons learned from FHWA's review are being incorporated into a new program called "Optimizing Highway Performance: Meeting the Customers' Needs." The goal is to work with State, local, and industry partners to improve construction and maintenance operations and ensure smoother, safer travel. This goal reflects FHWA's 1998 Performance Plan, which called for a 20 percent reduction in delays and highway-related fatalities and serious injuries on Federal-aid highways over the next 10 years.
The new program has seven interlocking components, each designed to improve highway operations. They are:
project organization and management
programming and project scheduling
project development and design
contracting methods and procedures
traffic control methods
innovative materials, technologies, and practices
outreach
The outreach component, which will encompass hands-on workshops, training courses, and field tests, will be particularly important in disseminating information on new technologies and practices. For more information on the program, contact Jim Sorenson at FHWA, 202-366-1333 (fax: 202-366-9981; email: james.sorenson@fhwa.dot.gov).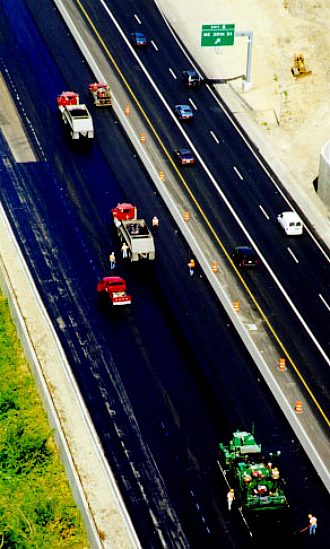 By completely closing a 9.6-km (6-mi) stretch of Interstate 405 on two consecutive weekends, Washington State DOT was able to complete rehabilitation work faster.
BEST PRACTICES
FHWA's national quality improvement review team identified a number of best practices that State and local highway agencies are using across the country to improve their maintenance operations. For example, the Summertime Bridge Reconstruction Program in Cobb County, Georgia, is designed so that bridge replacement projects affecting school bus routes begin after the last day of the school year and are completed before the beginning of the following school year. This minimizes inconvenience to students and encourages contractors to work as efficiently as possible.
In New Jersey, a State trooper unit is assigned full time to State Department of Transportation (DOT) construction projects to assist with traffic control and improve work zone safety. North Carolina DOT has a public information program, known as IMPACT, that informs motorists, businesses, and residents of upcoming road construction and encourages them to use alternate routes. The city of Columbus, Ohio, has similarly improved communications with the public by establishing community advisory councils for large highway projects. The advisory councils include representatives from businesses, neighborhood associations, and other interested parties.
Innovative contracting procedures are also cutting the time spent on rehabilitation projects. Some jurisdictions, for example, are using the lane rental method. The contractor is assessed a rental fee based on road user costs for each day traffic is disrupted by lane or shoulder closures. This encourages contractors to schedule their work so that traffic disruptions are minimized.
To cut down on traffic disruption and increase efficiency, Oregon DOT used new contracting procedures to award a contract for rehabilitating a bridge on Interstate 5. The contract award was based upon both the price of bids and contractor qualifications. Previously, all contracts had been awarded solely on the basis of the lowest bid.
Several States have successfully used road closures to complete road work faster. The Washington State DOT completely closed a 9.6-km (6-mi) stretch of Interstate 405 on two consecutive weekends during the summer of 1997 for rehabilitation work. The public responded favorably, preferring the temporary road closure to a protracted series of backups. And by cutting a full construction season off what was to be a 3-year contract, the State saved hundreds of thousands of dollars.
PAVEMENT SMOOTHNESS ENHANCED BY NEW EQUIPMENT
Highway agencies are also better serving their customers by enhancing pavement smoothness, which both improves driver comfort and increases pavement life expectancy. New lightweight equipment for measuring initial pavement smoothness is faster and more accurate than traditional measurement methods. This profiling equipment automates data collection and analysis, providing test results instantaneously. And the profilers can be used within hours after paving, enabling States and contractors to control the quality of the construction and take immediate corrective action if necessary. This can help save significant amounts of time and money on road construction and resurfacing projects.
Working with the American Association of State Highway and Transportation Officials, National Asphalt Pavement Association, American Concrete Pavement Association, Road Profilers Users Group, and others, FHWA is helping to accelerate the use of the advanced profiling equipment, as well as the development and implementation of common standards for pavement smoothness. FHWA has partnered with six State highway agencies to field test, evaluate, and document the effectiveness of select lightweight profiling equipment in comparison with the States' existing practices. FHWA is also developing a technical guide that will include information on the costs and benefits of constructing smoother pavements and the most appropriate methods of measuring pavement smoothness.