Publication Number: FHWA-RD-99-106
Date: August 1999

At WesTrack, It's a Wrap

The driverless trucks at WesTrack have simulated more than 10 years of Interstate level traffic loads in 2.5 years.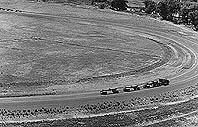 After simulating more than 10 years of Interstate-level traffic loads in 2.5 years, the driverless trucks at the WesTrack pavement testing facility near Reno, Nevada, have finished their runs. Guided by wires buried in the hot-mix asphalt (HMA) pavement, the four heavily ladentrucks traveled an average of 15 hours a day around the 2.9-km (1.8-mi) oval test track. Their travels were designed to evaluate how variations in HMA construction quality, such as asphalt content, aggregate gradation, and compaction, affect pavement performance and to validate the Superpave mix design and analysis procedures. By evaluating these variations, researchers could advance the development of performance-related specifications for HMA construction. Ultimately, these specifications will help improve pavement performance.
Sensors in the track's 26 test sections continually monitored the pavement's temperature and loads. Each pavement section was also evaluated at regular intervals for signs of visual distress, rutting, deflection, roughness, and friction.
Since the trucks completed their traffic loading activities in February of this year, laboratory testing of the pavement materials and analysis of the data collected have continued. This testing and analysis is scheduled to conclude in January 2000. Because additional funding for WesTrack was not included in the Transportation Equity Act for the 21st Century, the work is being completed under the National Cooperative Highway Research Program.
WesTrack was built and operated by a consortium of seven organizations: the Nevada Automotive Test Center, Nichols Consulting Engineers, Granite Construction Co., Harding Lawson Associates, University of Nevada at Reno, Oregon State University, and University of California at Berkeley. Once the project ends, the Nevada Automotive Test Center, the prime contractor on the project, will assume ownership of the track.
The WesTrack project, says Terry Mitchell of the Federal Highway Administration (FHWA), accomplished what it set out to do. "It provided an important early validation of the Superpave system. We learned a great deal. And as planned, the WesTrack research is aiding in the development of performance-related specifications for HMA pavements."
WesTrack has also proved valuable in analyzing why pavements fail. Several test sections developed rutting in 1997 after carrying traffic for just a few days. A team of independent experts determined that the pavement failure was caused by high levels of voids in the mineral aggregate (VMA) in the mix.
The team's report, which recommends capping the amount of VMA in mix designs, is due out this month. For more information on the WesTrack project, contact Terry Mitchell at FHWA, 202-493-3147 (fax: 202-493-3161; email: terry.mitchell@fhwa.dot.gov).