Date: February 1999

SHRP Winter Maintenance Strategies Now Part of University Curriculum
The innovative winter maintenance techniques evaluated and enhanced under the Strategic Highway Research Program (SHRP) are making their way into the university classroom and making progress toward becoming part of the standard curriculum for the next generation of civil engineers. The University of Iowa now offers a semester-long course that incorporates the SHRP techniques.
The class, Contemporary Topics in Civil and Environmental Engineering-Winter Highway Maintenance, is "aimed at providing a solid theoretical underpinning for the practice of winter maintenance" for undergraduate and graduate civil engineering students and for professional engineers, says Wilfrid Nixon, who developed and teaches the course. And to ensure that the course is readily available to highway engineers and practitioners outside of Iowa, the university is also making it available over the World Wide Web.
"As a university, we tend to speak to our own community, not practitioners. I hope the Web course is a way to bridge that gap," Nixon says. The details of how the course will be presented on the Web are still being worked out, although it appears that it will not be in real-time. Instead, course lectures and homework assignments will be posted, and students will submit homework by email.
The course covers all the basics of winter maintenance, including the types of attributes of different types of winter storms, the use of plows, and the difference between deicing and anti-icing. Students also learn about deicing materials and how to calculate the amount of chemical needed to address a given amount of snow or ice on pavements. In addition, they learn how to compare the costs and benefits of various winter maintenance techniques. The course work includes a final project in which students must design a winter maintenance strategy for a hypothetical highway agency.
The Winter Highway Maintenance course was first offered last semester. Participants included undergraduate and graduate civil engineering students, an Iowa DOT engineer, and county engineers from Iowa.
The course takes advantage of information collected as part of the SHRP assessment project (see March 1997 Focus). Nixon advises students to review the SHRP RoadSavers case studies that describe how highway agencies are using SHRP winter maintenance technologies. Information and educational materials are also provided by the Lead States team for RWIS/anti-icing. And Lead States team members Paul Keranen of the Minnesota Department of Transportation (DOT) and Dennis Burkheimer of Iowa DOT helped to evaluate the students' final projects last year.
Lisa Radloff, who took the course last year and who now works for the aviation services department at Howard R. Green Company, an engineering consulting firm in Cedar Rapids, Iowa, says "Wilfrid Nixon's Winter Highway Maintenance course should be taken by all county and city engineers and anyone else who manages winter maintenance programs."
The next course will start in August and run through December. It will be open to students and practicing engineers. Classes will be held once a week. Nixon says that class participants will be able to earn continuing education credits.
For registration information, contact the University of Iowa's Center for Credit Programs (phone: 800-272-6430; email: credit-programs@uiowa.edu; Web: www.uiowa.edu/~ccp). For information on course content, contact Wilfrid Nixon, 319-335-5166 (fax: 319-335-5660; email: wilfrid-nixon@uiowa.edu).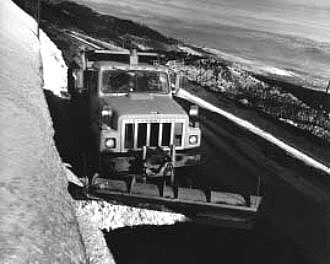 A Nevada DOT plow tackles the aftermath of a storm. Winter maintenance basics, as well as innovative techniques evaluated under SHRP, are covered in a new course at the University of Iowa.