Publication Number: FHWA-RD-99-105
Date: June/July 1999

Strong Grassroots Support for LTPP Program Yields Increase in Data
Staff from the Federal Highway Adminstration (FHWA) took to the road recently to seek resolution to the issue of missing or questionable data from long-term pavement performance (LTPP) test sections. The result: a substantial increase in the amount of data available for study. The data resolution effort has contributed, for example, to a 41 percent increase in weigh-in-motion data and a 34 percent increase in falling weight deflectometer data.
This data resolution effort had its roots in a resolution issued in 1997 by the American Association of State Highway and Transportation Officials (AASHTO) Standing Committee on Highways (SCOH), which called on FHWA and the States to address any missing or questionable LTPP data.
Because having complete data from a broad sample of test sections over a long time span is essential to the success of the LTPP program, the goal of the data resolution process has been to obtain complete data sets from as many of the test sections as possible. Throughout the summer of 1998, FHWA staff and the LTPP regional coordinators met individually with each State and Canadian Province to determine the completeness and quality of data collected to date and to agree on what to do about missing or questionable data.
Throughout the meetings, Monte Symons of FHWA found strong grassroots support for the LTPP program. "The data collection process," he says, "is moving forward. The DOTs are really stepping up to the plate."
Gary D. Taylor, chief engineer of the Michigan Department of Transportation (DOT), presented a report on the status of the LTPP data resolution effort at the April 1999 SCOH meeting. While overall the effort has been a success, a shortfall still exists in the areas of monitored traffic volume and weight data for the specific pavement study (SPS) sections. A strategy to address this shortfall is being developed. At the meeting, Taylor also encouraged States to follow through with their commitments to the LTPP program.
The LTPP data will be used to adjust the monitoring schedule for the test sites. The adjustments will be based on levels of data completeness, mutually agreed upon modifications to the frequency of monitoring, and commitments to the level of effort required of States, Provinces, and LTPP staff. The revised monitoring schedules will take effect in September.
For more information, contact Monte Symons at FHWA (phone: 202-493-3144; fax: 202-493-3161; email: monte.symons@fhwa.dot.gov).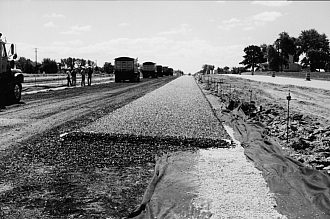 FHWA's LTPP data resolution effort has resulted in a substantial increase in the amount of data from specific pavement study (SPS) sections and other test sites. Here, an SPS site in Delaware County, Ohio, is shown.