Date: March 1999

Field Demonstration Gives Highway Agencies a Chance to Comparison Shop for Pothole Patchers
Few people would buy a television set without looking at different models, seeing how well they work, and picking the one with the features and price they want. But this kind of comparison shopping can be a little trickier for State and local highway agencies looking at new equipment and materials for patching potholes. "Even at an equipment show, there's not usually an opportunity for vendors to take their products out to the parking lot to fill a pothole," says R.C. Slovensky of the Federal Highway Administration's (FHWA) California Division.
Slovensky's solution was to set up a day of demonstrations of pothole repair equipment for highway agency staff involved with pavement maintenance. Judging by the success of a FHWA presentation on anti-icing techniques for the Sacramento Valley chapter of the National Association of County Engineers, he knew that local highway agencies were eager for information on new maintenance technologies and would flock to an event that allowed them to comparison shop. He contacted vendors, obtained information from Lee Smithson of the Lead States team for innovative pavement maintenance materials, and worked with the California Department of Transportation (DOT) and City of Sacramento to find a site where vendors could demonstrate their products.
The event took place in October in Sacramento. More than 100 people attended, primarily staff from county and city highway agencies in Northern California. After hearing opening remarks and presentations by the vendors, attendees walked to Bannon Street, a nearby two-lane asphalt pavement with plenty of potholes in need of repair.
Four vendors put their products to work. Duraco Industries and Rosco Manufacturing Company demonstrated pothole patchers that use spray-injection technology, which was recommended by the Strategic Highway Research Program for its speed and the quality of its repairs. H.D. Industries demonstrated a truck-mounted system that uses an auger to deliver patching material to the pothole. Applied Polymerics and Road Techs jointly demonstrated use of a trailer-mounted system used to apply a polymer-blend patching material for high-traffic roads. All of these products appeal to maintenance departments because they quickly patch potholes and improve safety for work crews.
The vendors also made repairs to a stretch of concrete pavement on Interstate 5 over the nearby American River, attracting the attention of local television news crews.
Participants were pleased with the opportunity to see the devices in action. "We thought it was very interesting and useful," says Gene Calvert, director of transportation for Medicinco County (California) DOT. "We're looking at purchasing a spray injection machine, but without seeing these machines in use, it's hard to know what you're getting."
Vendors agree. "We're a small company, so we greatly appreciated having FHWA set up a demonstration. This was a great opportunity for us to showcase our products," says Connie Smith of Great West Equipment in San Jose.
Realizing that not all local highway agencies can afford new pothole repair equipment, Slovensky hopes the demonstration will encourage agencies to consider sharing equipment. "I'd like to get the local agencies talking about loaning equipment and services to each other. FHWA can broker information about possible equipment loans or sales of used equipment," says Slovensky. Mendicino County is one step ahead, making plans to borrow a neighboring county's spray injection machine to get a better idea of how well the equipment works.
The California Division of FHWA has videotaped the equipment demonstrations and is offering to loan them to highway agencies and others that were unable to participate in the demonstrations. The Division can also furnish a list of equipment vendors and other information.
The demonstration will serve as a model for future events, Slovensky says. "Everyone in the highway industry is interested in finding solutions for our problems, and this is a way to do it."
For more information on the demonstration, contact R.C. Slovensky at FHWA (phone: 916-498-5774; fax: 916-498-5008; email: rclayton.slovensky@fhwa.dot.gov). A list of the pothole repair information available from the FHWA California Division is available on the World Wide Web (mentat.fhwa.dot.gov/cadiv/quality/potpatch.htm). For more information on this material, contact Charlie Chen at FHWA (phone: 916-498-5043; fax: 916-498-5008; email: charles.chen@fhwa.dot.gov).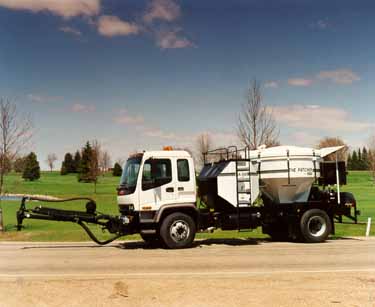 FHWA's demonstrations of pothole repair equipment for California highway agency staff included pothole patchers that use spray-injection technology, as shown here.