Date: March 1999

A Day in the Life of a Winter Maintenance Manager
A major winter storm is approaching. Two maintenance managers-Fred and Mike-take totally different strategies. Fred's listening to local weather reports and waiting for the storm to start; he'll then make decisions on when and where to dispatch plows. Mike's using forecasts specially tailored to his region, together with the latest in snow and ice control technologies, to determine where to send crews to treat roads with anti-icing chemicals before the storm starts.
You can learn more about Fred and Mike's storm-fighting strategies in the recently released video, The New Generation of Snow and Ice Control: Anti-Icing and RWIS. Produced by the Iowa Department of Transportation (DOT) in cooperation with the Federal Highway Administration, the American Association of State Highway and Transportation Officials, and the Lead States team for anti-icing/road weather information systems (RWIS), the video made its debut at the Transportation Research Board (TRB) annual meeting in January.
As it follows the decisions made by Fred and Mike and the outcomes, the video covers such winter maintenance strategies as anti-icing and the use of RWIS and customized weather forecast services. Unlike conventional deicing strategies, which are initiated only after snow and ice have already begun to accumulate and bond to the road, an anti-icing approach involves applying deicing chemicals before the storm starts. The chemicals prevent snow and ice from sticking to the pavement by reducing the freezing point of water.
Anti-icing strategies are most effective when paired with the use of RWIS. RWIS networks use specialized equipment, such as pavement and environmental sensors and computer programs, to monitor air and pavement temperatures and predict whether precipitation will freeze on the pavement. This information is critical to an anti-icing strategy, since chemicals must be applied before the pavement reaches freezing temperatures. Some RWIS networks also use surveillance cameras to monitor visibility and the presence of precipitation.
In addition to the information gathered by RWIS networks, States are also using thermal mapping to expand their knowledge base. Thermal mapping, which is the process of compiling thermal profiles of road surfaces using infrared sensors, can be used to estimate pavement temperatures at points between RWIS sensor locations.
As demonstrated in the video, the benefits of using anti-icing and RWIS technologies include a reduction in the time and effort required to clear pavements after a storm, increased traveler safety, improved efficiency in scheduling work crews, and reduced wear-and-tear on equipment. An anti-icing strategy also allows agencies to reduce the amount of chemicals and abrasives, thus better protecting the environment.
Copies of the video have been distributed to all of the State Strategic Highway Research Program (SHRP) coordinators. Lead State team members have also distributed copies within their States. The video is packaged with a brochure that provides more detailed information on the use and benefits of anti-icing and RWIS strategies. Copies of the brochure can also be obtained separately. More than 7,000 have been distributed to date.
"We've received very positive feedback on the video," says Dena Gray-Fisher of Iowa DOT and a member of the Lead States team. "It's effective because it shows real operators. Those are real people addressing real problems."
To obtain copies of the video and brochure, contact Dena Gray-Fisher at 515-239-1922 (fax: 515-239-1639; email: dmgray@max.state.ia.us). Information on anti-icing/RWIS can also be found on the Web at leadstates.tamu.edu/rwis/.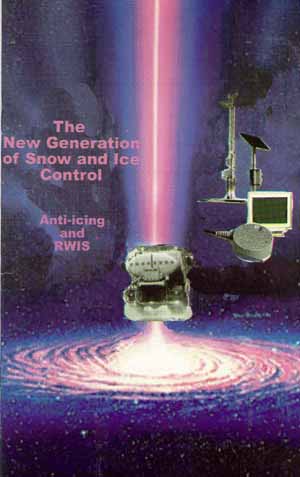 The Lead States team has also developed a portable traveling exhibit on anti-icing/RWIS. The 8x12 ft exhibit was displayed at this year's TRB annual meeting and is now available for loan at no charge. To borrow the exhibit, contact Joyce Curtis at FHWA, 804-281-5103 (fax: 804-281-5101; email: joyce.curtis@fhwa.dot.gov)