Publication Number: FHWA-RD-99-109
Date: November 1999

States and FHWA Showcase Lightweight Pavement Profilers
Motorists on a busy Interstate or an isolated rural road may not know or understand very much about the technology behind the pavement they are driving on, but they do know if that pavement is smooth. "All they have to judge the quality of the pavement by is the smoothness," says George Jones of Federal Highway Administration (FHWA). As more highway agencies emphasize the importance of enhancing pavement smoothness, new lightweight profilers for measuring initial pavement smoothness are providing faster and more accurate measurements than traditional methods.
The profiling equipment automates data collection and analysis, providing test results instantaneously. The profilers can also be used within hours after paving, which enables States and contractors to better control construction quality and take corrective action immediately if needed. This can save significant amounts of time and money on road construction and resurfacing projects, as well as provide more durable pavements. "If we can pave the pavements smoother, they'll last longer," says Jones.
FHWA recently partnered with nine State highway agencies-Arizona, Arkansas, Connecticut, Indiana, Kansas, Minnesota, Oregon, Virginia, and Washington-to showcase the lightweight profilers and document their effectiveness in comparison with the States' existing practices. Each State invited lightweight profiler vendors to demonstrate their equipment to State personnel, contractors, consultants, and others.
Indiana, for example, did testing on three hot-mix asphalt (HMA) pavements and three portland cement concrete (PCC) pavements in late June using profilers from four different vendors. Each vendor made five replicate measurements per test site. Nearly 40 State personnel, contractors, and consultants attended the demonstrations, which received local television news coverage. "The demonstrations went very well," says Adam Hand of Purdue University. "The vendors had an opportunity to showcase their equipment and we got to evaluate the technology. It was a very positive experience for everyone."
Indiana and the other demonstration States are now analyzing the data submitted by the different vendors to determine the precision of the measurements gathered. Each State will then submit an evaluation report to FHWA.
As part of its pavement smoothness initiative, FHWA is also promoting best practices for achieving smoother pavements. For example, FHWA is working with the Georgia Department of Transportation (DOT) to issue an 8 1/2 x 11 laminated informational sheet describing how the State has maintained significantly smoother pavements. The informational sheets will be distributed to top management at each State DOT.
Georgia's best practices include using an extensive program of preventive maintenance and preservation treatments and implementing a strict smoothness specification for new pavements and overlays. Georgia's efforts have not only improved pavements, but have also contributed to increased customer satisfaction. A 1998 survey of Georgia drivers found that 76 percent were satisfied with the pavement they drive on.
To assist more States in their efforts to maintain smoother roads, an expert task group involving States, industry, and FHWA is working on a draft American Association of State Highway and Transportation Officials specification for pavement smoothness.
For more information on FHWA's pavement smoothness initiative, contact George Jones at 202-366-1554 (fax: 202-366-9981; email: george.jones@fhwa.dot.gov), or Mark Swanlund at 202-366-1323 (fax: 202-493-2070; email: mark.swanlund@fhwa.dot.gov).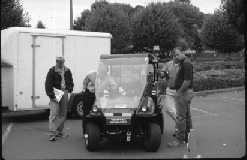 Vendors demonstrate the new lightweight profilers at a showcase in Vancouver, Washington, in September.