Publication Number: FHWA-RD-99-107
Date: September 1999

Building More Durable Bridges
How do you build a more durable bridge? This question continually confronts State highway agencies, who spend $5 billion a year to rehabilitate and replace deficient and deteriorating bridges. The biggest culprit is corrosion caused by deicing salts. One promising solution that the Federal Highway Administration (FHWA) and State highway agencies are now exploring involves using space-age, high-performance, nonmetallic materials, known as fiber-reinforced polymer (FRP) composites, in bridge construction. The composites are typically made of such fibers as glass, aramid, and carbon, as well as polymer resin matrixes. The composite materials are more corrosion resistant than conventional steel.
More than 80 pedestrian and vehicular bridges, including 30 in the United States, have already been built worldwide using FRP composite materials. The first all-composite vehicular bridge in the United States opened to traffic in December 1996 in Russell, Kansas. The $102 million in funding for high-performance bridge technologies that was included in the Transportation Equity Act for the 21st Century (TEA-21) is generating increased interest in composite materials research and development. A new design standard for FRP that is being considered for approval by the American Concrete Institute is also drawing increased interest from States.
Because FRP materials are lightweight, an FRP deck can reduce the weight of the bridge superstructure by up to 80 percent. Modular deck panels built of composite materials can be easily fabricated and transported, facilitating quicker construction schedules and allowing bridges to be put into service in a relatively short period of time. For example, the Russell, Kansas, bridge superstructure was installed in 1 day, compared with a typical installation that can take months.
"When a driver can cross a bridge on his way to work the next morning without realizing that it has been replaced the night before, it is innovative technology put to good use," says Benjamin Tang of FHWA. In general, the labor and traffic control cost savings that result from the rapid construction help offset the higher initial cost for FRP materials.
The challenges in using FRP composites in bridge construction include long-term durability issues, since historical performance data are not yet available. Bridge engineers and researchers are looking closely, for example, at the long-term performance of bonded joints and other components under cyclic fatigue loading. They are also looking at such potential problems as moisture absorption, which may affect the resin and allow the alkali to degrade the fibers.
To help States become more familiar with the use of FRP composites and increase the amount of performance data available, FHWA is funding 37 demonstration projects in 14 States, including Illinois, Kansas, Michigan, New Hampshire, New York and Texas. The projects range from the use of FRP composites in a bridge deck and superstructure in Michigan to employing the FRP technology to repair and strengthen bridge columns in Utah.
"The key is to promote this new technology in order to reach a critical mass of engineers who can become more knowledgeable about the technology. We want more States to apply for project funding," says Tang.
For more information, contact Benjamin Tang at FHWA, 202-366-4592 (fax: 202-366-3077; email: ben.tang@fhwa.dot.gov).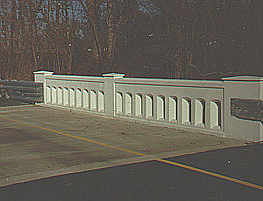 This bridge on Delaware Business Route 896, featuring a deck made of FRP composites, is the first of its kind in Delaware.