Publication Number: FHWA-RD-99-107
Date: September 1999

Rumble Strips: A Wake-Up Call for Drowsy Drivers
How do you help a drowsy or distracted driver avoid crashing? One strategy is to install rumble strips on the roadway shoulders. The strips, which are raised or grooved patterns in the pavement, create an audible rumbling sound and a vibration in the steering wheel when a vehicle drives over them. The sound and vibration can wake a sleeping driver-giving him or her time to regain control of the vehicle.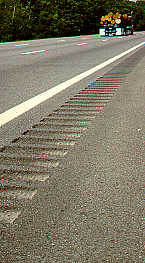 Most crashes involving drowsy drivers occur when a vehicle strays off the roadway and flips over or hits a fixed object on the roadside. The driver is usually alone in the vehicle and makes no effort to avoid the crash.
These run-off-road (ROR) crashes take a large toll, accounting for one-third of all traffic fatalities nationwide and two-thirds of traffic fatalities in rural areas. The National Highway Traffic Safety Administration estimates that rumble strips could cut the rate of ROR crashes in half. Evaluation studies undertaken to date by several States have documented reductions in ROR crashes of 20 to 70 percent.
Rumble strips improve highway safety in other ways as well. For example, when installed in travel lanes, they can be used to alert motorists to changing traffic conditions, such as the need to slow down for an upcoming toll plaza or a signal light at an intersection.
To spread the word about the use and benefits of rumble strips, the Federal Highway Administration (FHWA) has set up a rumble strip Web site (mchs.fhwa.dot.gov/rumblestrips).
The site provides information on safety, noise, and vibration issues, as well as cost-benefit figures. It serves as a forum for the highway community to share information and resolve technical issues. It also includes case studies from States that have tried and evaluated shoulder rumble strips.
The site allows you to post questions directly to FHWA, through the "Ask the Expert" feature. According to Jim Growney of the FHWA New York Division, more than 60 requests for information have already been filled. "We get a wide variety of requests. Most are from State people who are interested in the experiences of other States, particularly the effectiveness of various devices and technologies. But we've also received requests for information from Canada, South Korea, New Zealand, Australia, Israel, and Scotland; those countries tend to have questions about installation."
There are some concerns about the use of rumble strips, such as noise and maintenance issues and the effect on bicycle safety; the Web site covers these issues as well. Growney says a good deal of the discussions and information posted on the site center on improving motorist safety without adversely affecting bicyclist safety. Bicyclists travel on most primary and secondary roads, and on some freeways and expressways. Many bicyclists prefer to ride on the shoulder rather than in the travel lane of high-speed roadways, and thus they often oppose rumble strips in the shoulder. The Web site discusses these options and provides a range of solutions from around the United States.
For more information about the Web site or rumble strips, contact Jim Growney at 518-431-4224 (fax: 518-431-4208; email: jim.growney@fhwa.dot.gov).
Rumble strips, such as these in New York State, create an audible rumbling sound and a vibration in the steering wheel when a vehicle drives over them.