Publication Number: FHWA-RD-99-107
Date: September 1999

Seeing Double - The Ohio Test Road
Motorists driving Route 23 through rural Delaware County, Ohio, north of Columbus, must wonder at an isolated 5 km (3-mi) stretch of road where the four-lane highway expands to eight lanes. Motorists are diverted onto the four lanes that occupy what used to be the median; the outside lanes are closed to through traffic. To pavement engineers, however, the lanes those motorists are traveling on represent an opportunity to learn how climate and cumulative traffic loading affect pavements of differing compositions and layering thickness. Constructed in 1995 by the Ohio Department of Transportation (DOT) and the Federal Highway Administration (FHWA), the southbound asphalt concrete (AC) and northbound portland cement concrete (PCC) lanes serve as a test site for the long-term pavement performance (LTPP) program.
In all, nine LTPP specific pavement studies (SPS) experiments are being conducted nationally; the Ohio test road is involved in four of those:
SPS-1-strategic study of structural factors for flexible pavement;
SPS-2-strategic study of structural factors for rigid pavement;
SPS-8-study of environmental effects in the absence of heavy loads (PCC and AC); and
SPS-9-validation of the Superpave specifications.

Instrumentation for measuring seasonal and dynamic response has been installed in 34 of the 40 sections by a consortium of 6 Ohio universities. Pavement response parameters, including strain, pressure, displacement, and joint opening, are measured by a variety of transducers, gauges, and pressure cells. Seasonal parameters, including temperature, moisture, frost depth, soil suction, and water table elevation, are measured by probes for resistivity, reflectometry, and thermal conductivity, as well as by tensiometers and piezometers. In addition, weigh-in-motion scales have been installed in two locations, and falling weight deflectometer and controlled vehicle loadings gather response data at intervals throughout the sections' service lives. There is also a weather station on site to measure wind speed and direction, air temperature, precipitation, and solar radiation.
"The test road generates vast amounts of data. More than 10 gigabytes of data have been collected so far," says Shad Sargand, project research coordinator at Ohio University, the coordinating agency. "We monitor the sections continuously. We close them down for 1 to 2 months in summer for controlled experiments, and the motorists use the old lanes instead. We've had to replace 5 out of 18 AC sections, and we're doing forensic studies on the failures. We're trying to get a national pooled fund study to capitalize on all of the data we've gotten and answer questions other States have about our experience."
Roger Green of Ohio DOT says, "The benefits of the test road lie in the fact that section data fell in place so nicely with sections of other test roads. We get really good comparisons on joints and drainable bases, for example. We're improving our pavement management system, so we're hoping for improved pavement performance equations. Instrumenting the sections also improves our position for implementing the forthcoming AASHTO 2002 Design Guide."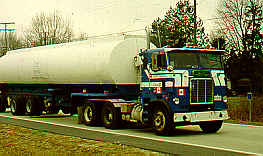 The "Conference on Early Lessons from the SHRP SPS-1 and SPS-2 Pavements," scheduled for November 2-3, 1999, in Columbus, Ohio, will feature speakers from 18 of the 22 States that have built SPS-1 and SPS-2 pavement sections. "The States are under the gun to show results to their legislatures, so the DOTs have an interest in talking about our collective experience," says Sargand.
Perhaps the best-known test road-the American Association of State Highway Officials (AASHO) Road Test in Ottawa, Illinois-also had its roots in Ohio. It was at the 1949 Governors' Conference in Ohio that the need for a national test road to discover the effects of truck traffic on roadways was first discussed. Several participants in the AASHO Road Test will be on hand at the November conference to compare past and present experiences.
For more information on the Ohio test road, contact Roger Green at Ohio DOT (phone: 614-275-1381; fax: 614-275-1379; email: rogreen@dot.state.oh.us). For more information on the November conference, contact Shad Sargand at Ohio University (phone: 740-593-2476; fax: 740-593-0625; email: ssargand@bobcat.ent.ohiou.edu). Conference information is also available on the Web at webce.ent.ohiou.edu/orite/.
More than 10 gigabytes of data have been collected from tests such as this one for dynamic pavement response under controlled conditions.
This test vehicle features a segmented tank, which allows the number of and load on axles to be easily varied.