Publication Number: FHWA-RD-99-107
Date: September 1999

Survey Finds Superpave Use Expected To Double This Year
States plan to build 3,211 Superpave pavements this year-double the 1998 number, according to a new survey by the Superpave Lead States team. This figure represents 41 percent of States' total hot-mix asphalt road projects this year. The third annual Lead States survey covered the State-level highway agencies in all 50 States, the District of Columbia, and Puerto Rico.
Seven States-Arkansas, Colorado, Florida, Indiana, Maine, Mississippi, and New York-have already fully implemented the Superpave binder specification and mix design procedures.
Forty-seven agencies expect to fully implement the Superpave binder specification by 2000, with two planning to complete implementation after 2000 and three with undetermined plans.
Twenty-eight agencies, meanwhile, are on target to fully implement the volumetric mix design procedures by 2000. Of the remaining survey respondents, 12 plan to implement Superpave mix designs after 2000 and 12 have undetermined plans.
"We are pleased and gratified with the success of Superpave implementation," says Paul Mack of the New York State Department of Transportation (DOT) and leader of the Superpave Lead States team. "It's a huge change for States and contractors that is not easy to pull off."
Based on its survey, the Lead States team expects that 82 percent of all hot-mix asphalt projects will be designed using the Superpave mix design procedures by 2001. This is a huge leap from 1996, when Superpave projects accounted for only 1 percent of total projects built that year.
"The reason that we are where we are today is because of the partnerships between States, FHWA, AASHTO, and industry," says Mack. "The partnerships have worked very well."
As more States become familiar with using the Superpave system, the Lead States-Florida, Indiana, Maryland, New York, Texas, and Utah-have had fewer calls for assistance. Survey respondents noted, however, that they are still looking for guidance in resolving technical issues, such as choosing the proper values for voids in the mineral aggregate (VMA) in the mix. They also continue to look for assistance with mix designs and verification testing and in establishing guidelines for Superpave use on low-volume roads. As the Lead States team prepares to wind down its work in 2000, it is working to transfer its many activities to the appropriate AASHTO subcommittees, so that support for Superpave use will continue without interruption.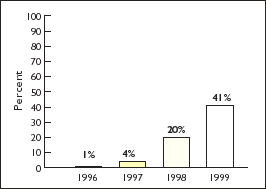 For more information, contact Rick Dunn at FHWA, 518-431-4125, x240 (fax: 518-431-4121; email: richard.j.dunn@fhwa.dot.gov) or Paul Mack at New York State DOT, 518-457-4445 (fax: 518-485-7074).