The FHWA 2015 R&T Story
Advancing Safety

President Obama visits FHWA's driving simulator.
Examples of FHWA research and innovation delivery activities:
Improving Data and Tools for Safety Analyses
Improving the Safety of Pedestrians and Bicyclists
Analyzing and Testing Roadside Safety and Security Barriers
Looking Ahead Toward Driver Behavior Analysis and New Connected Vehicle Technology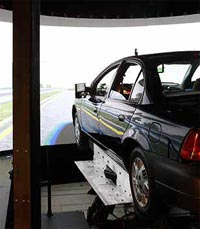 The full-scale driving simulator enables FHWA to study drivers in real-world conditions. (Images: FHWA)
Safety is the U.S. Department of Transportation's (USDOT's) top priority and is underscored throughout FHWA's research areas.
In 2012, 33,561 people died as a result of motor vehicle crashes.3 While this figure reflects a continuing decline in fatalities, even one death is too many. That is why FHWA research continues to seek innovative approaches and technologies that support the USDOT vision of advancing toward zero deaths and serious injuries.
Highway safety is considered for every FHWA program and is important in the systematic planning, management, and evaluation of roadway research efforts across the Nation. FHWA also equips State and local agencies with the tools and knowledge to deliver significant safety improvements to the public. For example, imple­menting roundabouts and new designs at busy intersections have reduced fatal crashes, and improvements to existing roadway conditions have enhanced both pedestrian and bicyclist safety.
FHWA's safety research also focuses on the causes of roadway fatalities and injuries by closely examining highway designs, road construction practices, and maintenance operations. These efforts have resulted in the devel­opment of strong data analysis tools that enable trans­portation professionals and researchers to connect crash causes with effective solutions.
Research Activities
Research activities are connected directly to FHWA safety-related objectives. Each of the activities described below promotes safety improvement initiatives for motorists, pedestrians, and bicyclists.
Improving Data and Tools for Safety Analyses
Collecting and analyzing data are major components of any safety improvement program. This is why one of FHWA's strategic safety goals is to improve safety data and expand capabilities for analysis and evaluation.4 FHWA is committed to making data-driven decisions that optimize investments in safety improvements to the Nation's roads. As an example, FHWA leads an effort called Evaluations of Low Cost Safety Improvements Pooled-Fund Study (ELCSI-PFS), which involves 38 State DOTs and impacts the direction of safety research and its applica­tion nationwide. The goal of the ELCSI-PFS research is to create reliable estimates of the effectiveness of low-cost safety improvements identified as strategies in the National Cooperative Highway Research Program (NCHRP) Report 500 Guidebooks. The ELCSI-PFS estimates are determined through scientifically rigorous before-and-after evaluations at locations in the U.S. where these strategies are field tested.
One example of an ELCSI-PFS study conducted in 2014 was titled, Safety Evaluation of Centerline plus Shoulder Rumble Strips. The intent of the rumble strip countermeasure is to reduce the frequency of crashes by alerting drivers when they are about to leave their travel lane. Data were collected on two-lane rural road locations using rumble strips in Kentucky, Missouri, and Pennsylvania. The results showed a 23 percent decrease in fatalities and injuries combined. An economic analysis revealed that the combination of shoulder and centerline rumble strips is a very cost-effective treatment with benefit-cost ratios ranging from 11:1 to 30:1.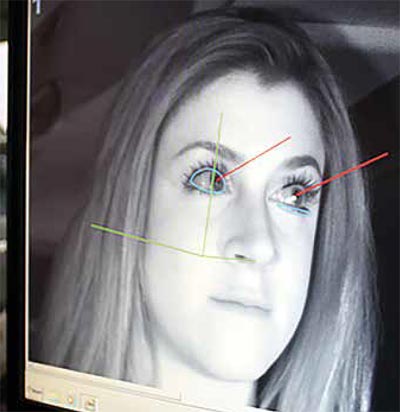 FHWA's field research vehicle can study drivers' eye movements in real world settings, collecting valuable data on driver distractions. (Image source: FHWA)
FHWA has also developed a number of innovative tools to collect and evaluate roadway and vehicle data in order to identify and address critical safety issues and hazards. One example is the Interactive Highway Safety Design Model (IHSDM), which is a suite of six software modules used to evaluate the safety and operational effects of geometric design decisions.5 The IHSDM includes the Crash Prediction Module, which estimates the number of crashes that can be expected on a current or proposed design of a particular highway segment. The crash estimate helps designers and planners identify the combination of design details—such as curvature, grade, cross slope, and intersection location and design—that will minimize future crashes at a specific location. Another module, the Policy Review Module, checks the current or proposed roadway design details on a given road segment, to see how well that design matches current design policies in that locale. The Crash Prediction Module is valid for rural two-lane roads, rural multilane roads, urban/suburban arterials, freeway segments, and ramps and interchanges. At present, the other five modules pertain only to rural two-lane roads.
The Nevada DOT performed an analysis on a section of Nevada State Route (SR) 147 in Clark County over a 20-year period (2013-33). SR 147 is a low-volume, rural, two-lane highway with an abnormally high number of fatal and injury crashes over the last several years. Expected crash totals were estimated using the IHSDM to evaluate and prioritize safety improvement alternatives. Each alternative and the existing road conditions were entered into the IHSDM to predict the crashes for the next 20 years based on the geometry, projected traffic volumes, and the crash history along the corridor. The alternatives were evaluated indepen­dent of each other to see their impact and safety benefit on the corridor. Projected reductions in crashes for 2013-33 ranged from 1 percent for superelevation improvements, which pertain to banking adjustments along a horizontal curve, to 21 percent for shoulder widening.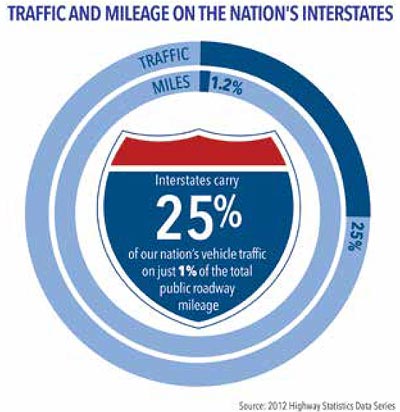 U.S. Interstates carry 25 percent of the Nation's traffic, making highway safety a primary concern for FHWA. (Image source: FHWA)
Improving the Safety of Pedestrians and Bicyclists
A vital aspect of FHWA's R&T activities is to collaborate with State and local agencies, and Tribal Lands, to identify safety challenges facing pedestrians and bicyclists; to develop tools, technologies, and countermeasures, which can address those problems; and to support our partners in applying those re­search results to their specific needs. A good example of that collaboration is the Haxton Way Pedestrian Pathway Project.
Located in Whatcom County in Bellingham, Wash­ington, Haxton Way is a narrow, two-lane road with a fog line and only a few inches of paved shoulder. A fog line is the white line painted on the right side of the road that is used by drivers to maintain a vehicle in the center of the lane in areas of heavy fog. Pedestrians and bicyclists use the roadway to access essential community amenities. Over the years, a number of pedestrians and bicyclists have been struck and killed while traveling along this roadway.
To improve safety, the Lummi Nation Planning Department in partnership with Whatcom County, Washington State DOT, the Bureau of Indian Affairs, and FHWA administered the project to construct an elevated, 8-foot-wide multiuse path on wetlands next to Haxton Way. Low-voltage, solar-powered LED lamps were installed along the new trail to provide low-intensity, environmentally friendly, and cost-efficient lighting. Each lamp, equipped with motion, light, and proximity sensors, is set to provide 25 percent brightness after sunset, but the brightness increases to 100 percent as walkers or cyclists approach each lamppost. Choosing an environmentally friendly lighting solution in a sensitive ecosystem reduced the mitigation impacts that are normally associated with conventional lighting.
On this stretch of roadway, zero injuries, deaths, or crashes have been reported since project completion. Local citizens and Tribe members now feel safe walking or biking along the amply lit pathway, well away from oncoming cars and the congested roadway. Construction of the Haxton Way Pedestrian Path was funded by FHWA, which also provided overall project stewardship, oversight, and technical assistance throughout the project development process.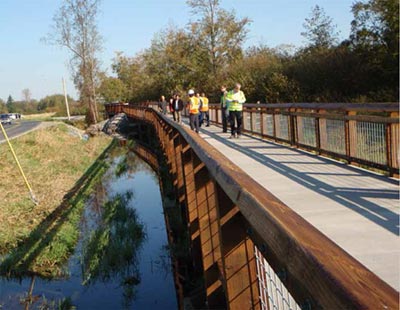 FHWA created an environmentally sensitive, multiuse path beside the Haxton Way in Washington that eliminated fatalities on roadway shared by pedestrians, bicyclists, and motorists. (Image source: FHWA)
Analyzing and Testing Roadside Safety and Security Barriers
Keeping travelers safely on the roadway is a top priority for FHWA, where the focus is on developing roadside safety features that guide travelers' vehicles back on the roadway when they stray, and that minimize the consequences to travelers when their vehicles depart the roadway. To do this, FHWA uses cutting-edge computer simulations, including advanced finite element modeling and full-scale crash tests to examine the effectiveness of features such as roadside safety barriers and security barriers.
FHWA-sponsored research proves that the effectiveness of cable median barriers can be affected by the position of the barrier within the median cross section. Cable median barrier research was prompted by cross-median crashes in which vehicles slid under generic three-cable, low-tension barriers placed along the centerline of V-shaped medians with sloped sides. Part of the problem was attributed to vehicle dynamics resulting from suspension system compression and vehicle rebound once the car left the road surface and crossed the slope. A total of 72 terrain tests were conducted at FHWA's Federal Outdoor Impact Laboratory (FOIL), involving different vehicles at various speeds traveling through different V-shaped medians. These tests were conducted to gather validation data for all the vehicle dynamic simulations needed for these cable barrier studies. This research showed that even a 3-foot difference in lateral placement of the barrier improved how the vehicle made contact with the barrier, leading to fewer vehicle underrides.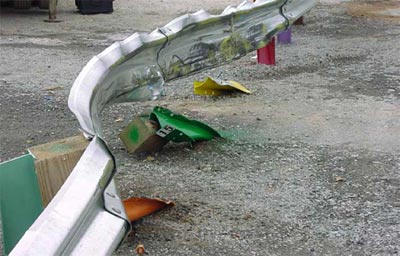 FHWA's Federal Outdoor Impact Laboratory tests safety barriers like the one above to improve their design and construction. (Image source: FHWA)
Keeping employees safe and protecting vital government facilities from terrorist threats at home and abroad is essential for sustaining employee confidence and maintaining workforce efficiency. Security barriers are used to harden the perimeter of Government buildings and critical facilities, preventing the unwanted intrusion of speeding motor vehicles. FHWA works closely with the Department of State (DOS) to keep vehicular bomb threats as far as possible from diplomatic and government buildings by researching, testing, and constructing perimeter anti-ram fences and barriers. FHWA is collaborating with the DOS to create cutting-edge computer models and crash simulations that closely examine the effectiveness of security barriers. Full-scale crashes are conducted at FOIL to test and improve the design, application, construction, and deployment of infrastructure security barriers.
Looking Ahead Toward Driver Behavior Analysis and New Connected Vehicle Technology
Looking ahead, Safety R&D will continue to develop, refine, and deploy advanced data capture and analysis tools to improve safety decisionmaking and save lives. TFHRC is establishing a new Safety Training and Analysis Center that will be a source for training and technical support for State DOTs and research partners who want to use the safety-data sets from the Second Strategic Highway Research Program (SHRP2) Naturalistic Driving Study to gain insights into driver behavior.
Analysis of the SHRP2 safety data will help researchers understand how drivers react to their entire environment, inside and outside the vehicle, which will help to improve roads, vehicles, driver training, and enforcement measures thus reducing the number of crashes and resulting injuries.
Through the Exploratory Advanced Research Program (EAR), FHWA is also funding the development of other software tools to automate the extraction of information from massive video datasets so that the widest possible range of researchers will be able to use SHRP2 safety data.
Safety R&D is leading research into how new automotive technologies like connected vehicles and automated vehicles can be harnessed to prevent crashes. These technologies aim to enable safer vehicles and roadways by developing better crash avoidance, performance measures, and infrastructure-based cooperative safety systems to facilitate the communications among vehicles and the roadside. Safety R&D is actively engaged in how these tech­nologies can help people avoid crashes, through new safety advisories, warnings, and messages to augment the driver's situational awareness.
FHWA is contributing to several aspects of the Connected Vehicle Program. For example, the Human Factors Laboratory, at TFHRC, is using its state-of-the-art driving simulator to collect data and evaluate how drivers' abilities and limitations may influence Cooperative Adaptive Cruise Control (CACC) system performance and design.
The next generation of vehicle technology, coupled with the advances in safety research that have been realized to date, will enable USDOT to achieve its vision of Toward Zero Deaths.
Improving Safety for Motorists, Pedestrians, and Bicyclists
The research being conducted by FHWA supports the USDOT's and FHWA's safety commitment by applying focused, collaborative, and strategic research methods that result in innovations and new technologies. FHWA promotes a safety culture that relies on scientific methods and data-driven deci­sionmaking for transportation-related programs and projects. FHWA's efforts are leading to reductions in traffic crashes, fatalities, and injuries on our Nation's roads and highways, and the Agency will continue to encourage and promote this science-based research now and into the future.
For More Information
The following Web sites are provided for additional information, and further highlight the transportation challenges and FHWA activities discussed above.
Lummi Nation Haxton Way Pedestrian Pathway Project: https://www.fhwa.dot.gov/planning/processes/tribal/case_studies/lummi.pdf.
Haxton Way YouTube Video: https://www.youtube.com/watch?v=ltR2oiQ3R9Q.
---
3 National Highway Traffic Safety Administration, Traffic Safety Fact 2012, Washington, DC. Accessed online: July 30, 2014. (http://www-nrd.nhtsa.dot.gov/Pubs/812032.pdf)
4 Federal Highway Administration (2014). "Roadway Safety Data Program." (Web page) Washington, DC. Accessed online: July 30, 2014. (http://safety.fhwa.dot.gov/rsdp/about.aspx)
5 Federal Highway Administration (2014). "Interactive Highway Safety Design Model (IHSDM): Overview." (Web page) Washington, DC. Accessed online: July 30, 2014. (https://www.fhwa.dot.gov/research/tfhrc/projects/safety/comprehensive/ihsdm/)