U.S. Department of Transportation
Federal Highway Administration
1200 New Jersey Avenue, SE
Washington, DC 20590
202-366-4000
---
Federal Highway Administration Research and Technology
Coordinating, Developing, and Delivering Highway Transportation Innovations
Report
This report is an archived publication and may contain dated technical, contact, and link information
Publication Number: FHWA-HRT-21-064 Date: June 2021
Publication Number: FHWA-HRT-21-064
Date: June 2021

Advancing BIM for Infrastructure: National Strategic Roadmap
PDF Version (11.8 MB)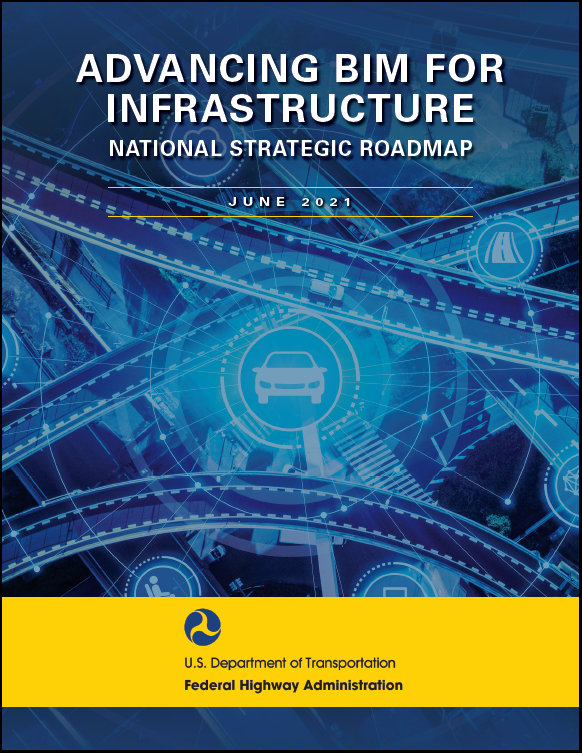 Technical Report Documentation Page
1. Report No.
FHWA-HRT-21-064
2. Government Accession No.
3. Recipient's Catalog No.
4. Title and Subtitle
Advancing BIM for Infrastructure: National Strategic Roadmap
5. Report Date
June 2021
6. Performing Organization Code
7. Author(s)
Jagannath Mallela and Abhishek Bhargava
8. Performing Organization Report No.

9. Performing Organization Name and Address
WSP USA Inc.
1250 23rd Street NW, Suite 300
Washington, DC 20037

National Concrete Pavement Technology Center
Iowa State University
2711 South Loop Drive, Suite 4700
Ames, IA 50010
10. Work Unit No.
11. Contract or Grant No.
DTFH61-13-D-00009,
Task Order 693JJ318F000253
12. Sponsoring Agency Name and Address
Federal Highway Administration
1200 New Jersey Avenue, SE
Washington, DC 20590
13. Type of Report and Period Covered
National Strategic Roadmap
14. Sponsoring Agency Code
HRDI-20
15. Supplementary Notes
This document can be found at https://www.fhwa.dot.gov/construction/bim/. The FHWA Contracting Officer's Representative was Antonio Nieves, and the Federal Task Manager was Connie Yew (HIF).
16. Abstract


Building Information Modeling (BIM) for Infrastructure is an open standards–based collaborative work method for structuring, managing, and using data about transportation assets and networks throughout their lifecycles. It liberates data from siloed systems and makes it easier for automated processes to generate asset information and distribute it to anyone who needs it when they need it. The roadmap outlined in this document is intended to help State departments of transportation (DOTs) strategically develop a uniform, nationwide policy framework related to BIM for Infrastructure, open data—exchange standards and methods for adopting those standards, BIM tools, and a robust personnel training and upskilling program. These State-led and Federal Highway Administration–supported actions can then become the basis for planning and implementing BIM for Infrastructure to better deliver projects and transportation services at the State DOT level.

17. Key Words
BIM deployment, building information modeling, digital data, digitalization, infrastructure lifecycle, return on investment
18. Distribution Statement
No restrictions. This document is available to the public through the National Technical Information Service, Springfield, VA 22161.
http://www.ntis.gov
19. Security Classif. (of this report)
Unclassified
20. Security Classif. (of this page)
Unclassified
21. No. of Pages
50
22. Price
N/A
Form DOT F 1700.7 (8-72)
Reproduction of completed pages authorized.