Table of Contents
Collect Them All: Trading Cards on Transportation Research
Live Webcast Runs Pavement Tests, Crunches Numbers
Upgraded Tool Makes LTPP Data More Accessible
Ideas on Fast Construction Floated in Rhode Island Workshop
FHWA Showcases Research on the Nanoscience of Highway Materials
Illinois Develops a Comprehensive Highway Safety Plan
Engineering Communication Takes a Different Approach
Workshop Carries Bridge Security Message
OUTREACH
---
Collect Them All: Trading Cards on Transportation Research
In an era of information overload, capturing the attention of decisionmakers and colleagues long enough to fill them in on important new research can be a challenge. Certainly, transportation professionals attending meetings and conferences may collect numerous handouts on innovations that can save time, money, or lives, but the information may not make it into the hands of the appropriate decisionmakers back home.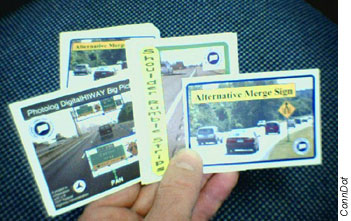 ConnDOT researchers created trading cards such as these to draw attention to their key projects in a memorable, low-cost way. (Photo Credit: ConnDOT)
To make research information more accessible and memorable, the Connecticut Department of Transportation (ConnDOT) borrowed an idea from baseball and created trading cards on key projects. Staff in ConnDOT's Division of Research developed three cards to complement the presentations made by staff members at the Transportation Research Board's (TRB) annual meeting in January 2005. The projects, conducted in cooperation with the Federal Highway Administration, focused on rumble strips on roadway shoulders, an alternative merge sign, and software for viewing roadway inventory photos. Designed to be easy to comprehend and inexpensive to produce, the trading cards are a convenient way to pass along quick snapshots about transportation research projects to decisionmakers.
One side of each card includes a color image and a simple title that captures the essence of the research topic, while the reverse features succinct statements about the research, findings, recommendations, and contacts for more information. One card, for example, highlights a ConnDOT study on the use of rumble strips. Among the conclusions listed on the card about rumble strips is that they led to a 33-percent reduction in run-off-the-road crashes on Connecticut freeways.
Another card features a project that monitored and evaluated a new type of merge sign at signalized intersections through the use of video. The card points out that the alternative merge signs were successful in improving traffic flow and safety at the test locations. A third card describes Big Picture Support, the latest feature in ConnDOT's DigitalHIWAY photolog viewing software, which enables users to access images in a photographic inventory of the State's highway system. The card explains that the new feature allows users to select a portion of a larger picture for high-resolution display in a small window without having to use drop-down menus or special buttons.
During the TRB annual meeting, ConnDOT researchers distributed the cards at a joint session of the American Association of State Highway and Transportation Officials (AASHTO) Standing Committee on Research and Research Advisory Committee. The researchers attending the session agreed to consider developing one or more cards on their own State DOT projects and bringing them to exchange at future meetings.
For more information, contact James Sime, manager of research, at 860-258-0309 or james.sime@po.state.ct.us.
Martha Soneira 202-493-3468 martha.soneira@fhwa.dot.gov
PAVEMENTS/INFORMATION RESOURCES
---
Live Webcast Runs Pavement Tests, Crunches Numbers
To design new roads and rehabilitate existing transportation infrastructure, engineers need to know the characteristics of paving materials and must be able to predict the materials' service life and deterioration rates. In 2004, the Federal Highway Administration developed and released new software known as the Mechanistic-Empirical (M-E) Design Guide for New and Rehabilitated Pavement Structures to serve as a pavement design and analysis tool to help engineers make reliable predictions about the characteristics of paving materials.
As part of a continuing effort to teach transportation professionals about the full capabilities of the powerful but complex M-E design guide software, members of FHWA's Design Guide Implementation Team (DGIT) recently conducted an online broadcast, known as a Webcast, of laboratory and data analyses demonstrations using the software. The Connecticut Department of Transportation (ConnDOT) hosted the Webcast as part of a 2-day workshop entitled "Obtaining Materials Inputs for Mechanistic-Empirical Pavement Design."
During the Webcast, participants learned how to analyze test results from the software and use the results to predict how different types of pavement could be expected to behave under various conditions. In one session, for example, DGIT team member Leslie Myers used test result data to demonstrate methods and options for entering asphalt-concrete information into the software, focusing on the benefits of using the software to predict paving performance under local temperatures. Myers also participated in an informal question-and-answer exchange, where attendees at the workshop were able to submit inquiries directly, and remote viewers of the Webcast sent questions via fax and e-mail. During the exchange, Myers explained how to use various software options to obtain specific results and demonstrated the software's processing procedures.
The workshop and Webcast were the second in a series of seven workshops to promote understanding and use of the software. The workshops serve as a forum for State pavement design and materials engineers to experience demonstrations of the materials tests available through the software. Other personnel who could benefit from the workshops include field engineers from FHWA and engineers and other professionals from local agencies who are responsible for pavement management.
A primary benefit of the M-E design guide is its use of numerical models to analyze input data for traffic, climate, materials, and proposed structures and estimate damage accumulation over the service life of pavement. The models are based on data gathered across the United States, providing far wider potential application than previous models. The design guide helps in the analysis of designs for new, reconstructed, and rehabilitated pavements and performance predictions for smoothness and distress.
For more information on upcoming or previously held Webcasts, contact:
Katherine Petros 202-493-3154 katherine.petros@fhwa.dot.gov DGIT@fhwa.dot.gov
Upgraded Tool Makes LTPP Data More Accessible
For many years, the public could access data collected by the Federal Highway Administration's (FHWA) Long Term Pavement Performance (LTPP) program only by submitting individual requests for information. In recent years, however, independent researchers and staff from university research programs and State-funded studies have asked for greater access to the data. In response, FHWA released DataPave in 1998, , a stand-alone software tool designed to provide users with general access to the LTPP pavement performance database. Although DataPave was a useful tool, users found the amount of time between new, updated versions of DataPave to be unsatisfactory. By the time new versions of DataPave were published, the data in the old version were outdated. In addition, data from the largest database tables were not available from the desktop application. Some data users still had to submit customer requests to the LTPP Customer Support Service Center.
To address some of DataPave's earlier limitations and increase the availability of data from the LTPP program, FHWA created the online version of DataPave (www.datapave.com). LTPP also produced what is known as the Standard Data Release (SDR). The most recent edition, SDR 19, is currently available as a 5 CD-ROM set or a single DVD. In addition to the LTPP pavement performance data, the SDR also includes a tutorial, a copy of the Pavement Performance Database User Reference Guide (FHWA-RD-03-088), and other information about the database. The recently released version of the SDR is the 19th national release of the LTPP data.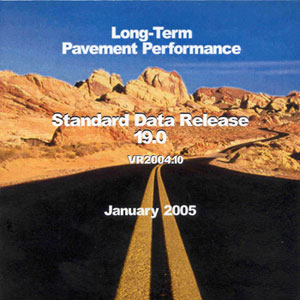 The cover of the SDR CD-ROM and DVD is shown. The SDR provides users with access to the LTPP pavement performance data.
The LTPP SDR is provided in Microsoft® Access format, the SDR enables users to link information from multiple tables to create complex datasets. In the database, the pavement performance data is divided into modules according to data category, such as maintenance, rehabilitation, material testing, monitoring, and traffic.
The LTPP SDR is prepared every 6 months after collecting additional pavement performance data, refining existing data, running the information through a system of automated checks, and correcting anomalies. Each SDR release has additional data that have been collected and processed since the previous release. The latest release, contains for example, ESALCalc Software, Manual transverse profile measurements, Volumetric and gravimetric moisture content computed from dielectric constants, Three new Rehabilitation tables were added for non-recycled asphalt pavement overlays using Superpave properties, and other tables.
The LTPP program has collected 15 years of pavement performance data from more than 2,400 test sections in the United States and Canada. These test sections fall into two categories: previously existing sites, known as General Pavement Studies (GPS) sites, and sites that were constructed based on specific design guidelines, known as Specific Pavement Studies (SPS) sites.
John Rush 865-481-2967 ltppinfo@fhwa.dot.gov
STRUCTURES/TECHNOLOGY INNOVATION
---
Ideas on Fast Construction Floated in Rhode Island Workshop
The Rhode Island Department of Transportation (RIDOT) concluded several years ago that the agency would need to rebuild Bridge No. 550, which carries Interstate 95 (I-95) over the Seekonk River in Pawtucket, RI. Severe corrosion had caused irreparable damage to the 47-year-old structure, which accommodates an average daily traffic load of 175,000 vehicles as part of a major north-south travel corridor. Because so many motorists depend on the bridge, RIDOT deemed the typical reconstruction timeline of 4 to 6 years to be unacceptable. Shutting down the damaged bridge or closing lanes for any length of time would likely cause serious traffic delays and disruptions.
To overcome the unacceptably long timeline, RIDOT conducted an Accelerated Construction Technology Transfer (ACTT) workshop to brainstorm ideas and develop strategies for minimizing construction time. ACTT workshops, initiated by the Transportation Research Board (TRB) and later adopted by the Federal Highway Administration (FHWA) and the American Association of State Highway and Transportation Officials (AASHTO), are being held across the Nation as vehicles for transportation professionals to share innovative, state-of-the-art ideas for solving highway construction problems. Each 2-day workshop focuses on a specific project and teams national transportation experts with their local counterparts to help transportation agencies identify ways to reduce construction time while enhancing safety and quality. The ACTT workshops draw on a 175-member national pool of experts.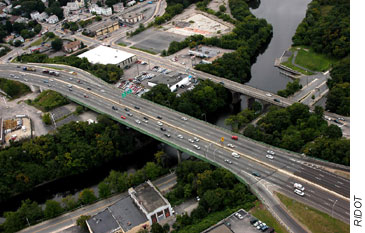 Bridge No. 550 in Pawtucket, RI, is a badly deteriorated structure that is part of the busy I-95 north-south corridor. The bridge carries an average daily traffic load of 175,000 vehicles. (Photo Credit: RIDOT)
RIDOT requested that the FHWA Rhode Island Division Office host an ACTT workshop in January 2005 to assist with the bridge reconstruction. The Rhode Island ACTT workshop focused on finding technologies to rehabilitate or replace Bridge No. 550, a pin-and-hanger structure that spans more than 210 meters (700 feet). One recommendation from the workshop was that RIDOT completely replace the structure instead of undertaking a major rehabilitation, as originally proposed. Another suggestion was to use horizontal skidding, a type of construction method where a portion of the bridge is constructed along the side of the existing bridge and then slid over to the location of the original roadway once the original section has been demolished. Other participants recommended permanently closing one ramp onto I-95 northbound and restructuring the local traffic pattern to eliminate the need for a separate service road on I-95 northbound.
FHWA has provided support for more than 12 ACTT workshops covering projects with varied scope, complexity, and cost. Despite the differences, all ACTT projects have one thing in common—they aim to minimize construction time while accommodating local traffic concerns. Each workshop has produced recommendations, many of which have been accepted by the host agency as practical, feasible, and viable solutions. Transportation agencies other than the host agency also benefit from the workshops because many of the recommendations potentially can be applied to projects in other areas of the Nation.
For more information on the ACTT workshops, visit www.fhwa.dot.gov/construction/accelerated.
For more information, contact:
Colin McCarthy 401-528-4550 colin.mccarthy@fhwa.dot.gov
Eric R. Seabury, 401-222-2053 ext. 4075 eseabury@dot.state.ri.us
ADVANCED RESEARCH
---
FHWA Showcases Research on the Nanoscience of Highway Materials
A major goal of research in the construction and transportation industries is to improve the performance of the materials used in the Nation's roads and bridges, including steel, portland cement concrete, and asphalt pavements. Researchers now recognize that improving these materials has to be done by manipulating them at the nanometer scale, which is equal to one-billionth of a meter or approximately 16 times the diameter of a hydrogen atom. To understand and manipulate materials at this level, researchers need nanoscience, the science of the physical and chemical processes that form materials and the methods used to manipulate materials at this small scale.
To address this need, the Federal Highway Administration's (FHWA) Office of Infrastructure Research and Development increasingly employs nanoscience to develop and test materials that have been modified on an atomic level to provide macroscopic attributes such as improved strength and corrosion resistance, and longer service lives. To highlight some elements of this work, Dr. Richard Livingston, the Office of Infrastructure Research and Development's advanced research coordinator, recently presented a lecture during a course titled Materials in Service, offered at the Department of Materials Science and Engineering at The Johns Hopkins University.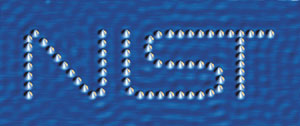 This image of the logo of the National Institute of Standards and Technology shows an example of manipulating individual atoms at the nanoscale. The logo was constructed by arranging single cobalt atoms on a copper substrate. The length of the logo is just 40 nanometers.
In particular, Livingston discussed research into the nanoscience of steel. Researchers at FHWA and the Office of Naval Research have found that steel's yield strength, or the maximum amount of tensile stress that it can accommodate before undergoing plastic deformation, can be manipulated by adding very small particles of copper at specific locations within the material's microstructure. The researchers were able to produce high-strength steel by precipitating copper particles in targeted areas at the interfaces, or grain boundaries, of crystals within the alloy. This research also produced steel with a stable rust layer on the surface, which will help eliminate the need for regular maintenance painting on transportation structures.
Portland cement concrete (PCC), also a common material in transportation structures, includes a calcium silicate hydrate gel composed of particles only a few nanometers in size that act as a binding agent. FHWA researchers looking into the nanostructure of PCC are trying to change the setting time of the material by learning more about the gel and other nanoscale surface layers in PCC. Researchers hope that adjusting PCC's setting time will facilitate its transport to construction sites, enhance the material's long-term strength, and reduce the potential for cracking. To conduct this research, FHWA currently is using heavy ion beams to probe chemical admixtures that can either accelerate or retard the mixture setting time.
Livingston's lecture also touched on FHWA's interest in exploring the feasibility of creating roadways made of self-healing materials with nanostructures that include embedded microcapsules of plastic-forming liquids. A crack occurring adjacent to a microcapsule would cause it to break open, release its contents, and then harden to close the crack. This type of self-healing material would prolong the service lives of structures. Producing such microcapsules is challenging, however, given the severe conditions imposed when roadways are constructed. The capsules would have to survive the stresses and elevated temperature of surrounding materials during construction while remaining sensitive enough under normal service conditions to detect a fracture in the hardened material.
Dr. Richard A. Livingston 202-493-3063 dick.livingston@fhwa.dot.gov
SAFETY
---
Illinois Develops a Comprehensive Highway Safety Plan
The U.S. Department of Transportation and the Federal Highway Administration (FHWA) have established a goal of reducing the national highway fatality rate from 1.5 deaths per 100 million vehicle-miles traveled (VMT) to 1.0 by 2008. In Illinois, State leaders recently set a goal to reduce highway fatalities to 1,000 or less per year by 2008, a figure equivalent to just below the national goal of 1.0 fatality per 100 million VMT. In 2003, more than 1,400 highway deaths occurred in Illinois, and preliminary numbers indicate that 1,356 people died in crashes in the State in 2004.
To help achieve its fatality reduction goals, the Illinois Department of Transportation (IDOT) is leading an initiative to develop the State's first comprehensive highway safety plan (CHSP). A CHSP is a plan for managing the attributes of the road, drivers, and vehicles to achieve the highest level of safety by integrating the work of State and local agencies, safety groups, and other stakeholders in a coordinated effort. The CHSP will be data driven and guide efforts to mitigate highway crashes in Illinois by using the four E's of safety-engineering, education, enforcement, and emergency services. FHWA and the American Association of State Highway and Transportation Officials (AASHTO) encourage all States to develop a CHSP as a strategy to reduce traffic fatalities. The FHWA Illinois Division Office is working with IDOT's Bureau of Safety Engineering and Division of Traffic Safety to develop the Illinois plan.
In March 2005, IDOT organized two safety summits for stakeholders from a number of agencies and organizations. The participants discussed topics, known as "emphasis areas," that will be included in the plan. They identified several challenges on Illinois highways, including roadway departure crashes, intersection-related crashes, pedestrian fatalities, alcohol- and drug-impaired driving, and safety belt use, and then discussed potential ways to address these challenges through the plan.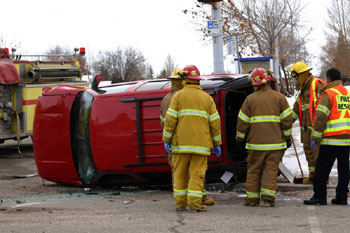 IDOT is leading an initiative to develop the State's first comprehensive highway safety plan to help mitigate highway crashes, such as the one shown here.
Along with IDOT and FHWA, participants in the safety summits included representatives from a number of Federal, State, and local agencies and organizations. In addition to the safety summits, IDOT conducted a series of meetings across the State to obtain input from other local agencies and the public.
IDOT plans to submit its draft CHSP to Illinois Governor Rod Blagojevich in June 2005. Once the Governor approves the plan, IDOT will launch the implementation process by forming teams for each of the plan's safety emphasis areas. Each implementation team will include at least one representative from the FHWA Illinois Division Office. To develop implementation plans, the teams will analyze relevant data, such as roadway inventory files, crash records, and public health information to identify problem areas. Then using research and evaluation data, the implementation teams will recommend cost-effective countermeasures from the four E approach.
For information, visit FHWA's safety Web site at http://safety.fhwa.dot.gov or AASHTO's Web site at http://safety.transportation.org.
Mike Staggs 217-492-4630 mike.staggs@fhwa.dot.gov
COMMUNICATION
---
Engineering Communication Takes a Different Approach
Engineers have distinctive patterns of communication that affect how they generate information, participate in its transfer, and assimilate the knowledge they receive. Working with the engineering communication style provides a challenge to those who develop education programs, library services, and outreach activities on their behalf.
The challenges of communicating and working with engineers was the topic of a session at the Transportation Research Board's (TRB) annual meeting in Washington, DC, in January 2005. Jerry Baldwin, library program director for the Minnesota Department of Transportation (DOT), moderated the session, coordinated by the TRB Committee on Library and Information Science for Transportation. The panel included Carol Tenopir, co-author of the book Communication Patterns of Engineers with Donald W. King (IEEE Press and John Wiley & Sons, Inc., 2004); Martha Soneira, editor of the Federal Highway Administration's (FHWA) Public Roads magazine; and David Huft, manager of South Dakota DOT's Office of Research.
In her presentation, Tenopir summarized the book's analysis of research studies on various aspects of engineering communication, including how engineers communicate in their work, what their reading habits are, whether they prefer electronic or print materials, and what internal and external communication channels work most effectively for them. The study concluded that engineers rely more on interpersonal and informal means of communication than scientists in other fields. Engineers' communication style emphasizes listening and discussing with colleagues, rather than observing and reading. Engineering communication is complex because of the many types of activities engineers perform, including research, design, development, construction, teaching, management, and marketing.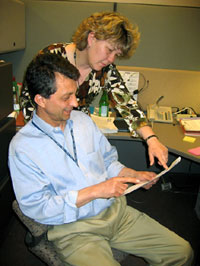 FHWA communication staff works with engineers to develop outreach materials
Soneira's presentation provided the perspective of a Federal publisher in addressing the challenges of communicating with engineers. Soneira explained that the communication patterns revealed by the Tenopir/ King study are evident in the communication style of research engineers at FHWA's Turner-Fairbank Highway Research Center (TFHRC). Acknowledging the self-sufficient nature of the TFHRC researchers and their common need to get information out quickly, Soneira said her team offers a suite of support resources. For example, the Communications Reference Guide (FHWA-RD-03-074), a resource for preparing communication products, provides engineers with tools, techniques, and timelines for getting published or preparing for events. In addition, an editorial team works with engineers and support staff to communicate research to a broad transportation audience through the production of technical reports, periodicals, and other outreach materials.
Soneira also described measures being taken at TFHRC to make it easier for engineers to obtain information that feeds into the research process. An upgrade of the Technical Reference Center, for example, will provide engineers with improved access to specialized databases, quicker procurement of loaned materials, and virtual access to a reference librarian.
Also during the session, Huft discussed technical communication from a researcher's perspective and validated the findings of Tenopir/King from his vantage point at a research office at a State transportation agency. He discussed the growing pressures on engineers to communicate effectively, including requirements for rapid response, accountability, efficiency, and service quality. Huft said that the explosion of subject matter in ever-expanding disciplines, such as intelligent transportation systems, home- land security, and system operations, whets engineers' appetites for more information, but their responsibilities are broader, their workloads are heavier, and competition for their time and attention is greater than ever.
The compelling communication needs of engineers reflect the changing dynamics of the workplace, with different learning styles, new career patterns, and greater comfort with electronic technologies. The solution, Huft said, is reliance on trusted information sources, rapid access to synthesized information, training, bridges across disciplines, and tutoring.
Martha Soneira 202-493-3468 martha.soneira@fhwa.dot.gov
TRANSPORTATION SECURITY
---
Workshop Carries Bridge Security Message
To meet an increasing demand for ways to enhance the security of the Nation's highway infrastructure, instructors from the Federal Highway Administration's (FHWA) Office of Bridge Technology and the U.S. Army Engineer Research and Development Center (ERDC) in Vicksburg, MS, are teaming up to offer a series of 1-day workshops on bridge structures, their strengths and weaknesses, points of vulnerability, and damage that could be expected from a terrorist attack.
Presented as lectures and videos on the topics of threats, vulnerability and risks assessments, tunnel vulnerabilities, and mitigation strategies, the workshops are geared toward designers, inspectors, and emergency responders from FHWA and State highway and law enforcement agencies. Over the past 2 years, FHWA has conducted the workshop six times but plans to call for at least eight additional sessions during the remainder of 2005. The most recent workshops were held at Eugene T. Mahoney State Park in Ashland, NE, on February 23 and 24, 2005, in Richmond, Virginia on April 5, and in Boston, Massachusetts on May 11.
Transportation and the security of the Nation's bridges is critical to emergency response. FHWA is committed to improving the Nation's ability to manage emergencies that take place within the transportation network infrastructure or impact the security of the network. FHWA is working with transportation agencies and their partners to improve planning and use of technology in emergency transportation operations. The mission of ERDC, which is part of the U.S. Department of Defense laboratory system, is to conceive, plan, study, and execute engineering investigations and research and development studies in support of the civil and military missions of the U.S. Army Corps of Engineers and other Federal agencies. FHWA and ERDC developed a partnership to merge the programmatic expertise and training capabilities of FHWA with the technical resources and expertise of ERDC to deliver this much-needed training.
For more information on the workshop, contact:
Steve Ernst 202-366-4619 steve.ernst@fhwa.dot.gov