Office of Real Estate Services Newsletter
Volume 4, Number 1
Also available in PDF (4.6MB)
PDF files can be viewed with the Acrobat® Reader®
Message from the Director
Nelson Castellanos
It is with great pleasure that I write my first letter as the new Federal Highway Administration (FHWA) Office of Real Estate Services Director. While I am new to the Office of Real Estate Services, I have a long career history with FHWA of over 40 years of service. I have held multiple assignments in both the field as well as Headquarters. An interesting fact is that I may be one of the only FHWA staffers to have worked in both of the non-State FHWA Division Offices, having held senior positions in both Puerto Rico as well as the District of Columbia. During that time, I was also the FHWA Territorial Representative for the U.S. Virgin Islands. Before joining the Office of Real Estate Services in January of this year, I was one of the two Division Administrators for Delaware-Maryland (DelMar) Division. In that position I oversaw a number of high-profile, multibillion-dollar interstate projects, in particular the Intercounty Connector, which is a limited access toll facility located in Maryland, and the Woodrow Wilson Bridge Project, which crosses over the Potomac River and connects the states of Virginia and Maryland.
The realty discipline will be facing a number of challenges in the future. For instance, when I first joined the agency, FHWA had a number of Right-of-Way (ROW) specialists in every Division. Now, we have less than 30 full-time ROW specialists throughout the entire country. In fact, it is common for individuals who are responsible for the ROW program to be responsible for additional programs within the Division. Similarly, the State Department of Transportation and local transportation agencies are reducing staff. They are struggling to fill vacancies and they are seeing their experience-level decline as seasoned professionals continue to retire. Even though these challenges are not new by any means, the delivery of the American Recovery and Reinvestment Act is exacerbating them.
I recognize that we are asking our staff to do "more with less" and understand that Congress and the public expect full accountability for ensuring that the Federal-aid program is delivered in accordance with applicable laws, regulations, and policies. Our challenge is to find ways, with fewer resources, to fulfill our agency's stewardship responsibilities and continue to provide the same high-level technical assistance to our partners and stakeholders. To that end, one of my top priorities is to build upon the work that is currently underway to develop and enhance the proficiency and expertise of ROW professionals throughout the realty discipline.
As we move forward, it is important for our Headquarters and field staff to work together. While I recognize that each has different authorities and responsibilities within the area of realty, we are all responsible in the end for delivering the same program. My primary goal for the near future is to enhance collaboration between the two areas to support us in achieving our shared goals.
As I continue to settle into my new role, I look forward to meeting with more members of the FHWA Real Estate Services team and our partners around the country.
- Nelson Castellanos, Director, Office of Real Estate Services, Nelson.Castellanos@dot.gov
---
Real Estate Services Research Efforts
Communicating Results from the STEP Cooperative Research Program
The Surface Transportation Environment and Planning (STEP) Cooperative Research Program, which began in 2006, funds research to improve the understanding of the relationship between surface transportation, planning, the environment, and realty. The STEP research program distributes $12-$15 million each year among the various research emphasis areas. FHWA identifies research projects based on the hundreds of comments and research recommendations submitted by government, academic, private sector, nonprofit, and individual stakeholders.
In the National Cooperative Highway Research Program's report, Communicating the Value of Transportation Research, the importance and value of continually communicating progress throughout the research process in order to build public support and credibility is stressed. In line with this goal, the STEP program strives to encourage its stakeholders to develop and implement its research. FHWA publicizes the results of its STEP research efforts through annual research plans, accomplishment summaries, and success stories on the STEP website.
The FHWA Office of Real Estate Services conducts STEP research under the Real Estate Program Stewardship and Outdoor Advertising Control emphasis areas. Funding for real estate research has increased since the STEP program began.
STEP real estate research highlights from recent years include:
Photo simulation of proposed overpass condition on I- 87
in New York (top), Source: NYSDOT.
Development of a ROW Competency Navigator. The FHWA Office of Real Estate Services developed the Realty Competency Navigator in 2009 using STEP funding. This tool defines realty roles and competency requirements and identifies relevant resources and training opportunities for each competency requirement. The Navigator is designed for partners, internal and external customers, and consultants to use. It is available at www.fhwa.dot.gov//real_estate/rcb_navigator/.

Integrating Visualization Technologies into the ROW Processes. The FHWA Office of Real Estate Services worked with the Research and Innovative Technology Administration's Volpe Center to explore the use of visualization technologies and techniques by State DOTs. These processes are utilized as a tool to enhance communication with landowners during the ROW acquisition process. The project team interviewed State DOT realty and visualization staff, consultants, and a State Assistant Attorney General about their use of computer-generated images, animations, and simulations during ROW acquisitions and condemnation trials. The Office of Real Estate Services plans to release the final report by the end of fiscal year 2011. The report will summarize the findings and provide recommendations to help ROW staff overcome barriers to visualization use, and ultimately better identify and capitalize on opportunities to apply appropriate visualization techniques.

Relocation Assistance Retrospective Study. The FHWA Office of Real Estate Services is currently conducting a study to assess the adequacy of the benefit levels established by the Uniform Relocation Assistance and Real Property Acquisition Policies Act (Uniform Act). As part of this study, the project team will survey businesses that have been relocated to determine the actual relocation costs incurred. The study will also determine the percentage of businesses that remain in operation for at least two years after their relocation. FHWA will use the information gathered to develop a quantitative and qualitative assessment of the benefits provided under the Uniform Act.

ROW Design-Build and Alternative Contracting Peer Exchange. In 2009, the FHWA Office of Real Estate Services sponsored a one-day peer exchange focusing on the experiences of several State DOTs with design-build contracting and the use of alternative contract procurement methods. The peer exchange provided opportunities for participants to share best practices and lessons learned. The participants consisted of staff from FHWA Headquarters, the FHWA Texas Division Office, Colorado DOT, Florida DOT, Georgia DOT, Massachusetts DOT, Maryland State Highway Administration, Missouri DOT, Ohio DOT, South Carolina DOT, Texas DOT, Utah DOT, Washington DOT, West Virginia DOT, Wisconsin DOT, the International Right of Way Association, and the Volpe Center. The Volpe Center published a report summarizing the presentations that participants gave and the discussions held at the workshop, which is available online at https://www.fhwa.dot.gov/real_estate/right-of-way/design-build/alternative_contracting/.
Alternative Uses of Highway ROW Peer Exchange
The Federal Highway Administration's (FHWA) Office of Real Estate Services, with support from the Volpe National Transportation Systems Center (Volpe Center), is currently conducting a research effort on alternative uses of the highway ROW. This effort investigates the state of the practice and lessons learned when considering the implications of accommodating alternative energy technologies and alternative fuel facilities. As part of this research effort, FHWA convened a peer exchange on March 30-31, 2011 with stakeholders who are involved in highway ROW renewable energy and alternative fuel facility projects. The projects represented at the peer exchange utilized, or are pursuing, a range of technologies and each is in a different stage of completion. Participants included five State Departments of Transportation (DOTs) (Colorado, Massachusetts, Ohio, Oregon, and Texas), one local municipality (Carver, MA), two utility companies (Sacramento Municipal Utility District and Portland General Electric), and three universities (Ohio State University, University of Texas, and Utah State University).
During the peer exchange event, which was held in Portland, Oregon, participants shared information on their experience, including challenges and lessons learned, with developing renewable energy projects in the ROW. Participants highlighted a number of projects during the event, including:
Peer exchange participants at the ODOT Solar Highway
Demonstration Project at the Interstate 5 and Interstate
205 interchange in Tualatin, OR. Source: Lynn Frank
Oregon DOT's Interstate 5 Solar Highway Demonstration Project: Oregon Department of Transportation (ODOT) developed the Nation's first solar highway project in 2008. The project consists of a 594-panel, ground-mounted solar array system that produces enough electricity to supply one-third of the energy needed to illuminate ODOT's road signs in the area.

Massachusetts DOT's proposed Wind Energy Project along the Massachusetts Turnpike:The Massachusetts DOT is currently working with a developer to build a 1.5 megawatt (MW) wind turbine on land adjacent to the Blandford service area on Interstate 90.

Carver, Massachusetts' proposed Route 44 Solar Energy Project:The Town of Carver is working to install a 112 kilowatt (kW) photovoltaic solar array along Route 44, an east-west State highway in the southeastern part of the State. The town will use the electricity that the facility produces to support the town's newly constructed water treatment facility.

Ohio DOT's Veterans' Glass City Skyway Bridge Solar Array Project: In 2010, Ohio DOT, in coordination with the University of Toledo, installed a 100 kW grid connected solar array in the highway ROW off Interstate 280 in Toledo, Ohio. Electricity developed by the solar array is used to offset the electricity demand of the Veterans' Glass City Skyway Bridge.

California's proposed Highway 50 Solar Energy Projects:The California DOT is partnering with the Sacramento Municipal Utility District to develop solar energy projects at two potential sites along Highway 50 in Sacramento County. The projects, which are currently in the environmental review and preliminary design phase, have a planned capacity of 1.4 MW.

Freeways to Fuel pilot projects in Utah and North Carolina:The Freeways to Fuel program investigates the use of non-traditional agronomic lands, such as roadside ROW, for the growth of biofuel feedstock crops. Both the Utah and North Carolina DOTs have developed biomass test plots along their ROW.

Texas DOT Potential Value Extraction Research. Texas DOT, in coordination with the University of Texas at Austin's Center for Transportation Research, is conducting research to investigate opportunities to extract additional value for highway ROW and other DOT land holdings, including air right agreements, joint development initiatives, and implementing renewable technologies in the ROW. The study will assess when, where, and under what circumstances to pursue specific applications.
The event also included site visits to ODOT's Solar Highway Demonstration Project and to Portland General Electric's distributed generation command headquarters.
FHWA's Office of Real Estate Services anticipates that its final report, which will be based, in part, on a series of stakeholder interviews and discussions held at the peer exchange event, will be released in fall 2011. The agency intends for its report to provide State transportation agencies with information that will better enable them to evaluate the feasibility of implementing renewable energy and fuel options in the ROW.
Please contact FHWA's Bruce Bradley at bruce.bradley@dot.gov or Ginny Tsu at virginia.tsu@dot.gov for additional information.

---
LPA Administration of Federal-aid Projects
FHWA Efforts to Support LPAs
A Local Public Agency (LPA) is any agency that receives FHWA transportation funds. These funds are passed through the State DOT to the qualifying agency for improving their transportation infrastructure or for providing services. The administration of Federal-aid projects by LPAs represents 20 percent of the overall annual Federal-aid program. A national review of the LPA-administered projects in 2006 identified several risk factors associated with LPAs' implementation of Federal-aid projects. The review, in part, suggests that FHWA may need to provide more oversight and training to ensure that Federal-aid requirements are met on LPA-administered projects.
As a result of these findings, FHWA's Fiscal Year 2011-2012 Strategic Implementation Plan includes several strategic objectives aimed at improving the integrity of the LPA program through risk-based oversight. To support these objectives, FHWA's Office of Real Estate Services developed several initiatives to provide LPAs, and those responsible for the oversight of LPAs, with a working knowledge of Federal requirements and procedures.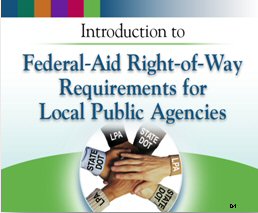 One such activity that the Realty Office has focused on is developing specialized training on issues relevant to LPAs' implementation of Federal-aid projects. Recently, it partnered with the National Highway Institute (NHI) to develop two training courses. The first course, titled Introduction to Federal-aid Right-of-Way Requirements for Local Public Agencies, is a two-day instructor-led course designed to serve as a highly interactive introduction to the Uniform Act. The course focuses on applying the Uniform Act and related regulations to specific situations and issues. The second course, entitled Local Public Agency Real Estate Acquisition, is a self-paced web-based course that is designed for LPA staff who are unfamiliar with Federal acquisition requirements. This introductory training course is comprised of seven distinct learning modules that provide basic information on the relevant laws and regulations.
In addition to developing specific trainings for LPAs, the Realty Office has also developed an LPA Realty Forum on its Real Estate Exchange website (https://collaboration.fhwa.dot.gov/dot/fhwa/rex/default.aspx). This web-based forum allows stakeholders to post best practice examples and tools and techniques that stakeholders can utilize in the implementation of federally aided program and projects undertaken by the LPAs. Participants in the forum can also post questions for input from their peers.
Finally, in order to address elements outlined in FHWA's Strategic Implementation Plan for improving the integrity of the LPA program, the Realty Office is presenting a series of quarterly webinars that address the various realty issues that arise in the LPA program. FHWA will post information about these webinars on the LPA Realty Forum.
Additional information and resources on the LPA program, including the Real Estate Acquisition Guide for Local Public Agencies, are available on the Realty Office's website.
---
News from the Field
The Amelia Earhart Bridge Replacement Project
Transportation projects often involve land acquisitions that have the potential to impact a business so significantly that it could be shut down. In 2006, the Kansas DOT (KDOT) faced this situation on its Amelia Earhart Bridge replacement project in Atchison, Kansas. Under normal timelines, negotiating a settlement that allows the business to remain on the acquired ROW while the business rebuilds or reconfigures its operation on the remainder property is impossible, if the scheduled letting date is to be met. Through early effective communication and coordination, however, KDOT was able to obtain the critical ROW needed for this project, while allowing the affected business to remain operational.
The Amelia Earhart Bridge replacement project required a replacement bridge to be constructed adjacent to the existing bridge. The footprint of the new bridge would directly impact four of Atchison Casting's buildings. Three of these buildings were considered vital to the plant's operations. As the city's largest employer, the impact to Atchison Casting was a major concern for the city and the State.
In order to maintain operations of its facility, Atchison Casting informed KDOT that it needed a minimum of 18 months to replace the impacted buildings and reconfigure their plant operations. In addition, the company expected KDOT to cover the cost of reconfiguring the buildings on the remainder property. Atchison Casting originally did not intend to relinquish possession of the property needed for the bridge piers until the plant reconfiguration was completed.
Project team members onsite at the Amelia Earhart Bridge
Replacement project. From left to right: John Knowles (FHWA),
Denise House (KDOT), Mike Brown (FHWA), Norbert Muñoz
(FHWA), Kathy Facer (FHWA), Rob Stork (KDOT), and Donna
Falkenstien (KDOT). Source: KDOT.
KDOT ROW staff worked with Atchison Casting to explain the process for establishing the just compensation and relocation benefits that are required by the Uniform Act. KDOT candidly acknowledged that, in many cases, the combined dollars of the acquisition offer of just compensation and relocation benefits can fall short of the amount needed for a business to replace buildings and make their operation whole.
All parties were aware that waiting until the Environmental Assessment and final ROW plans were complete to begin the appraisal and acquisition process would likely result in a plant shutdown, a delay in the project letting, or both. In order to avoid such a situation, KDOT advised the Atchison Casting representatives to submit a hardship letter that explained the need to advance the acquisition and relocation process for the company's property.
Atchison Casting provided KDOT with a site plan concept of a plant reconfiguration. This plan required the reconfiguration of several replacement buildings so that they would be closer in proximity to the foundry building. The proposed reconfiguration required that five other buildings be demolished and reconstructed in order to make room for those buildings that, according to Atchison Casting, needed to be located close to the main foundry. KDOT worked with an engineering consultant to evaluate the plant reconfiguration proposal and to develop cost estimates. KDOT contracted two appraisals and simultaneously began to define the ROW needed from the Atchison Casting property with the goal of advancing a legal description of the acquisition one year ahead of the project schedule.
KDOT made its initial offer of just compensation in October 2007, two months after finalizing the Environmental Assessment, and the two parties reached a settlement in April 2008. As soon as they reached the settlement, Atchison Casting began reconstructing its plant buildings and infrastructure. The bridge construction staging schedule called for Atchison Casting to vacate the ROW by December 2009. The ROW was confirmed clear in January 2010. Atchison Casting was able to reconfigure most of the plant operations within the 18-month timeline without delaying the bridge construction schedule.
In September 2010, officials from the Kansas FHWA Division Office and KDOT made a follow-up site visit and toured the reestablished facility. All parties involved agreed that the Atchison Casting acquisition and relocation project was a success for the owners, the employees, and KDOT. The largest employer in Atchison remained operational during the plant reconfiguration and KDOT was able to avoid costly construction delays by having possession of the critical ROW when it was needed.
For additional information about the project, please contact Rob Stork, KDOT ROW Operations Assistant at rstork@ksdot.org.

---
ROW Awards Program
2012 Excellence in ROW Awards Program
The FHWA Office of Real Estate Services' Excellence in ROW awards program recognizes outstanding innovations that enhance the ROW professional's ability to meet the challenges associated with acquiring real property for a Federal-aid project. The biennial awards program honors those that excel in streamlining or improving the real property acquisition process while ensuring that the rights of property owners and tenants are protected.
The ROW awards program recognizes award winners in several categories including:
Innovation: this award recognizes individuals or groups who have conducted innovative research and development or implemented a product, process, or technology that improves an agency's ROW program.
Leadership: this award is granted to a person, group or team who demonstrates a commitment to integrate ROW considerations into their organization's culture or who exemplifies teaming and sharing of responsibilities in the ROW program.
Stewardship: this award recognizes a state or local public agency who uses effective quality assurance during program delivery and employs successful measures to guard against fraud, waste and abuse.
Streamlining and Integration: this award is granted to a public or private organization who demonstrates ROW's role in the multidisciplinary design process and who reduced project and process delays.
Technical Specialty: this award is presented to individuals or groups who demonstrate technical specialty in one of the following areas: acquisition; appraisal; relocation assistance; property management; outdoor advertising control; or transportation enhancements.
Peer of the Year Award: a new category for 2012, this award recognizes individuals who consistently go above and beyond their assigned duties and responsibilities to play key roles in achieving successful outcomes in numerous critical programs or projects in the ROW profession.
Current Initiative Award: a new category for 2012, this award recognizes agencies, teams, or projects that demonstrate how ROW acquisition was a key component of the successful implementation of one or more of the current key FHWA national initiatives, including the Partnership for Sustainable Communities Initiative, Climate Change Initiative, or Shortening Project Delivery Initiative.
ROW Tribal Partnership Award: a new category for 2012, this award recognizes personnel from Tribal, Federal, or State agencies and ROW professionals who have successfully worked with Tribal partners to apply Uniform Act practices to advance transportation projects with tribal property interests or Trust involvement.
Judges Award for Special Recognition: a new category for 2012, this award will be conferred on an individual, team, or project that the judging panel believes stands out among all of the award nominees.
The Office of Real Estate Services is currently collecting nominations for the 2012 ROW awards program. Individuals are encouraged to coordinate with the appropriate FHWA Division Office designee on developing and submitting nominations. See https://www.fhwa.dot.gov/real_estate/divroster.cfm for FHWA Division Office contacts.
For additional information about the awards, please contact FHWA's Bruce Bradley at bruce.bradley@dot.gov.
---
Calendar of Events
For a listing of Planning, Environment, and Realty program meetings, events, and NHI training opportunities, please visit: https://www.fhwa.dot.gov/hep/calendar/.