Alternative Uses of Highway Right-of-Way
3 Renewable Energy Technologies in the ROW
The following section provides an overview of the various renewable energy technologies and alternative fuel facilities that have been or have the potential to be accommodated in highway ROW.
3.1 Overview of Renewable Energy Activities
Renewable energy has been used in roadway applications for at least 60 years. In 1948, a portion of U.S. 97 was reconstructed to widen a bridge across a canal in Klamath Falls, Oregon. The bridge was connected to an intersection at a steep grade, presenting traffic safety issues during winter months. Transportation engineers incorporated a geothermal de-icing mechanism into the bridge design as an experiment. Based on results from the test, which observations substantiate to date, it has been estimated that the pavement would be sufficiently clear of snow and ice to provide free travel at a temperature as low as -10°F (-23°C).15 The exploration of geothermal roadway applications continued in the early 1980s when the Colorado Department of Highways (now the Colorado DOT) conducted a feasibility study to incorporate geothermal heating systems at critical locations in a proposed interstate. Results indicated that snow-cover duration on the roadways with installed heat pipes was significantly reduced as compared to unheated control areas.16 Since these early applications, geothermal systems, which are very site specific, have been installed in New Jersey, South Dakota, Wyoming, Virginia, Japan, Switzerland, and Argentina.17,18
By comparison, generating renewable energy within highway ROW is an emerging concept in the United States. Much of the political and legislative effort for increasing renewable energy generation and use to date has focused on large-scale, centralized wind and solar developments, usually located far from the majority of energy consumers.19 Only recently has the focus turned to localized, small-scale applications, which can be sited near their end users. Currently, solar, wind, and biocrop growth/harvesting, or "bioenergy," technologies offer the most immediate opportunities for generating renewable energy in the ROW. Other renewable energy opportunities, such as waste-to-energy conversion; hydrogen fuel generation from wind, solar, biomass, and waste resources; or energy harvesting via wave-, tidal-, and vibration-capturing technologies may serve important roles in the future.
Several state DOTs, including Colorado, Massachusetts, Texas, Ohio and California are conducting comprehensive statewide renewable energy feasibility studies to identify promising renewable energy technologies and locations to implement them. In 2010, the Colorado DOT (CDOT) evaluated the alternative energy source potential, including wind, solar, biocrop, geothermal, and hydropower, of its ROW, facility grounds, building rooftops, and other built features.20 A previous study conducted by the Colorado Governor's Task Force on Renewable Energy Generation had identified areas of the state with strong renewable resource potential.21 CDOT ROW maps were superimposed with geographic information system (GIS) data layers of each alternative energy type to calculate the total energy potential within usable CDOT ROW. CDOT classified "usable ROW" based on resource-specific criteria, including slope, ROW width and accessibility, proximity to existing electrical transmission, and potential for CDOT usage (see Figure 1).

Figure 1: Map showing 91 potential hydropower sites in Colorado DOT ROW
Image source: Colorado DOT
The Massachusetts DOT (MassDOT) is currently conducting a similar statewide assessment of the Highway Division's real estate holdings, including buildings, structures, and ROW, to identify potential sites suitable for large- and small-scale wind and solar installations. To identify potential sites, GIS data on MassDOT facilities and other land holdings will be overlaid on solar and wind resource data, such as the National Renewable Energy Laboratory's (NREL's) 50-meter wind power data for Massachusetts. MassDOT holdings that are located in areas with quality wind and solar resources will be further assessed against a set of resource-specific suitability criteria, such as acreage, existence of environmental constraints, proximity to existing electrical transmission, and feasible construction access. Study results are expected in mid to late 2011. The Oregon Department of Transportation (ODOT) has also conducted a statewide GIS analysis of its operating and non-operating ROW for potential additional solar highway project sites. ODOT has identified over 600 additional sites and is in the process of applying additional criteria to narrow down an inventory of truly feasible sites. ODOT may further utilize this data and perform additional analysis in a future phase to search for sites for other types of renewable energy projects such as wind, biocrop, or public electric vehicle (EV) charging infrastructure. Similarly, the Ohio DOT is partnering with the Ohio State University to utilize GIS to identify opportunity zones for renewable energy and other revenue generating projects in the highway ROW. The research effort will utilize numerous GIS layers, including DOT assets and wind and solar resource maps, coupled with an economic analysis to identify priority locations, or "opportunity zones," for potentially implementing future renewable energy and alternative fuel projects.
The Texas Department of Transportation (TxDOT) is working with the University of Texas at Austin's Center for Transportation Research (CTR) to investigate opportunities to extract additional value for highway ROW and other DOT land holdings through various applications, including air right agreements, joint development initiatives, and implementing renewable energy technologies in the ROW. The CTR study will assess when, where, and under what circumstances to pursue specific applications. At the end of the assessment, which is scheduled for early 2012, CTR will develop guidance on when to pursue implementation of a value extraction application, including how to identify and involve key stakeholders.
At the national level, the National Cooperative Highway Research Program (NCHRP) 25/25 Task 64: Feasibility Study of Using Solar or Wind Power for Transportation Infrastructure,22 completed March 2011, provides an overview of current and emerging technologies used in wind and solar applications. The report presents a general design approach for installations located near the roadway ROW and includes a tool for performing life-cycle cost analysis to determine the feasibility of potential transportation-related renewable energy installation projects. Similarly, NCHRP 20-85: Renewable Energy Guide for Highway Maintenance Facilities, to be completed in July 2012, will develop best practices for the planning, design, and operation of new and retrofitted highway maintenance facilities that are sustainable and energy efficient over their service lives through the effective use of energy capture technologies, including active, renewable energy sources and passive building and site modifications.
3.2 Solar Energy and Highway ROW
Solar energy technologies convert sunlight into usable energy. The amount of energy a particular solar technology can generate depends on how much of the sun's energy, both direct and diffused solar radiation, reaches the solar collectors. The primary technology used for generating solar power in the highway ROW is photovoltaic (PV) technology. PV cells, also known as solar cells, convert sunlight directly into electricity. Individual PV cells, which typically produce 1 to 2 watts of power, can be connected to form modules that, in turn, form solar arrays. There are two types of PV systems: traditional flat-plate PV systems and concentrating photovoltaic (CPV) systems. CPV systems use lenses or mirrors to concentrate sunlight onto high-efficiency solar cells. These solar cells are typically more expensive than conventional cells used for flat-plate photovoltaic systems. However, the concentration decreases the required cell area while also increasing the cell efficiency.
3.2.1 Solar Applications along the Roadway
The implementation of solar cell applications alongside travel lanes, versus in the road itself, has been most fully realized in Europe and, recently, Canada. The United Kingdom (UK), Netherlands, Switzerland, Austria, France, and Germany for example, have been installing various types of PV noise barriers along highways and railways23,24 since the 1980s (see Figures 2 and 3). See Table 2 for example solar energy activities along highways globally.

Figure 2: PV system mounted on a noise barrier in Europe, source www.photovoltaik.eu. Note: In the U.S., this type of installation would be limited by the AASHTO Roadside Design Guide. No structures of any sort are allowed to be placed on top of or directly behind guardrails or median barriers (unless the barrier is specifically designed to be crash-worthy). See FHWA Office of Infrastructure's Clear Zone and Horizontal Clearance website for more information.

Figure 3: The German Unity Motorway Planning and Construction Company constructed a 2.8-megawatt (MW) solar array on the roof of a 2.7 km long noise-barrier tunnel on the A3 highway near Aschaffenburg, Germany.
Photo source: www.ralos.de
Several state DOTs throughout the United States are beginning to pursue similar projects encouraged by international activities, as well as directives to find ways to reduce statewide GHG emissions. The first solar highway project in the U.S. was developed in 2008 in Oregon. Partnering with Portland General Electric (PGE), ODOT developed the project, now commonly known as "Oregon's Solar Highway Demonstration Project," at the interchange of Interstate 5, a Federally designated "Corridor of the Future," and Interstate 205 in Tualatin, Oregon. It consists of a 594-panel, 104-kWdc ground-mounted solar array system (see Figure 4) and has produced approximately 130,000 kWh annually since it first went online, or roughly enough electricity to supply a third of the energy needed to illuminate the interchange in that area. SunWay 1, a limited liability company managed by PGE, owns and operates the system. ODOT purchases the electricity the solar array produces from SunWay 1 at the same rate it pays for conventional power from the grid. ODOT and PGE plan to continue pursuing other solar energy projects in the highway ROW with the next project being located on approximately 7 acres adjacent to the Baldock Safety Rest Area on Interstate 5. The project will install a 1.75 megawatt (MW) direct current solar array, which includes approximately 6,994 250-watt panels. Construction began in August 2011 and is expected to be completed February 2012 (see Figure 5).25

Figure 4: Aerial view of Oregon DOT's Solar Highway Demonstration Project
Photo credit: Oregon DOT

Figure 5: Aerial view of Oregon DOT's Baldock Safety Rest Area Solar Highway Project
Photo credit: Gary Weber, Oregon DOT
ODOT is also installing a solar powered navigational lighting system on the Astoria-Megler Bridge, the coastal bridge on U.S. Highway 101 connecting Oregon and Washington. The 45-year old bridge still contains its original navigational lighting system, which the U.S. Coast Guard requires to be operational at all times. The existing electrical conduit for the navigational lighting system has deteriorated and is in need of replacement. ODOT, with approval from FHWA, will install new navigation lights, solar panels, and back up batteries (see Figure 6). In the first year of operation, ODOT will test the new solar powered lighting system in terms of light intensity, DC voltage output, charging current, and temperature. If the solar powered lighting system is deemed successful, ODOT plans to consider using similar systems on other bridges in coastal and remote areas.

Figure 6: Locations of the five different types of solar lights on the Astoria-Megler Bridge
Photo credit: ODOT
In the eastern U.S., Ohio DOT has partnered with the University of Toledo to deploy a solar array within the highway ROW to offset the electricity demand and operating costs associated with a 196-foot light-emitting diode (LED) lighted structure on the Veteran's Glass City Skyway bridge near Toledo, Ohio. The 100kW test array, which consists of both rigid and flexible solar panels (see Figure 7) made in Ohio, will be used to help Ohio DOT evaluate, select, and procure equipment for future permanent solar installations within the highway ROW, as well as to identify problems that are unique to alternative energy projects implemented in such a manner.

Figure 7: Rigid First Solar panels (left) and flexible Xunlight Corporation solar panels (right) installed along I-280 in Toledo, OH
Photo credit: Ohio DOT
Several other states have solar energy projects underway. MassDOT is coordinating with the Town of Carver, Massachusetts, to permit the installation of a solar array along Route 44, an east-west state highway in a southeastern part of the state. The Town of Carver, which has recently constructed a new water treatment facility in the North Carver Water District, is interested in installing a 112 kilowatt (kW) PV system to support the water system's energy needs. In November 2010, the town selected a preferred vendor, who will install, own, and operate the solar panels. The Town will purchase the renewable electricity from the vendor. The town anticipates construction of the solar facility to be completed in February 2012.
Beginning in 2008, the California Department of Transportation (Caltrans) and the Sacramento Municipal Utility District (SMUD) worked together in an effort to develop solar energy projects at two potential sites along Highway 50 in Sacramento County. The projects were expected to have a planned capacity of 1.4MW and utilize both traditional PV and CPV technologies. SMUD completed the environmental review26 for the project in July 2011 and a conceptual draft airspace lease agreement that would have governed SMUD's use of the Caltrans ROW was approved in August 2011. SMUD then issued a Request for Offers to identify a partner to design, construct, and operate the solar systems. SMUD only received one bid for construction, which was priced higher than anticipated. As a result, SMUD determined that the solar highway project was not economically feasible at this time.
Caltrans also has also proposed to enter into a partnership agreement (airspace developmental lease and revenue share operations agreement) that would permit Republic Cloverleaf Solar, LLC (Republic) to install and maintain flat-plate solar panels within operating ROW at up to seven interchange locations throughout Santa Clara County. Republic would develop, finance, construct, own, operate, and maintain the PV systems, which combined would generate up to 15 MW of power to be sold directly to an investor or municipally owned utility. The airspace lease agreement would allow for the production of renewable power facilities on otherwise unleasable ROW, while establishing a new revenue source for the State. The draft environmental document for the project has been completed.27
Nationally, the "Adopt-A-WattTM Program," which is based on the Adopt-A-Highway program, is seeking to promote energy conservation by giving sponsors community recognition for funding of clean energy, alternative fuel, and energy-efficiency projects. New Jersey DOT (NJDOT) is currently assessing the possibilities for constructing solar light poles and PV arrays at its rest areas as a part of the Adopt-A-Watt program. NJDOT's proposal has other precedents; all of the 19 rest areas that Wyoming DOT opened since 1980 use solar power to provide an estimated half of the rest areas' energy needs, a trend that is expected to continue. In August 2010, solar "flowers," or solar panels in the shape of flowers, began producing electricity at a rest area on Interstate 70 near Parachute, Colorado (see Figure 8).

Figure 8. I-70 rest area solar flowers in Parachute, CO
Photo credit: www.garfieldcleanenergy.org
Additionally, in April 2010, the FHWA entered into a cooperative agreement with the University of Nebraska-Lincoln to explore developing a Roadway Wind/Solar Hybrid Power Generation and Distribution System. The system would incorporate wind and solar hybrid energy harvesting systems with a "microgrid" that manages the energy produced with demand from surrounding infrastructure but that could interact with the overall power grid in the case that the microgrid needed additional energy, had excess energy to provide, or needed to isolate itself from disruptions in the larger power grid. The research effort will involve laboratory-scale testing and modeling of appropriate systems, followed by a full-scale installation and testing program.
3.2.2 Solar Power Applications in the Roadway
Transportation engineers have also sought ways to generate and/or use solar power directly from or in the roadway. A British company, for example, has developed a road stud that contains small solar panels and automatically emits LED light to illuminate roadways when it becomes dark outside. The solar panel road studs have been installed in over 120 roads in the UK and in locations in the Noord-Holland Province of The Netherlands.28 Domestically, as of August 2010, the Washington State DOT (WSDOT) began a 5 year test of the same technology along a 2 mile section of State Route 530 that has a history of run-off-the-road collisions.29 The solar-powered road reflectors (see Figure 9) that WSDOT has installed contain an LED that will automatically light up under dark conditions to provide an estimated 10 times greater visibility for drivers than the traditional retro-reflective markers. Depending on the results of the tests and available funding, WSDOT will consider investing in additional test areas on other roadway surfaces or situations.

Figure 9: WSDOT solar reflector
Photo credit: WSDOT, www.flickr.com/photos/wsdot/
The UK has also conducted successful trials of using inter-seasonal heat transfer systems that incorporate solar energy collectors in the road and shallow insulated heat stores in the ground.30 Likewise, Worcester Polytechnic Institute researchers have found evidence suggesting that asphalt pavement solar collectors hold promise for energy recovery.31 In more exploratory research, the Idaho-based company "Solar Roadways" has been awarded Small Business Innovation Research grants to develop 12-by-12-foot solar panels that could be embedded into roads to provide power into the electrical grid. It is estimated that each solar road panel, which would cost approximately $7,000 each, could generate roughly 7.6 kWh of power per day. Researchers are investigating whether the panels could feature LED road warnings and built-in heating elements that could prevent roads from freezing.
3.3 Wind Energy and Highway ROW
Wind can be used to generate electricity through the use of wind turbines. Wind turbines generate electricity through the following process, put simply: When wind blows over a turbine, it turns the turbine's blades, which are connected to a drive shaft. When the shaft turns, it spins a generator to produce electricity.
Wind turbine systems vary in size, application, and wind requirements. The system sizes generally available include small, mid-sized, and utility-scale systems (see Figure 10).
Small wind turbines are typically used to supplement the power supply for small-scale users, such as individual homes and farms. They have a capacity rating of less than 100 kW. Small turbines, which have rotor blades with diameters around 8 meters (approximately 26 feet) mounted on towers of 40 meters or less, require an annual average wind speed greater than 9 miles per hour (mph). While the traditional pole mounted designs are normally ground mounted, some of these can be mounted on a building parapet or possibly on a high span bridge or other support structure.
Mid-sized wind turbines are typically used for small commercial and community applications. Mid-sized turbines have a capacity rating of 100 kW to 1 MW.
Utility-scale wind turbines are typically connected directly into the utility grid and used to provide electric power to utility customers. The majority of utility-scale turbines are horizontal axis wind turbines that are roughly 250–300 feet tall and have three long blades mounted on a tall tower. They typically need good exposure, available land (ideally already cleared), and have a capacity of 700 kW to 2.5 MW. Utility-scale turbines, which have rotor blades with diameters of 50 to 90 meters mounted on towers up to 90 meters tall, require an annual average wind speed of 11 to 13 mph. Multiple large wind turbines can be grouped together into wind farms.

Figure 10: Examples of small-, mid-, and utility-scale wind turbines
Photo credit: TxDOT (small- and mid-scale turbine images, left) and MassDOT (utility-scale turbine image, right)
Wind turbines can operate with naturally occurring wind, a resource consistently available in many parts of the U.S., or from less location-dependent "manufactured" wind resources, such as the air flow traveling vehicles produce. Past research has focused generally on improving the technology of mid-sized and utility-scale wind systems that capitalize on naturally occurring wind resources.
The relative size of highway ROW would likely make the accommodation of current mid-sized and utility-scale wind technologies impractical (although they are increasingly common along highways in Denmark, Germany, and the Netherlands). Instead, recent advances in smaller wind turbine technologies are providing the opportunity to explore possibilities for harnessing wind energy in many locations not previously possible, such as along roadways. For example, the Israel National Roads Company is initiating steps to install small turbines on lighting poles on the highway running along Israel's Mediterranean coastline to take advantage of sea winds; and in Taiwan, small-scale wind turbines are being installed in parking lots.
Developments are also being made in micro-wind turbine technology. The Department of Mechanical Engineering of the University of Hong Kong and MotorWave Limited have jointly developed and launched a new micro-wind turbine technology that enables wind turbines to start generating electricity at wind speeds as low as 2 meters per second. The micro-wind turbine can be arranged in an array of shapes and sizes, enabling them to be located where conventional small wind turbines would not be allowed.32 As an example, researchers are studying the practicality of using a modified version of the Jersey barrier, a concrete median, to harness wind that passing vehicles produce. The concept involves double-stacked Darrieus, or vertical axis, wind turbines within the structure that would capture the wind vehicles produce while passing the median in either direction.33,34 Some critics debate that such turbines could only be placed on high volume roads and that they could reduce vehicle efficiency by imposing increased drag.

Figure 11: One of two, 1.2 kW wind turbines (one in each traveling direction) installed at Missouri DOT's Conway Missouri Welcome Center on I-44. The wind turbines power the lights over the information counters.
Photo credit: Windspire Energy, Missouri DOT
To date, only a few state DOTs have examined the feasibility of installing wind turbines in highway ROW with most potential applications being at highway rest areas or on facilities. The Ohio DOT, for example, is installing a small 32 kW wind turbine at a maintenance facility in Northwood, Ohio. The maintenance facility is located adjacent to the highway ROW along I-68. The electricity produced by the turbine will be used on site, and Ohio DOT anticipates that it will help meet up to 65 percent of the electricity needs of the maintenance facility.
The former Massachusetts Turnpike Authority, now part of MassDOT, analyzed potential wind turbine sites along the Massachusetts Turnpike, a 138-mile highway extending across the state from east to west, in support of the state's Leading by Example Program that established GHG emissions reduction and renewable energy targets for all of the state's agencies. One of the sites the Turnpike Authority examined was a 68-acre property it owned in the western part of the state. The land holding is adjacent to the Blandford service area (see Figure 12). Over 13 months, the Turnpike Authority conducted a feasibility study, collecting wind speed and other site condition information.35 It was ultimately determined that the site was suitable for wind power development, and in April 2009, the former Turnpike Authority issued a Request for Proposal (RFP) for a long-term lease for wind turbine development at the service area. Solaya Energy, LLC was selected to develop what was planned to be a nearly 400-foot tall, 1.5 MW wind turbine. However, in May 2011 registered voters at a Town of Blandford open town meeting defeated a wind power zoning bylaw that would have allowed the development of the proposed turbine, putting the future of this project in question.

Figure 12: Location of MassDOT's proposed Blandford rest area wind turbine
Image credit: MassDOT
In 2009, the University of Illinois at Urbana Champaign investigated use of wind for providing electrical power at Illinois DOT highway rest areas and weigh stations to determine the extent to which wind power could offset electricity costs and energy use and provide a reasonable return on investment.36 The study, which identified several favorable sites where installing small wind turbines could be economically feasible, found that one of the most important determinants of return on investment and viability was the cost of the wind turbines—a variable consideration that depends on many factors. The team developed a spreadsheet that enables procurement agents to rigorously compare the prices and returns for given locations and turbine manufacturers. See Table 2 for example wind energy activities along highways globally.
3.4 Bioenergy and Highway ROW
Bioenergy is a form of renewable energy made from any organic material. Sources of bioenergy are called "biomass" and include agricultural and forestry residues, municipal solid wastes, industrial wastes, and terrestrial and aquatic crops grown solely for energy purposes. Many bioenergy proponents contend that the use of domestically produced biofuels will help reduce demand for imported oil, increase energy security, improve air quality, and lower GHG emissions. Advocates also assert that biomass production could enhance the visual quality of highway ROW, decrease weed species in the ROW, and stimulate the growth of a new domestic industry while helping support rural and agricultural economies. Today, biomass resources are used to generate electricity and power and to produce liquid transportation fuels, or biofuels, such as ethanol and biodiesel. It should be noted, however, that corn- and other feed-based ethanol have come under scrutiny with regards to inflating global grain prices as well as the life cycle GHG emissions associated with producing the fuel.
In the past decade, increased attention has been given to the development and use of biofuels as a substitute for transportation-sector petroleum consumption and a contributor to local air quality improvements. This has been due in large part to consistent Federal-level support for the development and use of domestically-produced biofuels as alternative transportation fuels. States and the Federal Government have provided incentives for the use of biofuels, particularly ethanol, several times since the 1970s. The convergence of recent record-high oil prices and a strengthening political will to address climate change effects through GHG reductions has resulted in Congress committing the Nation to goals that increase the amount of biofuels produced and used domestically in the transportation sector over the next 10 years. Increased biofuel use in the Nation's vehicle fleet is a primary strategy of the Energy Independence Security Act of 2007, which includes a Renewable Fuels Standard calling for annual incremental increases in delivered biofuel (reaching 36 billion gallons per year by 2022). It is expected that these requirements will help to reduce risk of long-term industry investment and create a long-lasting market demand for ethanol and biodiesel.37
Several agencies are beginning to explore the potential for bioenergy generation in highway ROW through the Freeways to Fuel (F2F) National Alliance. The F2F program investigates the use of non-traditional agronomic lands such as roadside ROW, military bases, and airports for the growth of biofuel feedstock crops across the country. Freeways to Fuel seeks to increase the production of biofuel without effecting food, fiber, feed, or flower production by targeting lands that are not currently in production It began in 2006 as a cooperative program between the Utah DOT (UDOT) and Utah State University (USU). UDOT was interested in learning whether it could use its ROW to produce alternative fuel feedstock and reduce maintenance costs. The two organizations decided to pilot test the planting and cultivation of safflower and canola in eight 20-foot by 8-foot plots in four different locations along the I-15 corridor. Ultimately, arid conditions and heavily compacted soil led the team to conclude that growing biocrops in Utah faces significant challenges that might not be manifested in other states. To address this issue, USU developed an aerator tool that could be attached to state DOTs' planting equipment. Based on lessons learned from the Utah pilot, USU developed a set of criteria by which the feasibility of a potential ROW biocrop program could be evaluated. The criteria included crop type, erosion, structural integrity of the road and ROW, habitat issues, line of sight issues, risk management issues, ecological impacts, and water quality issues.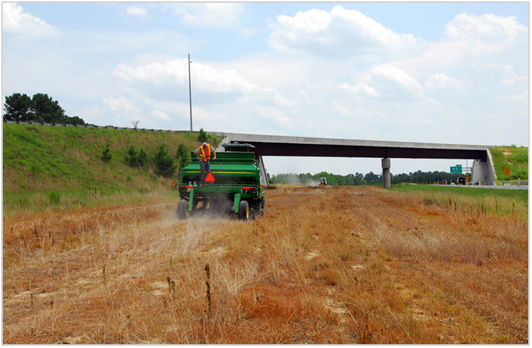 Figure 13: NCDOT crews plant canola along I-40 in Raleigh.
Photo credit: NCDOT, www.flickr.com/photos/ncdot/
Since that time, the alliance has grown to include other State DOTs and land grant universities.38 The North Carolina F2F project started in 2009 and is now largely regarded as one of the most promising programs in the Alliance. Its moist climate, fertile soils, and support from the State legislature have made North Carolina DOT's (NCDOT) biocrop growing efforts a national model. The North Carolina project began with four 1-acre plots of canola or sunflower crops (see Figure 13). The NCDOT, in coordination with North Carolina State University, selected crops that it believed would provide the greatest yield in the ROW. By working with seasonally rotated crops on the same plot, NCDOT has been able to meet or exceed national standards for crop production. In 2010, NCDOT extracted 3,000 lb of canola seed, which produced 100 gallons of virgin oil. This in turn created 150 gallons of B100, which was cut with conventional diesel to produce approximately 600 gallons of B20 product that NCDOT used to power its dump trucks, tractors, and other equipment. Media coverage and public feedback for the effort have been overwhelmingly positive. As of August 2011, NCDOT has its fourth crop planted.
In Tennessee, its DOT and Genera Energy LLC recently planted several plots of switchgrass along Interstate corridors in the state (see Figure 14). The test plots are designed to demonstrate if switchgrass can help reduce maintenance costs by reducing the need for mowing, while having the added benefits of producing biocrops for cellulosic ethanol production and reducing erosion at highway interchanges. Likewise, there are other state DOTs, such as those in Oregon, Texas, and Washington (among others), that are working to identify potential ROW locations for biocrop plots. Similarly, Michigan DOT has identified 10,000 ROW acres for planting, which it plans to offer to bid in the near future. See Table 2 for example bioenergy activities on highway ROW.

Figure 14: Tennessee DOT highway switchgrass test plot
Photo source: Utah State University/Freeways to Fuel
3.5 Energy Harvesting and Highway ROW
Energy harvesting technologies could convert ambient energy of various forms (e.g., stress and strain, mechanical, vibrations and noise) into electrical energy. Some systems, such as wave or tidal power technologies, directly convert kinetic energy into electricity. Other technologies, such as piezoelectric materials, "scavenge" energy from ambient vibrations.
In the case of wave and tidal power, energy from the ocean can be converted into electricity or other useful forms of power with turbines placed underwater. Given that 78 percent of United States' electricity consumption occurs in a state bordering an ocean or a Great Lake,39 wave and water currents could be significant and virtually untapped renewable energy resources near or within highway ROW. This concept has been effectively demonstrated in Sweden, Scotland, and other European countries, such as France, where plans have been made to install eight turbines underneath bridges crossing the River Seine in Paris, France.40 Wave energy applications in roadway settings are only beginning to emerge in the U.S. as compared to other renewable energy technologies. For example, in 2006, newspapers reported that city officials were considering submerging wave turbines at the Golden Gate Bridge to capitalize on the strong currents often measured there.41 After several years of debate, the project was ultimately deemed too expensive to pursue. More recently, as reported in June 2010, Hawaii DOT is participating in early discussions for the accommodation of power lines in the ROW for wave energy transmission.

Figure 15: Example of roadway vibration capture technology
Image credit: Innowatech via TxDOT presentation at peer exchange
Using technologies that capture energy from roadway vibrations (see Figure 15) currently appears to be a more practical prospect for highway ROW renewable energy generation, though they are still comparatively unproven technologies when balanced against solar power, wind power, and bioenergy applications. For example, the Israeli company Innowattech is working with an Italian infrastructure and civil engineering contractor to use generators placed beneath the upper layer of asphalt on a highway to light road signs between Venice and Trieste, Italy. The generators will harvest the electrical charge that the vibrations of the moving vehicles create.42 Other companies are exploring opportunities to capture the energy lost in the process of a vehicle braking to generate electricity. The lost energy is captured via specially designed mats, which are installed on the road in places where vehicles slow down.43
Recently, FHWA has contracted with Virginia Tech University to investigate "energy independent" monitoring systems for bridges. The proposed systems would use piezoelectric materials to harvest electricity from the vibrations in the bridge that the vehicles crossing over it create.44 Likewise, researchers at the University of Minnesota Duluth are developing a piezoresistive mixture of concrete with embedded electrodes in an effort to measure the change in electrical resistance that the stress of passing vehicles generates.45,46
3.6 Alternative Fuel Facilities in the ROW
Recent Federal energy polices have emphasized Federal agency adoption of strategies to reduce GHG emissions. In conjunction, compliance with Executive Order 13514 has prompted state DOTs to adopt various sustainability measures. In addition to using highway ROW for renewable energy generation, there is an opportunity for transportation agencies to distribute cleaner-burning, alternative fuels along roadways. Doing so could help accelerate the creation of a clean energy economy, promote energy security and offer state DOTs a new source of revenue generation, especially if petroleum prices continue to rise as expected. Finland has been at the forefront of fully exploring these opportunities. Proponents in the country are proposing to build a $1 billion carbon-neutral highway, the first of its kind in the world, from Helsinki to a city near the Russian border. The system would provide a mix of biofuels, EV charging infrastructure that obtains energy from solar and wind power technologies, and renewable energy generation technologies along the highway. The towns along the highway would be involved in the effort by growing biocrops for biofuel creation. The project is under the feasibility analysis stage and is projected to be completed by 2016 if approved.
The U.S. has established goals for alternative fuels and alternatively-fueled vehicles at both the national and state level. President Obama's Administration established targets to have one million plug-in hybrid electric vehicles (PHEV) on the highway by 2015 and to reduce oil use by approximately 3.5 million barrels per day in 10 years.47,48 Accordingly, unprecedented amounts of funding under the US Energy Independence and Security Act of 2007 and the American Recovery and Reinvestment Act of 2009 (ARRA) are being put toward alternative fuels research and development.
If highway ROW were to distribute alternative fuels, stations that could deliver one or more of the following fuels would need to be installed:
Electricity, preferably from renewable sources
Biofuels, primarily ethanol and biodiesel
Propane or natural gas
Hydrogen
Figure 16: Fueling Stations Counts in the United States by Fuel Type, as of January 2011*
Data source: U.S. Department of Energy's Alternative Fuels and Advanced Vehicles Data Center

*As of January 2011, the most widely distributed high-level ethanol blend, E85 (85 percent ethanol/15 percent gasoline), was available at approximately 2,300 retail fueling stations in the United States. Although this figure indicates that E85 is available at less than two percent of all retail fueling stations in the country,49 charging station technologies are even less prevalent. *LPG=liquefied petroleum gas; E85=85 percent ethanol/15 percent gasoline blend; CNG=compressed natural gas; ELEC=electric charging stations; B20=20 percent biodiesel/80 percent diesel blend; HYD=hydrogen; LNG=liquefied natural gas
The opportunities for accommodating EV and PHEV charging facilities within highway ROW are likely greater than for the other alternative fuels listed, especially when the electricity is generated on-site by renewable (e.g., solar and wind) sources. This is likely the case due to the fact that EV and PHEV technologies would require new supporting infrastructure, unlike biofuel distribution facilities that could use existing or modified pump and tank storage infrastructure already available at commercial service stations.50 Thus, facilities within highway ROW, such as visitor centers, recreational/natural resource rest areas, truck rest havens, and perhaps some scenic overlooks, may offer convenient locations for new EV and PHEV charging technology. DOTs could facilitate the development of a charging infrastructure network that supports interstate and regional travel, since routine charging will likely be provided by home- or work-based charging stations or other publically accessible locations.
The Florida Turnpike Enterprise (FTE), a separate business unit of the Florida DOT, for example, is currently trying to pilot test this concept as regulatory restrictions on commercial establishments along the transportation system do not apply to turnpike authorities. FTE was recently approved for six, 500-volt, high-current rapid charging stations that it plans on strategically placing along the Florida Turnpike in south Florida. These stations are in addition to 40 truck electrification stations installed on the turnpike that allow tractor trailer trucks to get heat, air, and electricity without having to idle. Similarly, MassDOT and the Massachusetts Executive Office of Environmental Affairs is working to identify prime locations for public charging infrastructure, particularly at public parking areas and in public-private partnership applications.
The Ohio DOT recently proposed a research project to evaluate the installation of a wind and solar-powered rest stop electrification system at two rest area facilities (see Figure 17). The project, which was ultimately cancelled due to changing priorities, would have involved installing 12 truck electrification stations (six at each rest area) that allow truck drivers to plug-in their vehicles and operate onboard devices such as heating, ventilation, and air conditioning (HVAC); computers; and appliances through a window unit or off-board 120-volt power pedestal. Commercial truck drivers would have used the system free of charge. A wind turbine and a ground mounted solar array system located at the rest area were proposed to power the electrification systems. FHWA granted conceptual approval of the research proposal, noting that as long as the Ohio DOT did not charge a fee for the use of the truck electrification systems, the activity would have been considered noncommercial, and since the use of the system would reduce fuel consumption and air pollution, the project would have been considered to be in the public interest.

Figure 17: Interstate I-90 Rest Area Facility Rendering
Image credit: Ohio DOT
In 2009 and 2010, the U.S. Department of Energy (DOE) awarded the company ECOtality a grant totaling $155 million to support the "EV Project," a pilot project to collect and analyze data to characterize vehicle use in diverse topographic and climatic conditions, evaluate the effectiveness of charging infrastructure, and conduct trials of various revenue systems for commercial and public charging infrastructures. The ultimate goal of the EV Project is to take the lessons learned from the deployment of the first 8,300 EVs, and the charging infrastructure supporting them, to enable the streamlined deployment of the next 5,000,000 EVs. The EV Project selected seven test markets to deploy EV vehicles and charging stations: California, Oregon, Washington, Arizona, Texas, Tennessee, and Washington, D.C. The DOE is also forming a partnership with Google Inc. and more than 80 EV stakeholders to help consumers find charging stations nationwide.
Three of the states participating in the EV project—Oregon, Washington, and California—have also partnered to form the West Coast Green Highway,51 an initiative aimed at advancing the adoption and use of electric and alternative-fuel vehicles along the I-5 corridor. In October 2008, the three states jointly submitted a New Special Experimental Project (SEP-15) application for the I-5 Alternative Fuels Corridor Project. The project would allow limited commercialization of state-owned ROW or highway rest areas to promote the use of alternative fuels. USDOT determined that it would be better implemented through modification to the Interstate Oasis Program guidance.52 The necessary change has not been initiated to date.
In June 2010, the Governor of Washington announced that WSDOT and the state's commerce department would partner to implement the Nation's first "electric highway," an initial network of public access EV charging locations along (but not within the ROW of) Interstate 5. Once implemented, Washington will have the first border-to-border highway to offer fast charge technology. In October 2010, ODOT received $2 million as part of the Transportation Investment Generating Economic Recovery 2 (TIGER2) Discretionary Grant program to help fund the installation of 22 DC fast-chargers in Northwest Oregon near major travel destinations and along heavily-traveled highway corridors at an interval of no more than 50 miles between each charging station (see Figure 18).53 The Oregon Department of Energy (ODOE), with Recovery Act dollars through its State Energy Program, awarded ODOT $700,000 to extend the 3-phase, 480V-fast charge network along the corridor. The grant will fund eight DC fast-chargers from the southern end of the Willamette Valley in Oregon to the California border as part of a coordinated strategy between the EV Project installations and other West Coast states' installations.

Figure 18: Electric vehicle charging station in Portland, OR
Photo credit: Oregon DOT
Table 2: International and Domestic Examples of Renewable Energy and Alternative Fuel Facilities in Highway ROW
Solar Energy – Domestic
California:
Solar panels are being installed at carports across the state. Caltrans has also been installing solar power generating facilities on state-owned buildings (maintenance stations) and in safety roadside rest areas to offset the cost of the energy Caltrans uses. The facilities are sized so that the DOT does not generate more energy than it uses, thus avoiding being characterized as a utility. Additionally, a Swedish architect's "solar serpent highway" idea for Santa Monica, CA is in a conceptual phase.
District of Columbia:
DDOT has installed solar powered parking meters. Solar lights are in use along the Metropolitan Branch Trail.
Florida:
The Florida Turnpike Enterprise has plans to install a solar park at the Turkey Lake Service Plaza.
Hawaii:
Hawaii DOT has installed PV power systems at seven DOT facilities, including five airport facilities, a DOT Highways Division baseyard, and a DOT administration building.
Massachusetts:
MassDOT is working with the Town of Carver, Massachusetts to explore the installation of solar arrays on Route 44.
Missouri:
MoDOT is using solar power to heat some bridge decks during inclement weather and to provide power to some traffic signals.
New Jersey:
NJDOT is retrofitting over 200,000 utility poles with solar panels. It is also looking to install solar panels on the Carneys Rest Area on I-295 as a part of the national Adopt-A-Watt Program.
New York:
NYSDOT is considering the installation of solar panels at highway rest areas.
Ohio:
Ohio DOT, in partnership with the University of Toledo, created a solar highway along Interstate 280. The arrays were installed in the summer of 2010 and are used to offset electricity use at the Veterans' Glass City Skyway bridge.
Oregon:
ODOT installed the Nation's first solar highway project in 2008. It is now working to develop other solar power projects along highway ROW.
Washington:
WSDOT is considering potential solar installations along Interstates in the state.
Wyoming:
Since 1980 WYDOT has opened 19 new rest areas. Solar heating provides nearly half of rest rooms' energy needs.
Wind Energy – Domestic
District of Columbia:
DDOT is considering self-contained turbine street lights but applied research is not underway at this time.
Illinois:
Illinois DOT partnered with the University of Illinois to study the feasibility of using wind to provide electrical power at highway rest areas, weigh stations, and team section buildings.
Massachusetts:
MassDOT is working to develop a proposed wind turbine project on land adjacent to a Massachusetts Turnpike rest area.
Minnesota:
The Minnesota state legislature is currently assessing the benefits and costs of using state-owned land for wind energy generation systems.
Missouri:
MoDOT has two, 1.2 kW wind turbines (one in each traveling direction) installed at a Welcome Center on I-44 in Conway, Missouri. The wind turbines power the lights over the information counters.
Ohio:
Ohio DOT was advancing projects involving the installation of wind turbine electrical generators at two Interstate rest areas (I-90 in Ashtabula County and I-75 in Wood County) in order to provide power for these rest areas. The projects, which would have included the installation of Truck Electrification Systems for use at no cost, have been cancelled due to changing priorities.
Washington:
WSDOT had been approached with the idea of installing wind turbines on the SR 16 Tacoma Narrows bridge and as part of the I-5 Columbia River Crossing bridge replacement project, but no specific proposals have been received.
Other:
Some consulting firms have indicated intentions to install wind turbines along highway medians in several states. At this time, these claims could not be substantiated. (e.g., the Nebraska Department of Roads (NDOR) has been approached by a company to allow wind turbines in the highway ROW. NDOR is currently investigating whether this use would be permitted.
Bioenergy – Domestic
Kentucky:
Kentucky State University conducted a study to calculate the ethanol production potential of ROW along interstates and parkways in Kentucky.
Michigan:
MDOT has planted a biocrops test plot along its ROW.
Missouri:
The Legislature has approved measures to allow MoDOT to produce switchgrass on the ROW.
North Carolina:
NCDOT is currently piloting the use of highway ROW to grow biocrops such as canola and sunflower.
Ohio:
Members of the Etna Township Economic Development Committee have advocated for the planting of biocrops along I-70 in Ohio. www.dispatch.com/live/content/local_news/stories/2010/12/09/money-making-pitch-biofuel-crops-along-i-70.html?sid=101
Oregon:
ODOT jointly submitted a New Special Experimental Project (SEP-15) application to USDOT with the DOTs in California and Washington for the I-5 Alternative Fuels Corridor Project. The application/project would allow limited commercialization of highway rest areas to promote the use of alternative fuels. USDOT determined that the concept would be better implemented through modification to the Interstate Oasis Program (www.fhwa.dot.gov/safetealu/factsheets/iop.htm) guidance. A rule change has not been initiated to date.
Tennessee:
Tennessee DOT, in conjunction with Genera Energy LLC, a Knoxville-based renewable energy company, recently planted several test plots of switchgrass along interstate corridors in Tennessee. The plots are designed to assess whether switchgrass can help reduce maintenance costs by reducing the need for mowing and may also have the added benefit of producing biocrops for energy and reducing erosion at highway interchanges.
Utah:
Utah State University, in conjunction with Utah DOT, has experimented with growing oil-seed crops in grassy highway medians and shoulders.
Electric Vehicle Charging Stations – Domestic
District of Columbia:
The Sustainability Plan specifically addresses refueling and recharging infrastructure to encourage the use of alternative fuels and advanced vehicles. DDOT launched its Park and Charge Pilot program in November 2010. A recharging station is located in the 2000 block of 14th St., NW and additional stations are planned.
Florida:
The Florida Turnpike Enterprise has plans to install recharging stations along the Florida Turnpike, beginning with several stations at the Turkey Lake Service Plaza.
Nevada:
NDOT formed an EV task force to look at the potential for adding charging stations operated by a third party on the Interstate or other ROW
Oregon:
Oregon is participating in the EV Project. Additionally, ODOT received a $2 million TIGER-2 grant to support the installation of 20 new EV charging stations along the I-5 corridor in the northwest part of the state.
Tennessee:
TDOT is considering a proposal to place a charging station at a rest area.
Virginia:
Has charging stations at rest areas, installed at no cost to the state. The first stations were installed at the New Kent Safety Rest Area on I-64.
Washington:
WSDOT is currently working to install electric charging stations on I-5, as part of the West Coast Green Highway. Two rest areas have been identified for installations, one in northern WA and the other in southern WA.
Wave Energy – Domestic
Hawaii:
Hawaii DOT is having early discussions regarding installation of a line in the ROW for wave energy transmission.
Hydrogen – Domestic
California:
Caltrans is exploring legislation to allow charging stations at Park and Ride facilities, which the Vehicle Code currently prohibits. The California Hydrogen Highway Network was initiated in 2004 to support and catalyze a rapid transition to a clean, hydrogen transportation economy in California. California has recently awarded funding to develop nine hydrogen stations to support clusters in Los Angeles and San Francisco.
East Coast:
Companies have announced plans to build 11 hydrogen fueling stations, each approximately 145 miles apart, from Florida to Maine.
South Carolina:
Has public-private partnership to advance the commercialization of hydrogen fuel cell technologies in SC, including installing hydrogen fueling stations.
Other – Domestic
Arizona:
Considering testing the use of compressed air technology to store heated energy underground in order to produce electricity. The research site is located on excess ROW at I-10 and I-24 street bridges inside the City of Phoenix. The project has been in place for approximately 1 year.
Colorado:
CDOT conducted a statewide feasibility study to identify potential renewable energy sites on the state's highways.
Massachusetts:
MassDOT conducted a statewide feasibility study to identify potential renewable energy sites on the state's highways.
Minnesota:
Minnesota DOT is considering options for sequestering carbon on highway ROW using native vegetation.
North Carolina:
NCDOT is building sustainable rest areas that incorporate solar panel and wind turbine technologies in their designs.
Nebraska:
In April 2010, FHWA entered into a cooperative agreement with the University of Nebraska-Lincoln to explore possibilities to incorporate wind and solar hybrid energy harvesting systems with a "microgrid" that manages energy produced with demand from surrounding infrastructure.
Nevada:
NDOT is considering installation of a geothermal renewable energy transmission line within the ROW based on an NV Energy permit application.
New Mexico:
New Mexico DOT is considering options for sequestering carbon on highway ROW using native vegetation.
Ohio:
Ohio DOT had plans to develop green rest areas that are powered by renewable energy and that would include ethanol fueling stations and electric car recharging bays. These plans have been cancelled at present.
Texas:
TxDOT and the University of Texas are conducting a research study to develop criteria for assessing ways to extract value from the ROW.
Solar Energy – International
Australia:
Installed highway noise barriers made of PV panels.
Austria:
Installed highway noise barriers made of PV panels.
Germany:
Installed highway noise barriers made of PV panels; has several solar projects including solar arrays installed on highway close to Freiburg and 16,000 solar panels on the roof of a tunnel of A3 highway near Aschaffenburg.
Iraq:
Installed solar panel and bulbs along roads to power streetlights.
Italy:
Opened the world's first completely solar highway on January 1, 2011. The roadway situated between the cities of Catania and Syracuse, is 19 miles long and cost $81 million to construct. It integrates a series of PV panels along the entire distance of the roadway that generate enough electricity to power all of the highway's systems including the lighting and fans inside the tunnels and the highway lighting and emergency phones placed along the stretch of road. The solar panels will generate an estimated 12 million kW of solar power annually. www.energydigital.com/tags/a18-catania-siracusa/italians-race-solar-powered-highway
Japan:
Plans to subsidize half the cost of installing solar power generation systems at public facilities, including highway rest areas.
United Kingdom:
PV systems on highways provide electricity to power highway energy signs, lighting and equipment or into the national grid for more general use.
Spain:
Has implemented solar car ports. Switzerland: Installed highway noise barriers made of PV panels.
Wind Energy – International
France:
An experimental wind turbine along the A6 between Paris and Lyon generates 1.5 kW of electricity, enough to power local road signs, speed detectors and video cameras.
Israel:
Israel has planned to implement wind-powered lighting for coastal highways.
Netherlands:
The Netherlands has implemented wind turbines along highways A12 and A20.
Wave Energy – International
France:
Paris authorities are exploring a proposal to install eight turbines underneath bridges to harness energy from currents of the river Seine.
Energy Harvesting – International
Italy:
Israel's Innowattech is working to provide renewable energy for highway signs in Italy. Generators are being placed beneath the highway's upper asphalt layer to capture the electrical charge created from moving vehicles on the road.
Netherlands:
Ooms Avenhorn Holding BV has developed a way to siphon solar heat from asphalt road surfaces and use it to de-ice roads and help power nearby buildings.
South Korea:
Researchers are currently designing induction strips and inverters that, when placed in the road, will help recharge passing electric vehicles. http://green.blogs.nytimes.com/2009/06/10/giving-new-meaning-to-electric-avenue/
United Kingdom:
Experimenting with pavement heat transfer systems.
Hydrogen – International
Canada:
Planning to construct hydrogen highway in British Columbia with seven fueling stations.
European Union (EU):
Members of the European Parliament have voted to develop the EU hydrogen highway network system in regard to technological and safety standards among the different countries. Denmark plans to link the Norway HyNor Project with the mainland European nations via its Hydrogen Link project. www.h2moves.eu/regions/sweden_western.html
Iceland:
Icelandic Hydrogen is working towards the future hydrogen refueling infrastructure solutions focusing on small-scale hydrogen refueling stations.
Japan:
Installing hydrogen stations along highway in Fukuoka Prefecture. Ten Japanese energy companies including automakers and gas suppliers have announced that they plan to install 100 hydrogen fueling stations in the country by 2015.
Norway:
Hydrogen highway spanning nearly 375 miles between Oslo and Stavanger.
South Korea:
Operating six hydrogen stations near highway, with others planned.
Other – International
Finland:
Finland is proposing to build the world's first carbon-neutral highway. The highway would use a mix of biofuels, EV charging infrastructure, and renewable energy generation technologies. The highway would use EV charging points that obtain their power from solar and wind energy. The project is under the feasibility stage and is projected to be completed by 2016, if passed.
---
Footnotes
Lienau, Paul, Gene Culver, and John Lund. 1989. Klamath Falls Geothermal Field, Oregon: Case History of Assessment, Development and Utilization. Geothermal Resources Council 1989 Annual Meeting.
Nydahl, John, et al. 1982. Geothermal Heating of Highway Structures. Transportation Research Record 860: Snow Control, Traffic Effects on New Concrete, and Corrosion
Lund, John W. 2000. Pavement Snow Melting. Geo-Heat Center, Oregon Institute of Technology. http://geoheat.oit.edu/pdf/tp108.pdf
Strawn, Jon A. and Ivar A. Engen. February 1982. Geothermal Applications for Highway Rest Areas. EG&G Idaho, Inc. for USDOE.
Elkind (2009).
Colorado State University–Pueblo. March 2011. Assessment of Colorado Department of Transportation Rest Areas for Sustainability Improvements and Highway Corridors and Facilities for Alternative Energy. Source Use. Prepared for Colorado DOT. www.coloradodot.info/programs/research/pdfs/2011/restareas/at_download/file
The Colorado Governor's Task Force on Renewable Resource Generation "Connecting Colorado's Renewable Resources to the Markets" mapped and evaluated Colorado's solar, wind, and hydroelectric power, as well as geothermal and biomass resources. The report is available at http://rechargecolorado.com/images/uploads/pdfs/redi_full%5B1%5D.pdf.
Louis Berger Group, Inc (2011) Feasibility of Using Solar or Wind Power for Transportation Infrastructure. NCHRP Project 25-25, Task 64. http://onlinepubs.trb.org/onlinepubs/nchrp/docs/NCHRP25-25(64)_FinalHandbook.pdf
Carder, D.R., L. Hawker and A.R. Parry. March 2007. Motorway Noise Barriers as Solar Power Generators. Proceedings of the Institution of Civil Engineers.
Nordmann, T, A, et al. 2000. The Potential of PV Noise Barrier Technology in Europe. Presented at the 16th European Photovoltaic Solar Energy Conference and Exhibition, Glasgow, United Kingdom. www.pvdatabase.org/pdf/Mur_anti_bruit_ARRAS3.pdf
"Solar Highway Program: From Concept to Reality," which was prepared for the Oregon DOT and published in summer 2011, is a step-by-step guidebook intended to help DOTs develop solar PV systems on highway ROW. It is available at www.oregon.gov/ODOT/HWY/OIPP/docs/SolarManual.pdf.
SMUD released the Revised Final Sacramento Solar Highway Initial Study and Mitigated Negative Declaration in July 2011. The document is available at www.smud.org/en/about/Documents/ceqa-pdfs/solar-highways-final-july11.pdf.
Solar Highways Pilot Project: Initial Study with Proposed Mitigated Negative Declaration www.dot.ca.gov/dist4/documents/solar_highways_draft_is_mnd_110706_circulation.pdf
Astucia Traffic Safety Systems. www.astucia.co.uk/Homepage
Washington State DOT August 17, 2010 Press Release. www.rtands.com/newsflash/carmanah-trojan-battery-enter-into-strategic-partnership.html Last accessed February 14, 2011.
Carder et al (2009).
Worcester Polytechnic Institute. August 11, 2008 Press Release. www.wpi.edu/news/20089/asphaltnews.html
University of Hong Kong. March 15, 2007. HKU and Motorwave Limited Jointly Developed Micro-Wind Turbine Technology for Crowded Cities. Press Release. www.hku.hk/press/news_detail_5535.html
Cavanaugh, Rebecca. January 10, 2007. The New Jersey Barrier: Mark Oberholzer explores the urban highway's potential for wind power. MetropolisMag.com. www.metropolismag.com/story/20070110/the-new-i-jersey-barrier
Prok, Joshua. Spring 2008. Interstate Wind: Using New Technology to Enhance Transportation Fuel Investments. Transportation Law Journal. 35(67).
Renewable Energy Research Laboratory. Wind Data Report Blandford Rest Area: December 2008 to February 2009. University of Massachusetts. www.umass.edu/windenergy/downloads/pdfs/Blan2_2009_QuarterlyReport_Winter.pdf
Chapman and Wiczkowski 2009. Wind-Powered Electrical Systems – Highway Rest Areas, Weigh Stations, and Team Section Buildings. Illinois Center for Transportation. http://ict.illinois.edu/publications/report%20files/FHWA-ICT-09-034.pdf
Biodiesel is a renewable fuel derived from plant and animal oils and fats that is used in diesel engines. At low concentrations, biodiesel blended with petroleum-based diesel can be used in existing diesel engines with little or no modifications. As concentrations of biodiesel increase, some manufacturers will not guarantee warranties for their diesel engines, or the engines may face compatibility issues.
In addition to those discussed, Michigan DOT planted its first roadside plots during 2011, and five other states plan to plant plots in 2012 pending funding decisions.
NREL (W. Musial). August 2008. Status of Wave and Tidal Power Technologies for the United States. www.nrel.gov/wind/pdfs/43240.pdf
Wilssher, Kim. June 28, 2010. Paris looks for power from turbines beneath the Seine. The Guardian. www.guardian.co.uk/world/2010/jun/28/paris-power-turbines-seine
Vega, Cecilia. September 19, 2006. Tides around Golden Gate are potential energy source. The San Francisco Chronicle. www.sfgate.com/cgi-bin/article.cgi?f=/c/a/2006/09/19/BAGKJL872O1.DTL
For more information, see www.greenprophet.com/2010/05/israel%E2%80%99s-innowattech-to-provide-renewable-energy-for-highway-signs-in-italy/ and http://spectrum.ieee.org/green-tech/mass-transit/startups-try-to-capture-road-traffics-excess-energy/?utm_source=techalert&utm_medium=email&utm_campaign=101410
For example, the American company New Energy Technologies Inc. and the UK's Highway Energy Systems Ltd.
Virginia Tech University. www.vtnews.vt.edu/articles/2009/02/2009-77.html
ITS Institute. "Beyond the loop: Researchers develop the next generation of vehicle detectors." The Sensor Newsletter. Spring 2009. www.its.umn.edu/Publications/Sensor/2009/01/BeyondtheLoop.html
As a part of its Technology Innovation Program, the National Institute of Standards and Technology sponsors research into new technologies that will enable an easily deployed, self-powered network of wireless sensors, together with analysis tools, to provide continuous monitoring of the structural integrity of bridges. For more information, see http://www.nist.gov/tip/proj_briefs/upload/tip_project_brief_080011_9h9007.pdf
January 2011 State of the Union Address
In June 2011, a public comment seeking comments on whether FHWA should grant a waiver of the Buy America requirements of 23 CFR 635.410 to permit the use of non-domestic 12 all-battery electric vehicles, 12 plug-in hybrid vehicles, and 5 neighborhood electric vehicles in the state of California ended. FHWA will publish a notice of finding after considering all comments received.
According to the U.S. Census Bureau's 2007 Economic Census, there are nearly 119,000 gasoline stations in the United States.
It should be noted that in California, planning to develop a California Hydrogen Highway Network is currently underway, and there has been some interest among private developers to support the establishment of hydrogen refueling stations on the East Coast as well. See www.arb.ca.gov/msprog/zevprog/hydrogen/hydrogen.htm/ and http://wheels.blogs.nytimes.com/2010/04/16/a-private-plan-for-a-hydrogen-highway/
West Coast Green Highway. Available at www.westcoastgreenhighway.com
FHWA's Interstate Oasis Program: www.fhwa.dot.gov/safetealu/factsheets/iop.htm
Oregon DOT. Electric Vehicle Charging Network. Available at http://www.oregon.gov/ODOT/HWY/OIPP/Pages/inn_ev-charging.aspx