The Challenge of


Job
Access
---
Moving Toward a Solution


U.S. Department of Transportation
Federal Highway Administration
Federal Transit Administration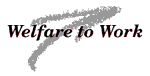 ---
Notice
This document is disseminated under the sponsorship of the Department of Transportation in the interest of information exchange. The United States Government assumes no liability for its contents or use thereof. This report does not constitute a standard, specification or regulation.
---
Introduction
Recent changes in the Nation's welfare system have promoted more aggressive public and private sector actions to provide employment opportunities for welfare recipients. With these changes, communities across the Nation are becoming increasingly aware that one of the keys to moving people from welfare to work and helping them keep a job is providing adequate and reliable transportation. Consequently, transportation providers are being asked to help provide adequate access to jobs and to make education, training, child care and other services more accessible. The Department of Transportation (DOT) recognizes that personal mobility is a large hurdle facing those moving from welfare to work and those who have limited mobility.
One of the foremost challenges facing public, private, and non-profit groups working to connect people with jobs is finding information. Information on where welfare recipients live, locations of the jobs for which welfare recipients are qualified, and available transportation resources are critical facts that can help transportation professionals and partners acquire and retain people for jobs. Once this information is identified, agencies and partners can begin to assess available and new transportation alternatives.

This brochure discusses information needs and can help Metropolitan Planning Organizations (MPOs), State Departments of Transportation, transit agencies, health and human services agencies, and other organizations as they begin to identify and to assess the opportunities and needs to improve accessibility in their region. The brochure outlines one of many approaches to data collection and analysis for job access planning.

To address the challenge of improving accessibility, the Federal Transit Administration (FTA) and the Federal Highway Administration (FHWA) have published Transportation Planning for Access to Jobs, which illustrates job access planning in three metropolitan areas. In addition, DOT, at the direction of Secretary of Transportation Rodney E. Slater, is working together with the Departments of Health and Human Services and Labor to identify and assess opportunities to enhance access to jobs.
---
The Department of Transportation recognizes that personal mobility is a large hurdle facing those moving from welfare to work and those who have limited mobility.
What Can You Do?
Strong cooperative agency partnerships are crucial to the task of serving the job access needs of welfare recipients. When partnerships are formed among transportation planning organizations, social service and labor agencies, private industry councils, religious, and non-profit organizations, solutions that reflect the unique environment and priorities of each community will emerge. Through these partnerships, localities can begin to identify job access needs, identify resources available to address the needs, and establish goals and objectives for providing appropriate transportation services. The most important contribution that you have to offer is a spirit of cooperation and teamwork with other stakeholders.
How Do You Identify Job Access
Transportation Needs?
Basic analysis techniques can be used to help you better understand job access issues. The data collection and analysis process will help with:
| | |
| --- | --- |
| | Identifying the location of residences, jobs, training centers, and family and child care facilities, |
| | Identifying existing transport services (such as, transit, van/carpools, and other ridershare alternatives), and |
| | Determining the spatial match between job opportunities and the target population. |
Six basic data sets are useful for analyzing transportation needs. The following list outlines the six types of information for each data set, although other data may also contribute to the planning effort.
6
Major Transportation Analysis Data Sets and Sources
Welfare population
Welfare population, household location, number of working adults, children and vehicle availability.
Data sources: State or county human service agencies. Note: Privacy issues require the careful handling of welfare data. Naming individuals must be avoided.
Employment
Location and availability of job opportunities for which the Temporary Assistance for Needy Families (TANF) recipients may be qualified (for example, entry-level service and manufacturing sectors).
Data sources: State labor and workforce development agencies. Other sources include primary non-farm employment data from the U.S. Department of Labor, classified ads, and commercial business and labor data packages.
Training Center
Location of training centers that TANF recipients may attend to receive job training skills.
Data sources: State or county human service agencies. Child Care Facilities
The location of child care facilities that TANF recipients may patronize. Data sources: State and county child care service agencies.
Transportation
Location and schedule of public transportation routes and the availability and extent of existing social service transportation, paratransit, carpooling, and vanpooling service areas.
Data sources: Local transit providers, MPOs, social service transportation providers, Transportation Management Associations, and the FTA National Transit Geographic Information Systems (GIS) data bases.
Hours of Operation
Frequency of transportation services and business hours for employment, child and day care facilities.
Data sources: Frequency of transportation services may be obtained from local transportation providers. Hours of operation for employment and child and day care facilities may be obtained from the individual business.
---
Data Analysis
The relative proximity of welfare recipients, child care facilities, employment training centers and employers in relation to transportation services is the key access concern. Choosing analytical tools that work for you will depend on local circumstances and resources. The tools may be as simple as sticking push pins in a wall map or as advanced as using GIS. The analytical goal is to understand how available transportation services need to be improved or can improve accessibility.
---
Developing Strategies to Meet
Identified Needs - Case Studies
The following case studies illustrate various analytical efforts to strategically support mobility needs.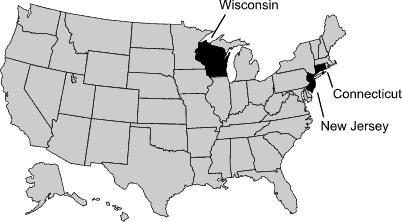 WorkFirst New Jersey
In July 1997, the New Jersey Department of Human Services commissioned the Bloustein School of Planning and Public Policy at Rutgers University to assess bus services to serve the clients of the WorkFirst New Jersey (WFNJ) program. The following data sets were obtained:
| | |
| --- | --- |
| Data | Source |
| Client Addresses | New Jersey Department of Human Services |
| Transit Data | New Jersey Transit |
| Training Center Data | New Jersey Department of Human Services |
| License Child Care Centers | New Jersey Department of Human Services |
| Registered Family Day Care Homes | New Jersey Department of Human Services |
| Employer Information | U. S. Department of Labor |
The geographic distribution of residences, employment, training centers, licensed child care centers, registered family day cares, and bus services were analyzed using GIS. The New Jersey Department of Human Services concluded:
| | |
| --- | --- |
| | Public transportation is a useful service for many WFNJ participants. |
| | Ninety four percent of WFNJ clients live within one half mile of a bus route. |
| | More than 90 percent of training centers, 85 percent of employers, 79 percent of licensed child care, and 77 percent of registered family day care homes were within one half mile of bus routes. |
| | WFNJ clients and their child care and employment destinations were reasonably accessible by existing bus routes. However, further research was needed on appropriate stops and frequency of bus service. |
It is important to note that there is no guarantee that a client living near transit will find a job near a transit route, and no information on bus frequency or hours of service was considered. Nevertheless, the study provided an important reassurance that existing services had a strong potential to meet many of the WFNJ client transportation needs.
The study results helped New Jersey Transit create a Work Pass Program that assists WFNJ participants by paying for their public transportation to work. New Jersey Transit provides training to county WorkFirst Agency staff on reading bus schedules and understanding fare structures and transit availability. In addition, the New Jersey DOT and the New Jersey Department of Human Services developed the following statewide initiatives to address mobility needs:
Get A Job, Get a Ride
This program provides one month of free New Jersey Transit public transportation to any WFNJ participant who is working or in training.
County Transportation Coordination Planning
Each county will have transportation coordination plans that include providing transportation for WFNJ participants, senior citizens, disabled persons, low-income job seekers, and other individuals needing transportation to work.
GIS Analysis
The Department of Human Services will help local communities to assess the most effective and efficient means of moving WFNJ Transit recipients to work and work readiness activities through analysis.
Transit Training Video
New Jersey DOT and New Jersey Transit produced a transit training video to educate individuals on using transit in the state.
Hartford, Connecticut
The Capital Region Council of Governments (CRCOG), which is the MPO for the City of Hartford and its surrounding communities, took the lead in addressing job access in Hartford by forming and leading a Welfare to Work Transportation Access Group in November of 1996 to address improved employment access. The group still operates and undertakes planning activities that build coalitions, define problems, identify feasible strategies, and secure funding. The Welfare to Work Transportation Access Group consists of members from the following organizations:
CRCOG
Connecticut Business and Industry Association
Connecticut Department of Transportation
Connecticut Transit (CT Transit)
Capital Region Workforce Development Board
Community Renewal Team
Connecticut Department of Social Services
Connecticut Department of Labor
City of Hartford
Greater Hartford Transit District (GHTD)
Greater Hartford Rideshare Company
The CRCOG prepared a preliminary origin and destination analysis of the geographic distribution of low income households and employment opportunities. The work involved gathering information from members of the work group and other sources on the location of areas with high unemployment and the number of jobs that might be available at employment sites throughout the region. The information was plotted geographically in relation to existing bus routes to identify locations that needed improved public transit access. Based on the geographic analysis, most of the sites were judged to be adequately served by the fixed route bus system during the daytime. The findings also suggested that adjusting existing service to extend operating hours and provide a guaranteed ride home would be an economical way to help many workers, including former welfare clients.
As a result of the group's efforts, the following initiatives have recently been taken to improve access to jobs in suburban locations:
| | |
| --- | --- |
| | CT Transit extended the hours of operation of two bus routes connecting the downtown area to shopping malls. |
| | The GHTD implemented special services to transport Hartford residents to a training program near Bristol, Connecticut. |
Wisconsin
Public Transportation, Jobs, and Welfare Reform Study
In early 1997, the Wisconsin Urban Transit Association (WUTA), with a grant from the Wisconsin DOT evaluated appropriate transit services to link welfare recipients from Milwaukee County to employment opportunities throughout the seven-county southeastern Wisconsin region. The resulting Public Transportation, Jobs, and Welfare Reform Study began by documenting the following data and sources:
Data

Source

Address and zip code of residence, earned and unearned income, adults and children per household and vehicle availability.
Wisconsin Department of Workforce Development
Employer location, job types, number of employees, and support by employers of hiring welfare recipients.
Regional Planning Commission

Wisconsin Department of Workforce Development

Focus group meetings with representative employer
Transit routes, schedules, and operating statistics.
Milwaukee County Transit

Other transit operators in the study area
By overlaying each of these data sets on GIS, WUTA was able to understand the spatial relationship among residences, jobs, and transit services. Based on this spatial distribution, it was found that a significant number of employers located in areas surrounding Milwaukee County remain inaccessible to individuals without automobiles, but that many were concentrated along corridors that could be conveniently served by public transit. The study identified several key transit improvement areas and corridors that would benefit most from increased investment in transit.
A cost-benefit model was then developed to estimate the cost impact of moving individuals from welfare to work, and to estimate how the ability of various transit options affects the costs. The model found that implementing new regional express transit services in the study area would cost approximately $8 million annually, the model and extending current routes to employment areas in adjacent counties would cost $10.1 million. If these changes were made, however, the state of Wisconsin could realize a new annual savings of $3.1 to $3.3 million in welfare program costs because so many more TANF recipients would have adequate access to unsubsidized jobs. The WUTA study thus makes the compelling argument that increased investment in public transportation can result in an even greater reduction in public assistance costs. WUTA intends to apply the model in small urban and rural areas to evaluate appropriate transit investments in these environments.
Other Studies
Efforts similar to Wisconsin's were undertaken in Boston to better understand the dimensions of the mobility problem facing welfare recipients. The Boston analysis concluded that although welfare recipients did not have adequate access to transit and existing service did not reach a large number of potential employers, it may be possible to improve or expand the existing transit system to meet welfare recipients= needs. Entities across the country are undertaking efforts that parallel the Boston and Wisconsin studies.
---
Conclusion
Transportation is a crucial component in providing access to jobs and improving regional accessibility. As illustrated in the case studies, agencies can analyze available data to gain a better understanding of the regional mobility issues and identify any necessary transportation improvements. In addition, State and local stakeholder agencies should work together to identify goals, objectives, and needs for providing access to jobs for welfare recipients and those who have limited mobility. Both the data collection and analysis process and the formation of partnerships are essential to improving regional accessibility. There is no single solution. Rather, a combination of solutions unique to each situation must be found to meet local needs.
---
CONTACTS: To receive copies of Transportation Planning for Access* contact the Volpe Center by fax at (617) 494-3260 or by E-Mail at: vanderwild@volpe2.dot.gov To receive more information on the case studies in this document contact the following persons:
WorkFirst New Jersey - Diana Scanners with the NJ Department of Human Services by phone at (609) 292-1094 or by E-Mail at: dschonyer@dhs.state.nj.us

Hartford, Connecticut - Richard J. Porth, Jr. with the Capital Region Council of Governments (CRCOG) by phone at (860) 522-2217 or by E-Mail at: CRCOG@ctl.nai.net

Wisconsin Public Transportation, Jobs and Welfare Reform Study - Chuck Camp with Valley Transit by phone at (920) 832-6100 or by E-Mail at: valleytransit@appleton.org
---
This is an electronic copy of Publication No.FHWA-PD-98-038 HEP-20/5-98(4M)E
---
FHWA Home | FTA Home | Feedback

United States Department of Transportation - Federal Highway Administration