Design-Build Effectiveness Study
As Required by TEA-21 Section 1307(f)
Final Report
Prepared for:
USDOT - Federal Highway Administration
January 2006
View this report in PDF format (3 MB) / Get Adobe Reader
---
---
EXECUTIVE SUMMARY
BACKGROUND
Since 1990, a number of transportation agencies (as owners, sponsors, or contracting agencies of highway projects) have been experimenting with a wide variety of innovative project delivery strategies aimed at lowering the costs and time to produce highway construction and rehabilitation projects, while maintaining or improving project quality. One of these strategies is design-build (D-B) project delivery. Design-build is a method of project delivery in which the design and construction phases of a project are combined into one contract, usually awarded on either a low bid or best-value basis. This is in marked contrast to the more traditional design-bid-build (D-B-B) approach used in transportation agencies that outsource project design work, in which two different contracting efforts must be undertaken in sequence to procure architecture/engineering services on a negotiated-price basis and construction services on a lowest-responsible-bid price basis.
Exhibit 1 displays different types of project delivery approaches that combine various phases of the project life cycle. Many of these project delivery approaches extend far beyond the scope of design-build contracting by placing increasing functional responsibilities for highway infrastructure under a single contract vehicle.
Exhibit 1: Alternative Contractual Arrangements for Delivering Highway Infrastructure

Source: Pakkala, Pekka. Innovative Project Delivery Methods for Infrastructure - An International Perspective. Finnish Road Enterprise, Helsinki, 2002, p. 32.
In 1990, Special Experimental Project Number 14 (SEP-14) - Innovative Contracting, was established by the Federal Highway Administration (FHWA) to enable state transportation agencies (STAs) to test and evaluate a variety of alternative project contracting methods that provided the potential to expedite highway projects in a more cost-effective manner, without jeopardizing product quality or contractor profitability. One of these methods was design-build, which remains a core element of SEP-14. Between 1990 and 2002, about 300 projects representing $14 billion were proposed for design-build contracting under SEP-14 by transportation agencies in 32 states, the District of Columbia, and the Virgin Islands. Of this total, 140 projects representing $5.5 billion were completed by the end of 2002. Exhibit 2 shows the total number of design-build projects proposed, active, or completed by each of the states participating in the SEP-14 program.
Exhibit 2: SEP-14 Design-Build Projects by State
(total and those completed by December 31, 2002 by STAs, toll agencies, or local public agencies)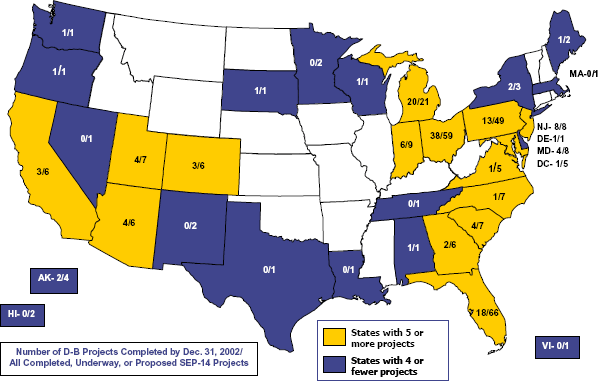 Source: Design-Build Projects Approved Under SEP-14, Federal Highway Administration, July 2003
DESIGN-BUILD CONTRACTING FINAL RULE
In 1998, the Transportation Equity Act for the 21st Century (TEA-21) became the new authorization legislation for the nation's surface transportation programs. Included in TEA-21 was Section 1307 (c), which required FHWA to develop and issue regulations describing the Agency's approval criteria and procedures. The Design-Build Contracting: Final Rule was published in the Federal Register on December 10, 2002 and became effective on January 9, 2003.1
The following lists the most salient parts of FHWA's Design-Build Contracting Final Rule for consideration by both representatives of transportation agencies and firms interested in proposing on prospective projects using the design-build contracting approach:
Allows but does not require use of design-build contracting approaches;
Permits the use of design-build contracting on both qualified and non-qualified projects, where qualified projects are those over $50 million (or $5 million for Intelligent Transportation Systems (ITS) projects);
Requires completion of the NEPA environmental clearance process prior to the release of the final request for proposals document;
Allows responsive unsuccessful proposers to receive stipends as partial compensation for their proposal development costs;
Eliminates minimum percentage participation by prime contractors on design-build teams;
Allocates various forms of risk based on ability to manage and control these risks;
Encourages consideration of value engineering and life cycle costing;
Permits multiple notices-to-proceed to enable work to proceed on specific project sections when environmental, utility, permit, and right-of-way clearances have been completed for those sections;
Defines requirements for avoiding conflicts of interest in the procurement process;
Allows for public-private partnerships to submit design-build contract proposals under a competitive process, consistent with state and local laws as well as applicable non-procurement requirements such as Buy America, Davis-Bacon minimum wage, and right-of-way acquisition requirements; and
Suggests using a two-phase selection procedure, consisting of (1) shortlisting qualified teams based on responses (containing technical and qualifications-based information) to a request for qualifications (RFQ), and (2) evaluating technical and price proposals submitted in response to a request for proposal (RFP).
STUDY RATIONALE AND FOCUS
Section 1307 (f) of TEA-21 required that a comprehensive national study be conducted to evaluate the effectiveness of design-build contracting, with the results subsequently reported to Congress. The five objectives specified in Section 1307 (f) for this study included the following:
Assess the effect of design-build contracting on project quality, cost, and timeliness;
Recommend the appropriate level of design for design-build procurements;
Assess the impact of design-build contracting on small businesses;
Assess the subjectivity used in design-build contracting; and
Recommend actions and changes to design-build contracting procedures.
This study focuses on completed design-build projects authorized under SEP-14. This is the first comprehensive study of the SEP-14 Program involving both program and project managers who have been directly responsible for Federal-aid highway projects delivered under the design-build contracting approach. Its findings and conclusions are based on the results of an extensive literature search, interviews with key stakeholders involved in the Federal-aid highway program and SEP-14, and an integrated set of surveys of transportation agency personnel responsible for design-build programs and projects developed under SEP-14.
The program-level surveys reveal how the state transportation agencies participating in the SEP-14 Program view the application of design-build contracting on their programs and projects.
The project-level surveys indicate how design-build project delivery is used and its consequences for a broad sample of SEP-14 projects completed before the end of calendar year 2002.
The project survey also collected information on a limited sample of similar projects that were delivered using the traditional design-bid-build contracting method. This provided the opportunity to assess on a limited case-study basis differences in project performance between design-build and design-bid-build project delivery, including cost, duration, quality, and other factors related to competition and fairness.
RESULTS OF PRIOR STUDIES
This is not the first study of performance issues resulting from the application of design-build contracting to infrastructure projects. In the past ten years, a number of domestic and international studies have sought to determine how innovations in project delivery affect projects built by the private sector, defense agencies, and public infrastructure agencies. The following summarizes the key findings and conclusions from these prior studies:
Prior research into the impacts of design-build relative to design-bid-build includes comprehensive studies of building projects, both domestic and in the United Kingdom, and more limited studies of horizontal (highway) projects.
Both types of projects (buildings and highways) typically show a significant advantage for design-build in lowering the duration of the project, with a broad range of 4 percent to 60 percent reduction relative to design-bid-build.
Both types of projects typically show a cost advantage for design-build, but by counting the exceptions the range is from an 18-percent reduction to a 23-percent increase in cost.
There is little quantitative data on the quality of design-build versus design-bid-build, although what exists indicates the two approaches produce similar quality results.
SUITABILITY OF DESIGN-BUILD PROJECT DELIVERY
Projects of many sizes and complexities have used design-build project delivery over the years since the inception of the SEP-14 Innovative Contracting program. However, the overwhelming majority of SEP-14 program costs have been for projects over $100 million in cost. This reflects the perceptions of design-build program managers surveyed for this study who rated the following project types as most suitable for design-build project delivery:
Road widening or new construction
Road rehabilitation or reconstruction
Bridge and tunnel projects
Least suitable among the project types was road resurfacing. The suitability rating for design-build contracting was highly correlated to the size of the project, wherein the suitability rating more than doubled when going from small projects to mega projects (projects over $100 million).
IMPACTS OF DESIGN-BUILD ON PROJECT DURATION, COST, AND QUALITY
On average, the managers of design-build projects surveyed in the study estimated that design-build project delivery reduced the overall duration of their projects by 14 percent, reduced the total cost of the projects by 3 percent, and maintained the same level of quality as compared to design-bid-build project delivery, as shown in Exhibit 3.
Exhibit 3: Summary of Estimated Impacts of Using Design-Build on Project Duration, Cost, and Quality
| Duration Dimension | Value | Cost Dimension | Value | Quality Dimension | Value |
| --- | --- | --- | --- | --- | --- |
| Responses | 62 | Responses | 48 | Responses | 61 |
| Average | -14.1% | Average | -2.6% | Average | 0.0% |
| Median | -10.0% | Median | 0.0% | Median | 0.0% |
| Mode | -0.1% | Mode | 0.0% | Mode | .0% |
| Maximum | 50.0% | Maximum | 65.0% | Maximum | 10.0% |
| Minimum | -63.0% | Minimum | -61.8% | Minimum | -10.0% |
| Standard Deviation | 24.4% | Standard Deviation | 20.5% | Standard Deviation | 2.1% |
Source: D-B project survey: Q18, 45-60 responses
Impacts on Project Duration
Actual data for the surveyed design-build projects indicated an average drop of 1 percent between planned and actual total project duration. A comparison between the survey results for a subset of design-build projects and similar design-bid-build projects showed a 9 percent difference in total project duration and a 13-percent difference in construction phase duration between the two types of project delivery approaches, with the design-build projects having the shorter durations. Program survey respondents perceived that design-build projects take more time to set up and procure, but once awarded, require less time for the contracting agency to administer in comparison to similar design-bid-build projects.
The results of the program and project surveys, including both project manager estimates and actual project documentation, supported the claim that the design-build approach can reduce the overall duration of a project, in certain cases significantly. Despite wide variations in changes to project duration among the surveyed design-build and design-bid-build projects, particularly for the construction phase, the results revealed that longer than planned contract development and evaluation timeframes and potentially longer construction timeframes could be more than offset by certain features of the design-build process.
These features included the following:
Eliminating the need for a second procurement cycle by combining contracting for design and construction contracts.
Integrating these functions during the project development lifecycle, while design-bid-build keeps them contractually separate.
Producing improved designs that are more constructible and require fewer design "fixes" through change and extra work orders.
Allowing parallel processing of activities occurring on different portions of a project while design-bid-build keeps them sequential.
Exhibit 4 illustrates the general sequence of project development activities for both design-build and design-bid-build contracts. The two schedules demonstrate how the type of project delivery approach may influence the sequencing and duration of standard highway project development phases. The key feature that distinguishes these two project delivery approaches is the placement of design functions relative to the construction functions and the potential for overlap between the design and construction phases for the design-build approach.
Impacts on Project Cost
The project survey results revealed that design-build project delivery, in comparison to design-bid-build, had a mixed impact on project cost depending on the project type, complexity, and size. The surveyed design-build project managers indicated that project delivery approach (i.e., design-build versus design-bid-build) can be a contributing factor in controlling and potentially reducing project costs. However, project delivery approach was perceived to be less of a factor in affecting project cost than other characteristics of the project or its participants.
When project cost information was used from the project surveys, the design-build projects experienced no appreciable change in total cost due to off-setting cost increases and cost decreases among the project sample surveyed, which both vary widely. When cost information was used from a subset of similar design-build and design-bid-build projects, the design-bid-build projects demonstrated more favorable cost results.
Exhibit 4: Sequence of Project Delivery Activities by Contract Approach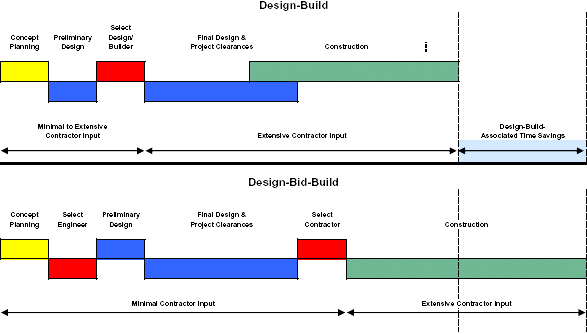 Source: Dr. Keith Molenaar, University of Colorado at Boulder
Project costs experienced most growth from contract award to project completion. Respondents to the design-build project survey indicated that the leading cause of project cost changes was change orders: owner required additions or subtractions and design-builder or contractor suggested additions or subtractions. This was true for both project delivery approaches, with design-build projects being significantly more sensitive to delays, additions, or subtractions caused by third parties than design-bid-build projects.
Change orders represented 5 percent of the total costs for the surveyed projects. Claims represented less than one-tenth of one-percent of total project costs. The subset of design-build projects had fewer change orders than the comparable design-bid-build projects, but the average cost per change order was greater for the design-build projects. This can be attributed to the greater size of design-build projects. This was confirmed by the fact that change orders represented about the same share of total project costs for both design-build and design-bid-build projects. In contrast, the dollar value of claims per project was significantly lower for design-build projects than for comparable design-bid-build projects, with the subset of design-build projects having no reported cost of claims.
Impacts on Project Quality
Contracting agency satisfaction with the outcome and process of project delivery is one of the primary ways to measure the quality of different approaches. Project survey respondents expressed a high level of satisfaction with design-build projects, including compliance with warranty provisions and conformance with standards and specifications. Based on a detailed statistical analysis of project survey responses, the research team discovered that overall contracting agency satisfaction was highly correlated with the following project characteristics:
Procurement method;
Type (complexity) of road project;
Size of project; and
Percent of preliminary design completed prior to contract award.
The results of this analysis are summarized in Exhibit 5.
Exhibit 5: Overall Contracting Agency Satisfaction by Project and Contract Type
Project/Contract Characteristic
Overall Sponsor Satisfaction
Lower
Higher
Procurement Method
Low Bid
Best Value
Project Type
Road-Resurface/Renewal
Road-New/Widen and Rehabilitate/Reconstruct
Project Size
Smaller
Larger
% of Design Completed at Award
Higher
Lower
Source: D-B project survey: Q2, Q4, Q10, and Q17; 69 responses
When a subset of 19 design-build projects was compared to similar design-bid-build projects, the survey results indicated that overall contracting agency satisfaction with design-build projects was on a par with design-bid-build projects. However, conformance with warranty provisions and standards and specifications were both rated higher for design-build projects than for similar design-bid-build projects.
OTHER DESIGN-BUILD CONTRACTING ISSUES
There are a number of additional issues relating to the use of design-build contracts that can impact the relative risk to the public and private sector participants in the contract and the opportunity to apply more cost-effective approaches to accomplishing the objectives of the project. These are discussed below.
Appropriate Level of Preliminary Design
Among the design-build projects surveyed for this study, design averaged 27 percent complete prior to design-build contract award. For 81 percent of the reported projects, the percentage of design completion by design-build contract award was 30 percent or less. For the subset of design-build projects surveyed, the average percent design completion prior to going to a design-build contract was 37 percent, with 78 percent of the projects at 30 percent or less. An earlier survey of six STAs using design-build found a broad range for the level of preliminary design completed before issuing requests for bids of proposals for design-build projects.2 The range was 15 percent to 50 percent, with the average among the six agencies being 31 percent.
These results are consistent with the finding in Exhibit 5 that the level of contracting agency satisfaction reported for design-build projects was higher for lower levels of preliminary design completed before design-build contract award. This can be attributed the design-builder's ability to influence the project design earlier in the process to promote its constructability and cost-effectiveness. While each project should be considered on an individual basis, the results suggest that no more than 30 percent of preliminary design be completed before design-build contract award, with lower percentages as the contracting agency gains more experience with design-build contracting and greater reliance is placed on performance-based specifications.
Impacts on Small Business
The advent of design-build project delivery has raised concerns by some that small firms3 may be unable to participate on design-build teams, particularly as the design-build team lead or prime contractor, due to the increased functional scope and scale of many design-build contracts, more stringent qualification requirements, and/or higher bonding requirements. In some cases, contracting agencies have applied design-build to smaller projects to address these and other issues. In the context of this report, small business participation includes the involvement of smaller firms in design-build projects as a prime contractor, joint venture partner, or subcontractor.
Agency respondents to the design-build program survey indicate that the percentage of design-build project costs going to small businesses was about the same on average as for design-bid-build projects, with only a very small reduction indicated for design-build projects. These results suggest that small businesses were not disadvantaged when projects were developed through the design-build process, according to agency design-build program managers.
The survey results also indicated that design-build contracts spread more of the design work among subconsultants than comparable design-bid-build contracts, which should be a positive feature for small business enterprises.
Subjectivity in Contracting
The survey results suggested that while project urgency and innovation were the primary motivators for using design-build contracting, cost remained the primary factor for awarding design-build contracts, even when other factors such as duration, team reputation, and quality were included in the deliberations. In addition, low bid continued to play an important role in contract award decisions, with best-value approaches using multiple criteria including cost gaining momentum.
Since design-build includes a significant design element, it is important to include these other factors as is the case when purely design proposals are selected (which by law cannot be based solely on cost or low bid). Best value selection methods provide for the consideration of both cost and other, more subjective, factors such as project management, quality control, and team reputation. Best value is gaining popularity among contracting agencies of design-build projects due to its ability to consider all relevant factors that affect the desirability of a design-build bid.
AGENCY SUGGESTIONS FOR IMPROVING DESIGN-BUILD PROGRAMS
The project managers who completed design-build project surveys noted many lessons learned from these projects. Key lessons included:
Carefully choosing projects appropriate for design-build
Adequately preparing to procure and manage a design-build project;
Properly phasing the project by timing permitting, environmental clearance, and right-of-way acquisition prior to award of design-build contract;
Leaving design guidelines "loose," with performance criteria designed to drive the creativity of the design-build team; and
Maintaining communications between the contracting agency and design-build team.
They also identified various changes their agencies have undertaken or plan to make to improve the effectiveness of their design-build programs. Changes include amending quality assurance and quality control, better defining program guidelines, and working more closely with design and construction contractors to craft a better program. Several agencies also reported that their design-build programs were being reassessed on an on-going basis as projects moved through the process. Suggestions for further improving the design-build process included:
More careful selection of projects appropriate for design-build;
Better definition of the contracting agencies' and contractors' project scopes;
Creation of more accurate bidding documents;
Selection of design-build consortium on a best-value rather than low-bid basis;
Modification of the quality control procedures; and
Development of a procedure to review project design and manage construction issues.
CONCLUSIONS
Based upon the results of this study, the following conclusions are offered regarding the future disposition of design-build as an alternative method for delivering highway projects, relative to the areas of interest defined by Section 1307 (f) of TEA-21, which mandated this study:
Impacts on Project Timeliness
The greatest motivation and realized benefit to a project contracting agency of using design-build instead of design-bid-build contracting is the ability to reduce the overall duration of the project development process by eliminating a second procurement process for the construction contract, reducing the potential for design errors and omissions, and allowing for more concurrent processing of design and constructing activities for different portions of the same project.
Impacts on Project Cost
Impacts on Project Quality
Design-build does not appear to be a threat to the quality of highway projects. Indeed project contracting agencies expressed equal satisfaction with the results of design-build and design-bid-build projects, suggesting that the choice of project delivery approach is neither a determinant of nor a threat to project quality. Overall contracting agency satisfaction was highest when design-build was used for large projects, when lower levels of preliminary design were performed prior to the design-build contract, and when contract selection was based on best value.
Level of Design Completed Prior to Design-Build Contract
The level of preliminary design that should be completed before a design-build contract is procured depends on the size and complexity of the project, the ability of the design-builder to develop a more cost-effective and constructible project design in a timely and competent manner, the degree to which performance specifications are used for the project, and the opportunity to gain valuable design capabilities, with earlier value engineering and constructability reviews as part of the process.
Impacts on Small Business
Design-build projects provide opportunities for subcontractors to perform substantial portions of design-build projects. According to survey responses, small business contractors are playing comparable roles on completed design-build projects as for design-bid-build projects, with greater opportunities for subcontracting of the design work to smaller firms.
Subjectivity of Design-Build Contracting
While low bid continues to be used as the basis for contract award decisions for many design-build projects, best-value approaches using multiple criteria including cost are gaining momentum. Best value selection provides for the consideration of both cost and other more subjective factors such project management, quality control, and team reputation and is gaining popularity among contracting agencies of design-build projects due to its ability to consider all relevant factors that affect the desirability of a design-build bid.
Other Considerations
While the use of design-build is not a panacea for delivering highway projects, there are project features and circumstances that encourage its consideration if not use.

Medium to large projects that are more complex in nature and can benefit from the application of innovative concepts in project design and development earlier in the project conceptualization process are well suited to design-build project delivery.
New/widening, rehabilitation/reconstruction, and bridge/tunnel projects have the size and complexity to enable the private sector to apply more cost-effective ways to develop the project using design-build. These potential efficiencies permit design-builders to take on the higher project/contract risks associated with design-build contracting.
Projects that have a high sense of urgency (due to natural disasters or facility failures) or involve some kind of direct user fee-based financing are more likely to benefit from design-build contracting due to its ability to expedite project completion and/or facilitate the start of user fee-based revenue collection.
Projects with a dedicated revenue stream associated with completion (such as toll roads) provide added incentive for the public sector to complete a project on time and within budget.
Trained and capable contracting agency staff responsible for administering design-build projects must be designated for this method of project delivery, including procurement and contract administration processes.
The presence of a number of competent design and construction firms interested and willing to compete for work under the design-build contracting approach helps to ensure cost-competitive bids/proposals.
Public demands for accountability regarding project schedule and quality can be more readily met through the terms and conditions inherent in a design-build contract, where qualified design-builders take on more project risk associated with meeting the contract schedule and performance criteria because of their ability to apply innovative techniques that lower the costs of project delivery while achieving desired performance results.

A large number of agencies have now undertaken one or more design-build projects under the auspices of SEP-14 and tested different ways to apply design-build to many different types and sizes of projects. The knowledge gained from setting up these programs and testing design-build provides a rich source of legislative, regulatory, procedural, and institutional documentation and insights to help institutionalize this process as an option for contracting agencies to consider as they develop their highway improvement programs and projects.
RECOMMENDATIONS
Based upon the results of this study, the following recommendations are offered to improve the use of design-build for delivering highway projects.
The FHWA should continue to work with AASHTO and industry representatives to develop suggested guidelines and illustrative documents for use by contracting agencies interested in evaluating the design-build project delivery method. The FHWA recognizes this need and continues to support the activities of the AASHTO Design-Build Task Force and the design-build related research performed under the National Cooperative Highway Research Program (NCHRP). Two current research studies will be effective in accomplishing these goals: (NCHRP Project 25-25(12) - "Design-Build Environmental Compliance Process and Level of Detail Required" and NCHRP Project 20-07, Task 172, "Recommended AASHTO Design-Build Procurement Guide").
To the extent practical, contracting agencies should provide for flexibility in the design criteria by using performance criteria to encourage creativity by the design-build proposing teams while providing a basis to hold the team accountable for project results.
Preliminary designs that are incorporated in the RFP should be no more than 30 percent complete , dropping to lower levels as the size and complexity of the project increases and the contracting agency gains greater experience with this project delivery approach and the use of performance-based specifications.
Raising the expertise and experience among transportation agency managers is a key challenge. Transportation agencies should invest in design-build training before attempting to execute their first design-build project. That training should include not only contracting agency personnel but also consulting engineers and construction contractors that will compete for these projects. On-going design-build training sessions could be used to institutionalize lessons learned for completed or active design-build projects.
CLOSING REMARKS
The changing nature of the nation's highway development program and resources, at the federal, state, and local levels, is placing increasing burdens on the public sector's ability to meet the growing needs for renewed and expanded system capacity. Innovative techniques like design-build have been shown to offer the potential to help transportation agencies better serve these needs by doing things faster and more cost-effectively. While many of the conditions that spawned the promulgation of highly restrictive contracting laws and procedures early in the twentieth century are no longer in evidence, care must be taken to prevent a repeat of these conditions. This is why use of techniques like design-build contracting must be viewed and entered into with the understanding that the public and private participants in the process have a shared interest and liability for the process results, and are each held accountable for the results.
Design-build contracting represents a collaborative effort that integrates the various resources involved in the development of a highway project and provides incentives for a high level of technical performance and consistency with contractual budget and schedule terms. It has the potential to produce a more cost-effective project in less time than a process that contractually insulates the project participants while leaving the contracting agency with most of the project risk. The following quotes reflect the views of many of the respondents to the design-build surveys:
"We are sold on design-build. We feel that it offers the department an excellent option for procuring work faster and potentially more effectively that the traditional design-bid-build method." (a representative from the Construction Division ,Utah Department of Transportation)
"The design-build technique for transportation [project] delivery has provided the department with another tool to meet the needs of our customers, the traveling public. This technique allows us to move from concept to concrete at an accelerated pace which has helped us to meet the needs of local municipalities quickly. We could not have met the President's and Governor's economic stimulus initiatives had we not had the design-build option. This program has been extremely beneficial." (a representative from the Florida DOT)
"We utilized the design-build contracting method to [respond] to a significant increase in the bridge construction budget with little time to implement [the project]. Design-build effectively brought the program to construction." (a project manager from the Michigan DOT)
"This project would not have been possible without design-build project delivery." (a representative from the Alameda Corridor Transportation Authority)
---
FOOTNOTES
Molenaar, Keith R. and Douglas D. Gransberg, Design-Builder Selection for Small Highway Projects, ASCE Journal of Management in Engineering, Vol. 17, No. 4, October 2001
Small business is defined as any organization with less than 500 employees and $6 million in average annual receipts for service organizations ($28.5 million for general building and heavy construction contractors and $12 million for special trade construction contractors) For applicable small business size standards by industry category, see the U.S. Small Business Administration's Small Business Size Regulations, 13 CFR §121 or the Table of Small Business Size Standards.
---
---