Organized Village of Kake
Background / Program Administration & Staff
On the northwest coast of Kupreanof Island, Kake is situated in a sheltered location along Keku Strait close to its confluence with Frederick Sound. Kake is accessible on a daily basis by airplane, except for weather-related interruptions, or on a weekly basis by State ferry.
The economic base includes fishing, seafood processing and logging. The total Kake population is 800. The Organized Village of Kake (OVK) tribal population is 600. The area covers 8.2 square miles of land and 6 miles of water. Unemployment is currently over 50%. Another economic study documented an unemployment rate as high as 80%.
Transportation System
Surface Transportation - Including timber roads, Kake has approximately 500 miles of roadway. Approximately 80% of the roads within the City of Kake are paved. The State ferry comes twice a week (once northbound and once southbound). Marine facilities include a small boat harbor, boat harbor, boat launch, deep-water dock and State ferry terminal. Once a week an Alaska Marine Lines barge serves Kake.
Air Transportation - Kake has a State-owned 4,000' (City-maintained) lighted, paved runway east of town, and a seaplane base at the City Dock. At the airport apron, there is only a small, open-air shelter, with no terminal building to shield travelers from the weather (and wildlife).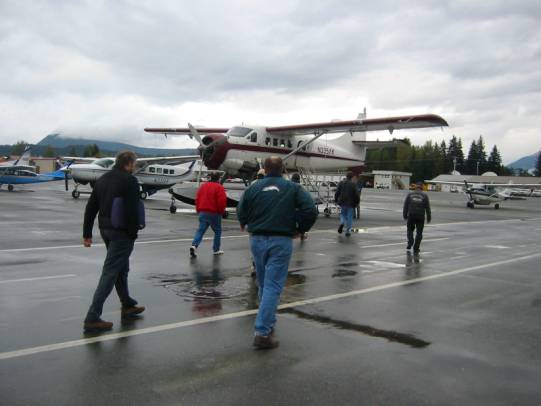 Public Transportation - Senior transportation service is provided by Juneau Catholic Services.
Construction Projects
A breakwater was recently constructed. Federal Lands Highways has provided design funding to upgrade one of the main logging roads, roughly from the boat harbor to a recreation and boat launch area called Seal Point.
Maintenance
The City of Kake maintains the local roads in the Village proper. The timber companies maintain the timber roads. No general maintenance, i.e. erosion control, culvert or ditch repair, are done by the City or the logging companies.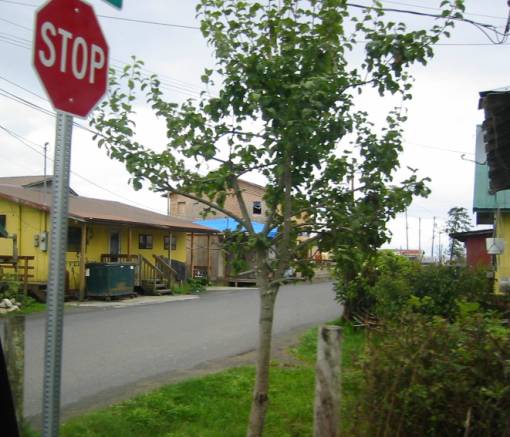 For State facilities, the City receives $50K/year, including airport maintenance. There is not a State maintenance station in Kake, but state crews typically visit the community once a year to perform heavy maintenance, primarily at the airport.
Planning & Proposed Projects
One planner has been funded, part-time, using Administrative Capacity Building (ACB) funds from BIA IRR. One natural resources person worked on transportation planning issues before obtaining this part-time planner. The OVK also has a small administrative staff and an Executive Director.
Kake has a Long Range Transportation Plan, dated November 14, 2002.
Design phase of the Seal Point project is funded through the Alaska Forest Highway Program. This project runs 7 miles to Seal Point, and would upgrade Forest Development Roads 6040 (portions) and 6000. There are two bridges where substantial material placement and longer structures are proposed by the Forest Service to improve alignment characteristics. It may be possible to fund one of these changes through the IRR Bridge Program, as the existing bridge abutments are deficient.
There is a proposed project for a road to Petersburg Road. The proposal runs approximately 57 miles, ends at Wrangell Narrows, and then connects by shuttle ferry to Petersburg. Several options are under consideration.
Coordination with Federal/State/Local governments
The Organized Village of Kake and the City of Kake are developing an MOU that will include an economic development group. Kake has requested a more active role in the Southeast Conference. Kake and the Forest Service are also working on an MOU for a specific project (Salmon project).
Inventory and Asset Management
BIA inventory proposal 110.6; 2.9 construction need ($3.9 million)
Kake conducts manual traffic counts
To provide Feedback, Suggestions or Comments for this page contact Tim Penney at tim.penney@dot.gov.