Pedestrian & Urban Design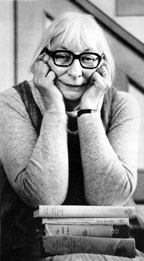 Upon graduation from high school, Jane Jacobs worked for the local newspaper as an unpaid assistant to the women's page editor. Through her observations of the dynamics of city life, Jacobs formed many ideas and philosophies that are well respected by city planners on how to make a city more livable.
Her book, "The Death and Life of Great American Cities," published in 1961, is one of the most influential books in the history of city planning. She criticized the traditional planning style that hailed open space as the symbol of successful cities. Jacobs argued that planners should seek to protect neighborhoods and mix land uses to bring people together. She points out that security in urban areas can be achieved with a mixture of activities and people. These concepts to bring life to city streets still influence pedestrian and transit planning efforts.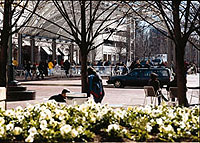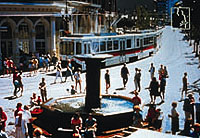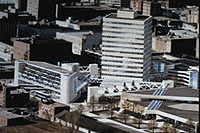 Top left: Jane Jacobs
Top: Reston Town Center, Reston, Virginia
Middle: Tri-met, Portland, Oregon
Above: Cedar Rapids, Iowa